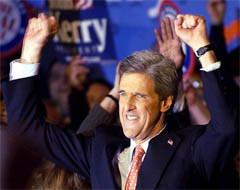 Senator John Kerry
WASHINGTON — Senator John Kerry on Sunday accused the Bush administration of letting "a nuclear nightmare" develop by refusing to deal with North Korea when it first came to office.In an interview, he argued that President Bush's preoccupation with Iraq let the North Korean crisis fester to the point that there were now indications that the country might be preparing to test a plutonium bomb. He presented his charges in a 15-minute telephone call he made to The New York Times. Meanwhile, American intelligence officials and policy makers scrambled to determine what caused a huge fire spotted Thursday on North Korea's border with China. Secretary of State Colin L. Powell said Sunday that the fire, apparently caused by an explosion, was "not any kind of nuclear event," but he confirmed a report in The Times on Sunday that "there is activity going on at a potential nuclear test site," adding that "we're monitoring this." While intelligence analysts are still debating whether the activity is a harbinger of a test, Mr. Kerry insisted that the fact that North Korea was threatening such an action was a sign of failed diplomacy. "I think that this is one of the most serious failures and challenges to the security of the United States, and it really underscores the way in which George Bush talks the game but doesn't deliver," he said.In the past, Mr. Kerry has accused Mr. Bush of ignoring a far larger nuclear threat in North Korea because of his determination to oust Saddam Hussein in Iraq."They have taken their eye off the real ball," Mr. Kerry said, his voice almost shaking in anger. "They took it off in Afghanistan and shifted it to Iraq. They took it off in North Korea and shifted it to Iraq. They took it off in Russia, and the nuclear materials there, and shifted it to Iraq."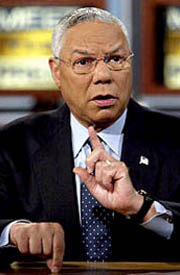 Secretary of State Colin L. Powell defended the administration.
Alex Wong / NBC News,
"Meet the Press"
Mr. Kerry's basic argument, that the Iraq war has diverted attention from more dangerous nations like North Korea, is one he has often used on the campaign trail and in interviews over the past several months. But his language on Sunday, calling the situation "a nuclear nightmare" and directly accusing Mr. Bush of leaving the United States more vulnerable to North Korea, was far harsher and more incendiary than the language he has used before.It is also highly unusual for Mr. Kerry to seek out a reporter on a Sunday, when he had no public appearances scheduled, to attack Mr. Bush. This comes as Mr. Kerry and his aides, during this final 50 days of the campaign, have promised to draw more consistent and sharper contrasts to Mr. Bush in response to criticism from supporters that their message has been too weak. On Sunday night, Scott McClellan, the president's press secretary, told of Mr. Kerry's comments, said: "Senator Kerry wants to return to the failed policies of the previous administration, where the U.S. was duped. We've been down that road before and we have no intention of letting it happen again."In television appearances on Sunday, both Mr. Powell and Condoleezza Rice, Mr. Bush's national security adviser, defended the administration's approach to North Korea. They insisted that they had a far better chance of forestalling a test by North Korea now that the United States had involved China, Russia, Japan and South Korea in negotiations rather than facing North Korea alone.Ms. Rice said it was possible that the fire seen Thursday — the South Korean press described it as a mushroom-shaped cloud of smoke that extended two miles across — might have been a forest fire. American intelligence officials said they were also pursuing the possibility that fuel used for North Korea's missiles might have accidentally exploded.[North Korea said Monday that the explosion was part of a hydro-electric project, the BBC reported. It quoted the North's foreign minister, Paek Nam Sun, as telling the visiting British Foreign Office minister Bill Rammell that the blast was the deliberate demolition of a mountain for the project.]But it was the prospect of a nuclear test — perhaps one timed by the North Koreans before the presidential election here — that focused the administration's attention."It's no longer just North Korea versus the United States," Mr. Powell said on the ABC News program "This Week." "It's North Korea versus all of its neighbors, which have no interest in seeing North Korea with a nuclear weapon."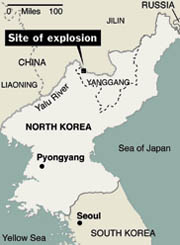 Mr. Kerry argued that it was the Bush administration's refusal to follow Mr. Powell's advice in March 2001 and continue the Clinton administration's direct diplomacy with North Korea that created the conditions for the current crisis. Mr. Kerry has said for months that the United States must deal directly with the North Korean government — just as it dealt directly with Khrushchev during the Cuban missile crisis, and directly with China as it became a nuclear power in the 1960's. "The week that Colin Powell stood up and said we are going to continue the dialogue with the North Koreans, I said, 'Good,' " Mr. Kerry said, recalling what, in retrospect, was the first major foreign policy split in the administration, months before the Sept. 11 attacks. "And two days later when George Bush pulled the rug out from under Kim Dae Jung when he was in the Oval Office, and sent him back both embarrassed and bewildered to South Korea, I said that was both dangerous and the wrong direction for this issue and America."At the time, Mr. Kim was South Korea's president, and the failure of that meeting resulted in more than a year of paralysis in negotiations with North Korea, as hawks in the Pentagon and the vice president's office argued that the country should be pushed to the point of collapse, and the State Department insisted that only diplomacy would work.Mr. Bush ultimately decided to set up negotiations involving North Korea's neighbors, contending that they had the most to lose from a nuclear North Korea. Mr. Kerry argued Sunday that those talks, which so far have yielded no result, "have been basically a cover." "If you want to make them work, that's one thing," he said. "But they haven't made it work, they haven't put anything real on the table." Mr. Powell and Ms. Rice say that, by tradition, they cannot engage in partisan political debate with the presidential candidates. But in vigorously defending the administration's approach — particularly its insistence on six-nation talks instead of the direct talks that Mr. Kerry has demanded — they have come to the edge of engaging in a central foreign policy argument of the campaign. So has Mr. Bush, who in a recent interview with The Times dismissed Mr. Kerry's approach, saying that North Korea was a case where he was engaging allies — exactly, he said, what his critics say he failed to do in Iraq. It was not until a few months ago that the administration began to lay out a plan for phased inspections and dismantlement of North Korea's nuclear capacity, and for South Korea, Russia and China to reward each step with fuel and other incentives. The United States cut off its own fuel shipments in 2003, after intelligence showed that North Korea was secretly pursuing a second route to making a nuclear weapon — by enriching uranium with equipment and technology bought from Abdul Qadeer Khan, the former head of Pakistan's nuclear laboratories.When Mr. Kerry was pressed about how he would handle the threat of a North Korean nuclear test if he was in the Oval Office, he declined to be prescriptive, other than to say that the issue would probably have to be taken to the United Nations Security Council. "Hypothetical questions are not real," he said, arguing that North Korea was a case for preventive diplomacy, and that Mr. Bush's "ideologically driven" approach had kept him from truly engaging North Korea. "The Chinese are frustrated, the South Koreans, the Japanese are frustrated," he said. Now they are also mystified. The fire on Thursday occurred near a site where North Korea bases some of its long-range missiles. Because Thursday was a national holiday in North Korea, there was initial speculation that an explosion might have been deliberately set off to make a political statement of defiance.But there were no signs of radiation, American intelligence officials say. And it was the site of the blast that made American officials suspect that it was an accident: there is a widespread assumption that North Korea would not demonstrate whatever nuclear capacity they have near the Chinese border, where it could irradiate the country that North Korea depends on for food and fuel.
The above article is from The New York Times.