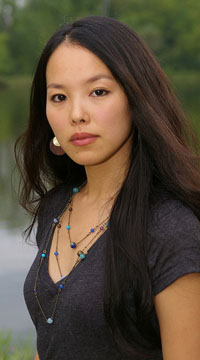 AMERIKA: a notebook in three parts
In 1992, a jury's acquittal of four Los Angeles Police Department officers who were videotaped beating motorist Rodney King unleashed a six-day riot that led to widespread looting, arson, murder, and assault. Overwhelmed by rioters, the LA police and fire departments abandoned Koreatown, where residents were attacked as their businesses were looted, damaged or burnt to the ground. Gun battles were televised live as defenders from the Korean community took up arms to rescue residents and protect businesses from violent looters. It was the American Dream turned nightmare, and this time directed at the Korean-American community, which in the end sustained almost half of the $1 billion in damages.Almost 20 years later a new specter haunts America, where the financial meltdown has unleashed a social crisis that make the LA riots seem like an omen of events to come. With citizens mired in mass unemployment, political disillusionment, bankruptcies and foreclosures, it's hard to imagine the future of an American Dream, let alone a "Korean-American Dream." How Americans will react to mass civil unrest is uncertain. "History doesn't care about what we want," writes Evan Newmark in a Wall Street Journal article entitled "Mean Street: America's Coming Civil Unrest?" "It just happens…the ugliness could come from anywhere – the Left, the Center or the Right. Almost everyone in America thinks they've been betrayed."
One could view the latest film of American director Mika Johnson as a warning to those who still hold on to the American Dream, both within its borders and beyond: Many of the short-sighted economic policies that led to America's prosperity — deregulation, credit derivatives, subprime lending, to name some of the bigger culprits — are also the reason why for so many, the American Dream has become the American Nightmare. According to Michael Snyder, editor of EconomicCollapseBlog.com, there are at least 22 statistics that "prove the middle class is being systematically wiped out of existence in America."AMERIKA: a notebook in three parts is Johnson's first feature-length film, currently in production. Using surrealist film techniques, Johnson reveals America like never seen before, through the eyes of Kat, a young woman who escapes a terror-filled job working as an "emotional prostitute" at one of Tokyo's infamous hostess clubs. But as Kat travels across America in search of her long lost father, she soon finds herself at the crossroads of a nation's spiritual destiny.
Mixing fantasy with reality, AMERIKA explores the American dystopia, where poverty, urban ruin and environmental collapse are inescapable — where the American Dream ticks away like a financially and morally bankrupt time-bomb. But in suggesting the alternative possibility, the film also carries with it a powerful message of hope: If so-called "advanced societies" like America return to a simpler, more sustainable and less consumer-driven lifestyle that places more value on the greater good, a cultural rebirth is not only possible, but probable.
If small town America is, as conventional wisdom dictates, simpler than life in the big cities, perhaps Korean immigrants are already part of the nation's cultural rebirth. Indeed, since 2000, they have increasingly chosen to move to small cities or even small towns over large urban centers, according to a recent study, "New Trends of Settlement Among U.S. Korean Immigrants," authored by Professor Pyong-gap Min, director of the Research Center for Korean Community at Queens College, and Professor Chi-gon Kim of Wright State College in Dayton, Ohio. [3] This recent decrease in migration to big cities in the U.S. is a phenomenon among Korean immigrants: Other Asian groups are still coming to New York and Los Angeles. But what is their dream? Considering the soaring foreclosure rates across suburban America due to the mortgage meltdown, making the traditional American dream a reality is just not an option.
"A far better dream," says Johnson, "would be of a society that channels its resources into group prosperity as opposed to individual wealth, into sustainable communities based on resources that don't destroy our planet and into valuing nature above all else because without it, we will all perish, no matter the country to which belong." Looking to the past for help in devising the future has been a powerful approach for Johnson in writing AMERIKA, which was inspired by his own studies into indigenous North American societies that lived sustainable and prosperous lives for over 10,000 years before the European migration began in the early 17th century.
With online preview trailers of AMERIKA subtitled in Chinese, Arabic, and Japanese, Johnson is reaching out to the world community to find an audience as well as funding support for AMERIKA. At the same time, he has been collaborating with international artists, and students and staff members at Oberlin College in Ohio to create a multi-platform awareness campaign about the issues brought up in the film. To learn more visit
http://www.amerika.arcanumproductions.com/en
Eugene Kang was born in Seoul, Korea, and graduated in 2010 with a B.A. from Oberlin College, where she majored in East Asian Studies and Art History. She currently lives in Oberlin, Ohio, where she writes and teaches ESL and Korean.