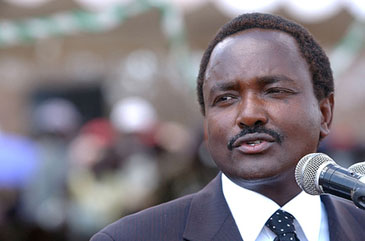 Vice President of Kenya Stephen Kalonzo Musyoka
Vice President of Kenya Stephen Kalonzo Musyoka
will visit South Korea from Nov. 1 to Nov. 4, 2010,
Kenyan Embassy in Seoul announced on Oct. 30, 2010.During his four-day stay in South Korea the Kenyan vice president will attend the 6th General Assembly of the World Scouts Parliamentary Union (WSPU) to be held in Seoul on Nov. 1-4, 2010.The Kenyan leader will also meet with South Korean political leaders including Prime Minister Kim Hwang-Sik, National Assembly Speaker Park Hee-Tae, Vice Speaker Hong Jae-Hyong, and Seoul Mayor Oh Se-Hoon.He will also meet with other leaders from South Korea's business circle to discuss investment and trade promotion.The visit by Kenya's Vice President is the first by a senior Kenya Government official since Kenya opened a chancery in Seoul on July 30, 2007. The bilateral relationship between Kenya and South Korea has been growing stronger day by day since Kenya's first ambassador reported to Seoul on Dec. 10, 2009.
Kenya's vice president will deliver the opening speech under the theme "The Role of Parliamentarians to Support the Scout Movement and Youth" on Nov. 2 (Tuesday), 2010 at Seoul Educational Cultural Center where the WSPU General Assembly will be held. Kenya and South Korea signed a cultural agreement on Nov. 6, 1980.
South Korean Prime Minister Kim Hwang-Sik will host a luncheon for Vice Presidnet Musyoka on Nov. 4 (Thursday), 2010. In addition, Seoul Mayor Oh Se-Hoon will host "WSPU Night of Korea" on Tuesday (Nov. 2) night while the vice speaker of South Korea's National Assembly, Mr. Hong Jae-Hyong, will host WSPU welcoming reception on Monday (Nov. 1) evening.The WSPU farewell reception will be hosted by National Assembly Speaker Park Hee-Tae on Wednesday (Nov. 3) evening.
Kenya and South Korea signed a Trade, Economic and Technical Cooperation Agreement on August 4, 1977. In consequence, Kenya's vice president will hold business meetings with South Korean investors and trade associations to discuss the impact on investments of Kenya's New Constitution promulgated on August 27, 2010. He will also be meeting all the Kenyans living in South Korea to advise them on the same.
He is also serving as minister for home affairs of the Republic of Kenya.
Who Is Stephen Kalonzo Musyoka?
Stephen Kalonzo Musyoka is currently (as of Oct. 30, 2010) vice president and minister for home affairs of Republic of Kenya. Musyoka represent Kenya's Mwingi North Constituency as a member of the parliament.Musyoka was born in Tseikuru, Mwingi on Dec. 24, 1953. He believes in Christianity and is married with four children.Musyoka's educational background is based on law and business. After finishing his primary and high schools in Kenya
he went to the University of Nairobi to major in law.He earned his bachelor of law (LLB) degree from the university in 1977.The following year he went on to the Kenya School of Law for post-graduate diploma in law.In 1979 he also received his post-graduate diploma in business management at the Mediterranean Institute of Management in Nicosia, Cyprus.Musyoka first obtained a parliamentary seat in 1985.
He represented the Kitui North constituency. He was a prominent member of KANU.He left KANU in 2002 along with Raila Odinga, joining the LDP which, under the NARC umbrella, went on to win the 2002 elections. He served in Kibaki's Cabinet but was one of the leaders of the 'No' campaign in the 2005 referendum on the proposed new constitution, and was consequently dismissed from his post during the referendum fall-out. In the run up to the 2007 presidential election
Musyoka and Raila Odinga both vied for the ODM-Kenya ticket; the party split into two factions, one with Raila and one with Musyoka. Both candidates ran for president, however, official results placed Musyoka third behind Raila and Kibaki with a significantly smaller proportion of the national vote. Kibaki appointed Musyoka Vice-President on Jan. 8, 2008.
For details contact the Kenyan Embassy in Seoul
at 02-3785-2903~4 or leave an Email at kenyaemb@kornet.net