Asia-Pacific
Kashmir at the Crossroads
By Tanveer Jafri
Contributing Writer

Though voices of separatism and autonomy are not new in India, the problem of Kashmiri separatist movement is the most complex political problem to date. Notwithstanding India considers Kashmir as its integral part, secessionist powers in Kashmir don't accept this claim. These separatists enjoy complete moral and political support from across the border (Pakistan). It has become internal compulsion of Pak rulers to instigate and support the separatist movements on Indian side of Kashmir. If we retrospect, Indian role in creation of Bangladesh by partitioning Pakistan in 1971 is clearly visible. Aggrieved by the events of 1971, Pakistani Army officers and leaders are certainly using Kashmir problem as a tool of revenge for that 'insult'.Can Pakistan's action be anymore tolerated? Can separatists be given more freedom to play in the hands of Pakistan and poison the valley? Do common Kashmiris really want freedom? What can be the detailed definition of freedom of Kashmir? Are separatists only asking for independence of Indian part or they are imagining a big Kashmir including the Pakistan Occupied Kashmir? Should Indian Kashmir be merged with Pakistan just according to the 'aspirations' of some separatists? China has occupied a considerable part of Kashmir. What about it? Should the majority pro-Indian voices be ignored by the fear of a few secessionists and their propaganda to mislead Kashmiri youth against India in the name of religion? What should be the actual definition of "freedom" of Kashmir and who should have the right to define it, etc. there are many such questions which are complicated yet essential to be answered to find a sustainable solution of for Kashmir.Violence under the 'banner' of separatist movement is on since last three decades. Separatists, terrorists, boasting of Kashmiri culture and Kashmiriyat, have forced hundreds of thousands of Kashmiris to leave their homes in valley. Kashmiris, majority of whom are non-Muslims, are forced to live the lives of refugees in their own country. One thing is clear by such inhuman activities of these separatists- they don't care about Kashmiriyat or Kashmiri culture. They are just instigating violence in the name of religion. And those Kashmiri moderate Muslims, who don't support their so called freedom movement, are either killed by these separatist or are forced to leave the valley. Thus, question arises whether these numbered separatists want an Islamic country in the form of "Aazaad Kashmir"? This doubt is cleared by the ongoing movements, protests, rallies and venomous speeches in PoK and Pakistan regarding Indian Kashmir. Supporting the stand of separatists, once again Pakistan has requested the US President to hand over Kashmir to the United Nations. This Pak statement has come at a time when Obama is visiting India. Pakistan is trying to prove to the US that Kashmir, contrary to the claims of India, is not an integral part of India, rather a disputed territory.However, many important questions can be asked from those few secessionists who are dreaming of an independent religion-based Kashmir state. First of all, they should notice the internal situation as well as global image of Pakistan, which is conspiring religious violence and separatism in Kashmir. Has Pakistan been able to remain united since it was partitioned in the name of religion in 1947? What was the reason behind creation of Bangladesh in 1971? Apart from this, Pakistan's internal conflicts are well known to the world. Are people talking of "freedom" of Kashmir, unaware of near daily murders and suicide attacks in the "Islamic Republic of Pakistan"? Whatever be the Pakistani people's, rulers or Army's views vis-à-vis the Kashmir issue, it is neither a necessity nor a compulsion for Indians and Indian government to bother about that. In India, whether it is any government at the centre and Indian people or Indian Muslims all are of the view that Kashmir is an integral part of India and should remain so. And separatists should also feel that it is in the interest of Kashmiris and Kashmiriyat too to remain with India.Barring a few jingoist forces, most political parties are of the view that Article 370 should stay and Kashmiri people be given special rights. Even a complete autonomy bill has also been passed in Kashmir in 2000. According to reports, the interlocutors appointed by the Central government will now enquire into the reasons why that bill was not ratified. By this, Central government is trying to convince the Kashmiri people to turn to the central government for their developmental needs, and not become puppet in the hands of separatists.Some separatists claim that after "freedom" from India, Kashmir will become the favourite tourist destination in the world. This logic seems meaningless if we look at the state of affairs of tourism in Pak Occupied Kashmir, which Pakistan denotes as "Azaad Kashmir" (Independent Kashmir). Kashmir where a common Kashmiri doesn't feel safe and about which the world knows that number of terrorist training camps are operating, where rallies and processions by militants are common sight, thinking about foreign tourists arriving there is a joke. It can be said that the issue of Kashmir can't be settled by freedom. Therefore, it is in the interest of Kashmiris and Kashmiriyat that it keeps on symbolizing the forehead of the world's largest democracy, of which Kashmiris and India can be proud of.

Related Articles
Shia-Sunni Conflict: An Outcome of American ...
Pakistan on the Verge of Collapse
Likelihood of Military Rule in Pakistan
Why the Fatwa against Terrorism Is Ineffective?
Angola: A Conspiracy to Ban Islam?
Wrong Interpretations by Maulvis Defaming Islam
Is Iraq on the Verge of Civil War?
Is Iraqon the Verge of Civil War?
India Moving towards a Constitutional Crisis?
"Ideological Terrorism," Biggest Threat to ...
Hafiz Saeed: an Angel or a Demon?
Libya: As You Sow, So Shall You Reap
Message from Tsunami
Qaddafi's Departure Is Not Easy
India and the Turmoil in the Middle-East
Black Money and Political Stunts
People in Mood of Throwing Away Despots
Closure of BBC Radio Service Is Biggest ...
Need to Free Islam from Clutches of Extremism
Taseer's Assassination in Context of Islamic ...
India: Adieu 2010, Welcome 2011
Islam Rejuvenated in Karbala
True Nationalism of Azim Premji
When the Most Powerful Person Bowed Down ...
Conspiracy behind 9/11 Should Be Revealed Now
Today's World and Gandhian Thought!
Pakistan Getting Worse in Ramadan Holy Month
Pakistan -- The Victim of Suicidal Politics
A Conspiracy to Transform India's Heaven into ...
India's Heritage-Acceptance and Harmony
It's Difficult to Trust Pakistan for Terrorism ...
Is This the Reality of "True Muslims?"
What Is True Religion?
Islamic Fatwa(s) Challenging Human Rights
Wake up Pak Rulers! It's already too late
Face-Covering in Islam
Sania "Sensation" -- From Tennis to Wedding
How to Tackle Natural Disasters?
India Needs Independent Strategy to Tackle ...
Anti-Islamic Activities of "Jihadi" Fighters
Saudi Arabia -- Also a Patron to Hafiz Sayeed?
A Case for Continuing Talks
Possible Consequences of America's New Afghan ...
If Shah Rukh Khan Is a "Pak Jehadi Agent" Then ...
Politics & Religion
Nature Showed Its Might Again
Suicide Bombers Are a Threat to Humanity
Regional Satraps Raising Their Heads in India
India: Veterans of Disguised Politics, Once ...
India and Pakistan Post 26/11
Voice of Separatism Once Again Heard in India
Misleading Statements Can End Pakistan's ...
Taliban Now Out of Control of Pakistan
Nobel for Obama: Right or Wrong?
Indian Festivals establishing Communal Harmony ...
Barara's Ravana Ready to Break Its Own World ...
Corruption, No Less Dangerous than Communalism
Shameful Adieu for Advani
Action against Musharraf- An Invitation to ...
BJP Refuses to Read the Writing on the Wall
Race for WMDs: Biggest Threat to Mankind
The Curious Case of Balochistan
Kalam's frisking: Burning Questions
Expected Relief to Nawaz Sharif
Zardari's Confession: Better Late than Never
Veil and the Theory of "Clash of Civilisations"
Varun Gandhi: Boon or Bane for the BJP
Policy of Radical Hindutva Boomeranged on the ...
Taliban Encouraging Sect Violence
Taliban: an Ideology, Not the Force of Fighters
India: Politics of Communalism, Egoism & ...
Flag Bearers of "Ram Rajya" in Secular India
"Ram Rajya," "Good Governance" & "India ...
A Lesson for Hypocrite "Nationalists"
Indian National Congress & Nehru-Gandhi Family
Need to Free Islam from Clutches of Terrorists
India: First Ever Firebrand Politician of ...
Past, Present, Future of Indian Nat'l Congress
Inconsistent Politics, Unstable Pakistan
Storms Are Strong Enough
"Mission Change" of Obama
Taliban Propagating Religion or Irreligion
Alas! Yazid Is Reborn
New Formulae of Obama's Peace
Expectations and Challenges before Obama
Corpses and Politics
Adieu Bush and Welcome Obama
Consequences of Bush Policy
How Far Is the War?
Hussain, Iraq, Bush and Shoes
Pak's Misunderstanding
Global Attempt for Terror Relief
Al Qaida: Muslim's Foe or Friend
Terrorists Religion
Will Obama Be Able to Check Clash of Culture
Strong Possibility of Sarabjeets Release
Hypocrites & Separatists in India
World Peace and Shia-Sunni Unity
Terrorism Opinion Sources Need a Hard Blow
The Holy Quran: Teachings & Teachers
The Holy Quran: Doubts & Solutions
India in the Grip of Terrorism
Terrorism, Indian Festivals & Communal Harmony
Pak: Unstable Politics and Terrorism
From Where the Attackers are Inspired
Do Not Tame Poisonous Snakes in Kashmir
India: Responsible for Burning J&K?
India: Attack on Stable Communal Harmony
A Base for Another World War
Nuclear deal -- Indians in a fix
Pak Nuclear Reactors & the Terrorists
Population Increase Movement among Extremists
Crumbling Relations between American & Pak ...
Nepal Welcomes Democracy
American Target -- Terrorism or Islam?
Indian Tolerance: A Curt Reply for Terrorists
River Linking Project of India -- Expectations
Super Star Amitabh Bachchan Nationalist, Not ...
Shia-Sunni Unity for World Peace
Iraq War: Who Lost, Al-Qaeda or Iraqi People
Sarabjit's Release May Prove a Milestone
US Support to Tibet Movement: A Blessing or a ...
Sonia Gandi Looks Towards India's Future
The Dare-Devil Communalism
'Bharat Ratna' in the Political Whirl
Obstacles for Parvez Musharraf
Benazir's Martyrdom -- A Memorable Sacrifice
Secular India & Narendra Modi
Pak -- May God Save You!
Faces of BJP
Why Fondness for Taslima?
India : Another Effort to Crack the Society
Congress: On Thorny Path- Another "Mr. Clean"
Mistakes of Moments, Sufferings for Centuries
Imagery of Ram Rajya and Gujarat
Indian Festivals -- Religious & Social Aspects
Gandhian Philosophy: Nobler than Nobel Prize
India: Truth, Facts & Cricket
What Is Important - Power or Ram?
Pakistan in Hot Waters
Operation Sunrise: Not an End
Pakistan under Dark Clouds
Lal Masjid to Satanic Dwelling
India: Political Storm on Presidential ...
Degrees Conferred on Rushdie & Laden
Obscure Attacks on Iraq Mosques
Amitabh in Political Spiral
India: Kalam, The First Preference
Dwindling Democracy in South Asia
Failure of Another Effort To Spoil Communal ...
A Change Awaits Pakistan
Justice in George Bush's Veto?
Representatives of Islam: Emperors or Saints
A Tumour in Islam - Shia Sunni Conflict
A Planned Conspiracy around the World
Disturbed Iraq. Why?
Millennium Star Amitabh Bachchan & Politics
Media Should Tell Reality, Not Reflection
Terrorism vs. Communal Harmony in India
Only A Progressive Statesman Can Make the ...
America-Iran Cold War in Iraq
Only Patriotism Can Lead to "Developed India"
Muslims Awareness on Saddam Issue
Why Saddam So Popular?
Is Deputy PM's Office in India Justified?
Why Only Dujail Carnage: A Cause of Execution
The Foes of Humanity: Extreme Thoughts
Is Deputy Premiere's Office in India Justified?
Indian Muslims Uplift: A Try
Indian Parliament Felt Ashamed Again
Indian Muslims Efforts to Unite on Secularism
Veils & the Muslim Women
Shia, Sunni Differ on Saddam's Death Sentence
Controversy on Capital Sentence
See, Which Way the Wind Blows
Prof. Yunus Brought Economics to the Poor
Quacks in Islam -- Well Wishers or Harmful
India: Festivals & Communal Harmony
Laden's Religion?
Live & Let Live
Vande Mataram -- A Political Game
Case of Communal Harmony: Indian Madarsas
Israel 's Invitation to Third War!
India: Terrorism Vs The Muslims
Hindrance in World Peace: Central Asia Conflict
India: Vision 2020 & Kalam's Reelection
Nepal: Let Us See Which Way the Wind Blows
Bush Jr: Most Defamed President of US History
S. Korea's Stand on Conscientious Objectors
Shadow of Pentagon on CIA


Other Articles by Tanveer Jafri
Shia-Sunni Conflict: An Outcome of American ...
Pakistan on the Verge of Collapse
Likelihood of Military Rule in Pakistan
Why the Fatwa against Terrorism Is ...
Angola: A Conspiracy to Ban Islam?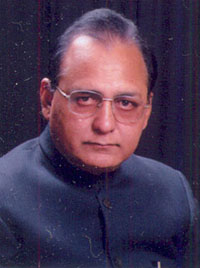 Mr.Tanveer Jafri, who serves as contributing writer for The Seoul Times, is a noted columnist in India. He writes on a variety of issues including world peace, anti-terrorism, and national & international politics for numerous news dailies and portals in India. As a devoted social activist he is member of Haryana Sahitya Academy & Haryana Urdu Academy.