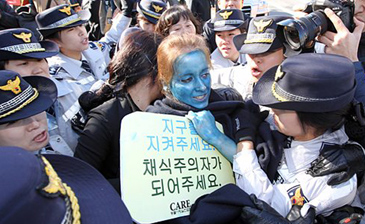 A PETA member is being arrested by the local S. Korean police.
Two female members of People for the Ethical Treatment of Animals (PETA) in the bikini body painting warned G20 Summit members against the danger of meat production in a picket protest in front of the COEX mall in Seoul's Samsung-dong, the venue of G20 Summit on Nov. 9, 2010.But, they were arrested by the local Korean police and taken to the Gangnam Police Station in less than five minutes after they started the picketing.The protesters were holding signs reading, "Save the Planet: Go Vegetarian," and with the Earth's oceans and continents painted on their nearly naked bodies.They belong to PETA Asia and the local "Coexistence of Animal Rights on Earth."They were going to promote a plant-based diet to passersby in Seoul on the day."Switching to a vegetarian diet is the most effective thing that anyone can do to fight climate change and reduce environmental destruction," PETA's spokesperson Ashley Fruno said later on the day.She said in a statement that PETA's Mother Earth activists want to bring a serious issue to the public's attention in a lighthearted way. Besides causing the daily suffering of billions of animals who are raised and killed for food, the meat and dairy industries ravage the Earth.Researchers at the University of Chicago concluded that changing from a standard meat-based diet to a vegan diet is more effective in the fight against global climate change than changing from a standard American car to a hybrid, according to the statement.
The U.N. recently concluded that animal agriculture is one of the leading causes of climate change and is a major contributor to resource depletion, pollution, and world hunger. Also, feeding, transporting, and slaughtering farmed animals and packaging, transporting, and storing their flesh wastes enormous amounts of energy.
Cows, pigs, chickens, and other animals raised for their flesh are dehorned and debeaked and have their teeth, tails, and testicles cut off—all without being given any painkillers. They are crammed into crowded, filthy enclosures and denied everything that is natural and important to them. At the slaughterhouse, animals are routinely hung upside down, have their throats cut, are skinned alive and are scalded to death while they're still conscious.
"Meat and dairy production has a devastating impact on the environment," says PETA Mother Earth Ashley Fruno. "With so many delicious alternatives to meat available, it's easier than ever to enjoy great food while saving animals and the planet."
About PETA
People for the Ethical Treatment of Animals (PETA) is the largest animal rights organization in the world, with more than 2 million members and supporters.PETA focuses its attention on the four areas in which the largest numbers of animals suffer the most intensely for the longest periods of time: on factory farms, in the clothing trade, in laboratories, and in the entertainment industry. We also work on a variety of other issues, including the cruel killing of beavers, birds, and other "pests" as well as cruelty to domesticated animals. PETA works through public education, cruelty investigations, research, animal rescue, legislation, special events, celebrity involvement, and protest campaigns.
For details please contact Ashley Fruno at AshleyF@PETAAsiaPacific.com
or visit PETAAsiaPacific.com