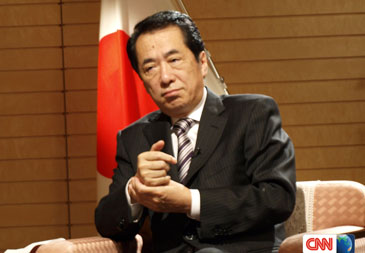 Japanese PM Naoto Kan on CNN'S Talk Asia
Airtimes:Hong Kong, Kuala Lumpur, Manila, Singapore and Taipei
Wednesday, November 17 at 2030
Thursday, November 18 at 1230
Saturday, November 20 at 2230
Sunday, November 21 at 0330 & 1730
Monday, November 22 at 1100
Bangkok and Jakarta
Wednesday, November 17 at 1930
Thursday, November 18 at 1130
Saturday, November 20 at 2130
Sunday, November 21 at 0230 & 1630
Monday, November 22 at 1000Naoto Kan is Japan's fifth Prime Minister in just four years. He's only been in office for five months but already he's facing tough tests at home and abroad. This week on TALK ASIA, Kyung Lah sits down with Prime Minister Kan in his first international television interview to talk about issues including the territorial dispute with China over islands in the East China Sea, a faltering Japanese economy and his sometimes outspoken wife.
A recently-leaked video showing a maritime incident between China and Japan has again raised tensions between the two countries over a disputed chain of islands. Regarding China's claim of ownership, Prime Minister Kan says:
"It was only after it became apparent that natural gas and other resources may lie underneath the East China Sea - and that was around the 1970s - that the Chinese began to raise their voice. So, here again, I would like to suggest that it's not really a matter that we should address over a time span of 1 or 2 years because it has taken 30-40 years for the issue to surface."
Prime Minister Kan also defends his government's handling of the dispute.
"I believe in any country, matters that relate to its territory would, of course, provoke strong sentiments amongst the people of that country. But I trust that 5 years, 10 years down the road, when people look back at how we dealt with that, people then will appreciate that my cabinet dealt with the issue in a calm manner."
Regarding China's rising global presence, Prime Minister Kan says:
"China has become a major presence for most countries around the world but notably for its neighboring countries in Asia. So I think it is a common position for Japan and its Asian neighbors that we strive to maintain as much as possible friendly relations with China. But at the same time we seek China to behave in accordance with international rules."
The Japanese Prime Minister also addresses potential solutions to slowing the strong yen which recently hit a 15-year high.
"If you want to change this strong yen situation we need to do three things. First of all, we need to invest more overseas. The second thing we need to do is to increase domestic demand. Having said that, also, as agreed at the G20 summit, should there be excessive fluctuations in exchange markets, then we need to take resolute actions. In fact, we have already intervened in the exchange market once, but this will also remain an option that we could take and I think we really have to consider these three options.""
Japan's first lady has also been in the spotlight over her book in which she questions her husband's abilities. When asked about their "playful" relationship, Prime Minister Kan says:
"She is a person who I have never won when we had arguments with. She always wins. What she tells me all the time is that she is a primary voter, meaning that when I talk to our voters about my ideas, she says if she does not get convinced with what I say, no voters would buy my argument. She tells me to try to convince her first with my argument."
Prime Minister Kan also talks at length about Japan's relationship with the United States and the future of Japan's agriculture and free trade.
Japanese Prime Minister Naoto Kan's interview with TALK ASIA will be available online at www.cnn.com/talkasia after the first airing.
CNN is currently airing a week-long special programming i-List Japan, where Kyung Lah reports live from the world's third largest economy and puts the country under the microscope for its global audience. i-List Japan features a week of coverage live from Tokyo, delving into new lifestyles, changing business and pop culture through a series of interviews with guests from the world of technology, business and entertainment. For more information on i-List Japan go to: www.cnn.com/ilist