Asia-Pacific
Special message from Indonesian Correspondent
My Prayers Are with the Good People of Both Koreas
By John M. Gorrindo
Indonesian Correspondent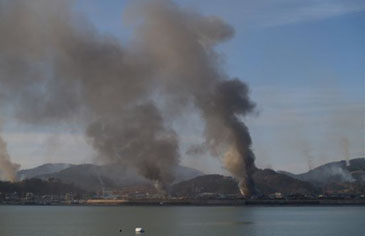 Columns of smoke rise over South Korea's Yeonpyeong Island on Nov. 23, 2010 after the North Korean artillery attack. Some 1,800 residents of the island were taken to shelter. Two South Koreans were killed and a dozen others were wounded in the attack.
I am unfortunately not surprised, but nonetheless appalled at North Korea's provocative attack on Yeonpyeong Island. I am well aware that Seoul is within artillery range of the border, and that there exists few options for the South Korean government as concerns a measured response to the insane regime that holds captive the minds and souls of your northern brothers and sisters.On this Thanksgiving day as celebrated in the United States, I stop to take a moment and extend my thanks to you personally for your good work and support, and pray that peace will somehow prevail in your country.The long succession of provocations North Korea has exacted on South Korea over many, many years illustrates that the "Korean War" as Americans refer to it in their history books is still ongoing for all Koreans some sixty years later.This has been the cause for much grief and suffering and I can only imagine what it must be like to live under such circumstances.My thoughts are with you and your country.Best wishes,
John Gorrindo
johngorrindo@gmail.com

Related Articles
A Worthy Role Model for the Arab World?
Travel Notes from Komodo Archipelago
The 24/7 News Cycle is Catching-Up with ...
Sex, Lies, and Videotape -- a Presage to ...
Indonesia's New Wayang Epic: A Parable of ...
Indonesia's Economic Priorities Give Short ...
Obama's Indonesian Summit -- What Is at Stake?
Bank Century Scandal Tests Indonesia's ...
Virtual People"s Power Flexes Its Muscle in ...
Smoke and Mirrors Surrounding West Papua's ...
In Memoriam- President Gus Dur, 1940-2009
Maluku Music of Today & Yesterday
Playing into Colonial Hands
Perilous Path to Special Autonomy
Papuan Fault Lines: Part II: Nationalist Dreams
Fault Lines in Papua: Part I
On a Wing and a Prayer in Indonesia
Black Friday in Jakarta
Indonesia's Fear Factor Abroad
Human Behavior, by Extension History, Is ...
The Great Monoculture
Indonesia: The Whole World Is Watching
USA -- Violence Statistics & Statistical ...
Proposed Solution to America's Long Lost War ...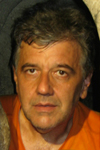 Mr. John M. Gorrindo, who serves as an Indonesian correspondent for The Seoul Times, is a native-born Californian. As holder of a MA degree in music composition from the University of California, he made Manado, North Sulawesi, Indonesia his home after serving as a volunteer English teacher there. He also a writes fictions and composes music. Some of his writings and music can be found at Fringing reefs and Vertical Walls: http://johngorrindo.blogspot.com