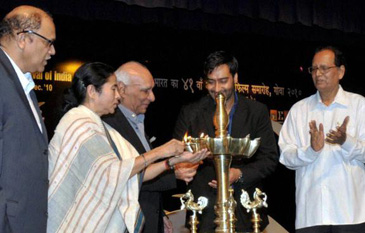 India's Railway Minister Mamta Banerjee opening the Film Festival. Bollywood star Ajay Devgn is second from right in the picture.
Goa has a new halo. At the ongoing International Film Festival of India of India party, one of the organizers took the microphone and asked the guests what "Goa" stood for. Of course nobody had a clue. It stands for "God's Own Abode", he answered himself. There was thunderous applause. So, some of the guests quipped, Kerala has competition. "God's Own Country" has "God's Own Abode" to reckon with.
But the Festival, now on in Goa, hardly seems to be God's Own. With a whopping budget of Rs 8 crores (with another Rs 4 crores reportedly coming from sponsors), the conveniences are scandalously inadequate. Here is one telling example. A few nights ago, a little past midnight, renowned Polish director Jan Jakub Kolski, whose excellent cinema is part of the Festival's much publicised, much honoured retrospective, found himself stranded without any transport after one of his own screenings. Movie director and head of the L.V. Prasad Film and TV Academy in Chennai, K. Hariharan, who happened to be with Kolski (and had hoped to hitch a ride back with him), tells me that they had to literally beg passing vehicles for a lift to their hotel, Cida de Goa, located several miles away.
When confronted with this issue, the Festival administration said that hospitality and transport were the responsibility of the State Government's Entertainment Society of Goa. But who is going to understand this? Not Kolski. Not anybody else from France or Germany or England or just about anywhere else. And, why should they?
It is sad that the most important guests of India's premium Festival are abandoned once they land in Goa, and appear to be facing the most trying times. I wonder whether these men will even vaguely feel that they are in God's Own Abode!
The reason for such glitches is apparently the presence of too many organisations spoiling, and thoroughly spoiling, what used to be a wonderful Festival. The Directorate of Film Festivals, which conducts the 11-day annual cinema event, seems to be at loggerheads with the Entertainment Society, which controls hospitality and transport. Both are a sham this year. To begin with, there are several Festival hotels this time, compared to just one in the past. Invited guests tell me that on arriving at the airport, nobody around had a clue about the hotel they were supposed to be booked in. Some were sent to the wrong destinations, and they spent a good part of the day hotel hopping.
Also, the biggest advantage in having a single Festival hotel is that it facilitates easy interaction among journalists and movie-makers. Is this not what a festival is all about?
The transport for invited guests and others this year has been woefully inadequate. And with screenings and functions stretching late into the night, it is a nightmare to find transport back to one's hotel. What is worse, there really is no public transport system worth the name here. Even autorickshaws are scarce.
If all is not well between the Society and the Directorate, the National Film Development Corporation of India, which organises a four-day movie market during the Festival, appears to be getting more and more alienated from the main event. The world over, market is an essential and integral part of a festival. But not so at Goa. The Corporation believes in a kind of exclusivity that is intimidating. Its impressive list of invitees this year, including celebrated Turkish helmer Fatih Akin, renowned critic Derek Malcolm, Venice Festival Director Marco Mueller and Cannes Festival Deputy General Delegate Christian Jeune among others were treated as "exclusives". The much-needed interaction between them and the main Festival was not really encouraged. Akin's master class was not officially open to the Festival delegates or guests, and was held at Hotel Marriott, the market venue which is a 10-minute drive from the main Festival complex.
Malti Sahai, a former IFFI Director, felt it was such a pity that someone like Akin could not be seen at the Festival complex interacting with the guests and others. "A lot of people would have liked to have met him and even attended his class", she added.
Obviously, a healthier coordination, cooperation and, above all, camaraderie, is essential if the Festival is to make an impact at all. More, so if Goa is to remain the permanent Festival venue. The whispering campaign that began a couple of years ago to take the Festival back to Delhi and its huge Siri Fort complex has grown louder this year. It is almost a scream now.
Love in the time of Boat Wreck:
One of the most interesting entries at the Festival was Rituparno Ghosh's "Noukadubi" (Boat Wreck). Ghosh has always evoked extreme reactions. Some adore his work. Some hate it. But, like every other helmer anywhere in the world, Ghosh's palate is mix of movies that are touching and not so touching. I really did not like his "Chokher Bali" or "The Last Lear", but was impressed with his "Raincoat" and "Abohoman" among a few others.
"Noukadubi" (once made in Hindi as "Ghunghat") is a lyrical, almost poetic, look at one of Rabindranath Tagore's classic short stories about how a boat accident on a swollen, storm swept river plays havoc with the lives of four people.
Kolkata law student Ramesh (played by Jisshu Sengupta) is deeply in love with Hemnalini (Raima Sen), but on his father's insistence and moved by a widow's plight, he marries her daughter Susheela. On their journey back from their village to Kolkata, their boat sinks. When Ramesh wakes up after having been washed ashore, he finds a young woman in a bridal costume lying near him, and she is alive. Ramesh, who has never seen his own bride (as was the custom then, since women remained behind a "ghungat"), assumes that the woman must indeed be his wife.
Back in Kolkata, Ramesh and his new bride, Kamala (Riya Sen), gradually realise that both had been married to different people. "Noukadubi" in its own languorous, though lovely way, takes us towards the truth, slowly peeling off the layers of lie. Ghosh, who wrote the screenplay, is in no hurry to reach the climax. Will Ramesh and Hemnalini meet again? Will Kamala find her real husband, Nalinaksha (Prosenjit Chatterjee)? But to find that out, we have to move through time and a couple of cities, including Varanasi.
This is first time that both the Sen sisters, granddaughters of the legendary Bengali actress, Suchitra Sen, have come together in a film, though they do not at any point of time share screen space. Much has been written about Raima, and obviously so. For, she is undoubtedly a good actress.
However, Riya seems equally talented. Largely a part of the Bollywood masala, Riya will surprise those who may have given up on her. As a demure wife in "Noukadubi", she is arresting, and would hopefully add to the much-need Indian talent basket.
Gautaman Bhaskaran has been watching IFFI for a quarter century.