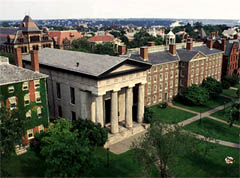 The front campus of Brown University
Brown University announced yesterday that it had received its largest donation ever, $100 million for financial aid, continuing a series of record-breaking gifts to major American universities this year. With the gift, Brown will eliminate loans for its neediest students, much as the University of Virginia and the University of North Carolina have committed to doing in the last year.Just last week, both the University of Michigan and Tufts announced that they had received their largest gifts ever, $100 million and $50 million respectively. Last month, Stanford also said that it had received a $43.5 million gift for its law school. All of the donations were announced after recent data showing that large gifts to charitable institutions like colleges and universities had been accelerating, whether compared with the early parts of 2004 or with the same period last year. Brown said its $100 million gift was one of the largest ever given to support financial aid. The donation came from Sidney E. Frank of New Rochelle, N.Y., who imports liquors like Jägermeister Liqueur, and created Grey Goose Vodka. Mr. Frank briefly attended Brown and described the donation as "something I've wanted to do for a long time." "I was too poor to complete my education there," said Mr. Frank, initially a member of the class of 1942. "I only had enough money to complete a year."When in full swing, Brown's program will benefit about 130 students at a time, the university said, all of whom will be known as Sidney E. Frank Scholars. "We hear from the students that loans are the most onerous part of attending the university," said Ruth J. Simmons, Brown's president. "It's a strong deterrent to going to college for low-income families."Once under fire for rejecting some qualified applicants because they could not afford to pay full tuition, Brown has moved to expand financial aid under Ms. Simmons. It has recently switched to what is called a need-blind admissions policy, meaning that it no longer considers a student's ability to pay as part of the admissions process. Ms. Simmons said Mr. Frank's gift would make it easier for the university to maintain its need-blind admissions policy, but would also help it go well beyond that benchmark. "Nothing matters as much as financial aid," Ms. Simmons said. "This really has been the centerpiece of our priorities."
The above article is from The New York Times.