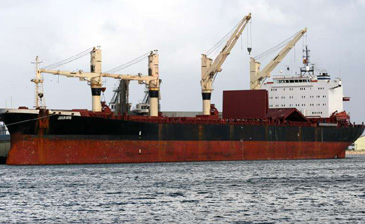 Bangladeshi Ship 'MV Jahan Moni'
Dhaka, Bangladesh Dec. 7 ( by Ataur Rahmam ) A Private Bangladeshi Ship was hijacked by Somali pirates from Arabian sea last Monday with 25 sailors on board .This is the first time who seized Bangladeshi ship off the Somali coast are taking it 150 nautical miles west towards Somalia, a maritime official has said here . The official suspects that control of the ship was under the pirates. Besides, he said, different international organisations, including Dubai-based pirate prevention organisation UKMTO (The UK Maritime Trade Operations) and Singapore-based ReCAAP (Regional Cooperation Agreement on Combating Piracy and Armed Robbery against Ships in Asia), have been informed about it."
"Through satellite image, we've come to know that the ship was 450 nautical miles away from Cochin port," Captain Habibur Rahman, principal officer of the mercantile maritime department, told bdnews24.com around 9:30pm on last Monday. No seaman on the ship could be reached by phone, he said. "I called on the phone of the ship's captain. But none answered." The private ship, 'MV Jahan Moni', was hijacked on Sunday around 3:45 pm by pirates in the Arabian Sea off the Somali coast. It was carrying 43,150 tonnes of nickel and was scheduled to go to Greece from Indonesia via Suez Canal. Shipping minister Shajahan Khan told Journalists on Monday the government was considering rescuing the kidnapped Bangladeshi seamen and the ship through negotiations with the pirates. He said the pirates could demand ransoms for the kidnapped sailors and ship. "If we conduct drives to recover the Bangladeshi ship from the possession of the pirates, there is a risk because they may hurt the sailors," he pointed out. Mr Khan told journalists that the government would wait for the pirates to approach them and they are closely monitoring the movement of the ship. "It might take some time to reach an understanding with the pirates." the government suspects that the abduction might be the act of Somali pirates. "It may take around four days for the ship to reach Africa's coastal area. They might start negotiations after that." Referring to the sailors onboard, Khan pointed out that the pirates do not usually kill seamen in such a situation as they actually look for ransoms. Somali pirates are making millions of dollars in ransoms by seizing ships in the Indian Ocean and the Gulf of Aden. Sunday's hijack happened around 3,000 km (1,864 miles) east of Somalia.The prime minister has also asked the foreign minister to communicate with the countries concerned in this regard, the shipping minister said.