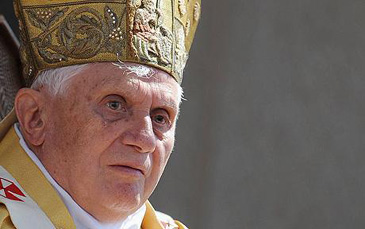 His Holiness Pope Benedict XVI
Hindus have congratulated His Holiness Pope Benedict XVI for making Vatican City as the world's most environmentally friendly nation.
According to reports, with the installation of large solar power panels, Vatican has created a record of 200 watts solar energy power production per capita, beating 80 watts of Germany and thus pushing it to number two position. Italy, which surrounds Vatican City, reportedly produces only about four watts per capita from solar energy. Vatican claims to have saved about 90 tons of oil equivalent with the installation of solar panels on its conference hall about two years ago.
Hindu statesman Rajan Zed, in a statement in Nevada (USA) today, commended Pope for showing care for the planet and promoting sustainable and green energy by indicating preference for solar-powered electric popemobile, putting photovoltaic cells on Vatican auditorium's roof, installation of solar cooling unit for the cafeteria, frequent environment friendly moves and calls to save the planet and curb environmental degradation.
Faiths coming out in support of the environment was a remarkable signal, Rajan Zed, who is president of Universal Society of Hinduism, further said and urged all world religious leaders, religions and denominations to openly bless the environmental causes. Ancient Hindu scriptures, especially Atharva-Veda, were highly respectful of mother nature, Zed added.
We may believe in different religions, yet we share the same home—our Earth. We must learn to happily progress or miserably perish together. For man can live individually but can only survive collectively, Zed says quoting scriptures.
Pope Benedict heads the Roman Catholic Church, which is the largest of the Christian denominations. Hinduism, oldest and third largest religion of the world, has about one billion adherents and moksh (liberation) is its ultimate goal.
Established in 1929, landlocked Vatican City spread in about 44 hectares with a population of only about 826, is a sovereign city-state within the city of Rome (Italy) with Pope as ex-officio head of state.
Rajan Zed
rajan.zed.rajan@gmail.com