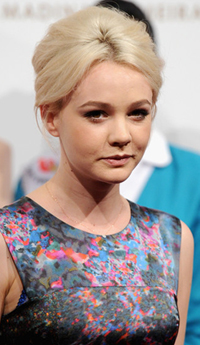 Actress Carey Mulligan attends the Opening Night Gala of "The King's Speech" during day one of the 7th Annual Dubai International Film Festival held at the Madinat Jumeriah Complex on Dec. 12, 2010 in Dubai, United Arab Emirates.

In some ways, Middle Eastern cinema has come of age, as I have been seeing here at the 7th Dubai International Film Festival. Many of the movies go beyond the entertainment genre, and are powerful social documents. And boldly so. Some can hardly be called entertaining, but producers, scriptwriters and directors seem unconcerned. Their brief appears clear. They must present a cinema of substance, even if that means dumping amusement.
Screenwriter Mohamed Diab's debut helming effort, "Six, Seven, Eight", takes an unflinching look at sexual harassment. Three women living in Cairo, from varying social and economic strata, find their lives miserable and torturous when they are constantly abused. Nelly dreams of being a stand-up comic, but her reputation is in disarray after she files a sexual harassment complaint with the police in a male-chauvinist community. Fayza is a traditional mother and wife who finds life hard because she is constantly assaulted on public buses. Seba is a wealthy jeweller whose is recovering from a sexual molest.
Bushra, who plays Fayza, told a Press conference that molesters did not confine themselves to any particular age group or economic status. When asked how women would like to defend themselves she said that each would have to make her own choice. Fayza, for instance, uses a sharp pin-like object to maim the men who paw her.
Also equally disturbing was an Iraqi film, "The Singer". Helmer Kassem Hawal gives us a brutal image of a dictator (who resembles Saddam Hussein). When a renowned singer's car breaks down and he is delayed for a performance to celebrate the dictator's birthday, he is humiliated and disgraced. What is as awful is the way women guests are frisked, and watched over by male guards.
Jordan's "Transit Cities" reveals the cultural shock of a woman who returns to Amman after a 10-year stay in the U.S. She finds herself shackled by religious intolerance. In a very telling scene, a bank manager gives her a rug and asks here to cover her bare legs! The message may not be exactly welcome: the woman's father asking her to leave her own country may well sound terribly defeatist. Does this sound like the desperate cry of a population, at least a large part of it, that may well want to move on in life without severe restrictions?
"Zelal" is a quiet masterpiece of hard-hitting reportage by directors Mustapha Hasnaoui and Marianne Khoury. The work has drawn global critical praise for its hard-hitting and sobering insight into the lives of those afflicted by mental illness in Egypt today. Filmed in two large asylums, the movie reveals the horrific conditions in which patients are expected to live - squalor and neglect is endemic, staff is stretched beyond breaking point, and therapy and treatment seem non-existent.
Helmer Shuchen Tan's "Baghdad Film School" is about Iraqi born filmmakers Maysoon Pachachi and Kasim Abid, who developed the challenging idea to open up the first independent movie school in Iraq. With a car loaded with video equipment, they undertook their dangerous journey from Amman to Baghdad and in March 2004 opened their school. Their mission was to give a voice to a new generation of Iraqi filmmakers and to let them tell their personal stories. And they narrate their points of view, how it is to be moviemaker in a nation tormented by violence.
Indeed, Middle Eastern movies are quite daring, and present with a punch the dichotomy of a society in turmoil.