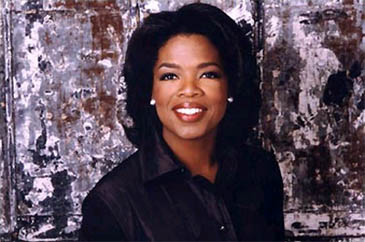 US talk show hostess Oprah Winfrey
Brand new Pontiac G6s for an entire audience, many of whom desperately need a car. A reality show that not only builds a family a new house, but mends the problems within, from weight loss to relationships. And in the Catskills of upstate New York, an entire town gets a makeover, giving a community "a new place to call home." Television, it seems, is showing its softer side.Tucked amid the back-stabbing and maggot-eating fests like "Survivor" or "Fear Factor" that are the staples of reality TV, comes a bevy of feel-good, life-improving shows determined to leave their targets — or at least appear to leave them — better than they found them.The rise in Good Samaritan TV is, in part, a backlash against the skullduggery that has made its way into family living rooms in recent years. But it also plays into a powerful market desire for make-over in America. The country is fascinated with both the notion of reinvention and the philanthropic vehicle often used to get there — as was seen by the buzz generated when Oprah Winfrey handed out 276 sets of keys donated by General Motors, a gesture worth some $7 million.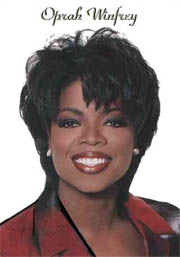 Don't worry, though: Those who still want the manipulation and scheming of shows like "Big Brother" can certainly find it. They can watch participants humiliate themselves in any number of ways. Indeed, reality TV came of age using a winner-takes-all model, says Toby Miller, director of the Film and Visual Culture program at the University of California in Riverside. Now it is trying to increase its staying power with a jolt of variety."This is, in a sense, a slight turn away from the harshness of that Darwinian world that you see exemplified in 'Survivor' or 'Dr. Phil,' toward something a little sweeter or nicer," he says.Do-good TV, of course, is hardly revolutionary. Makeover shows and programs that lavish unexpected bounty on participants have been around since the beginning of television. In the 1950s, "It Could Be You" reunited audience members with long-lost relatives on air, while "Strike it Rich," the self-proclaimed "quiz show with a heart," took down-on-their luck contestants who, if unable to answer the questions, could call the "heart line" and get donations from viewers.The format still has a market today. "Home Delivery," a new daytime offering from NBC Universal, bills itself as "part makeover, part talk show, and part reality with heart." Its four hosts travel the country, taking their cameras into peoples' homes and finding ways to "transform" their subjects' lives, usually with a showering of gifts: corrective surgery for a boy born without ears, or new uniforms and tickets to Broadway for a New Haven drill team.
Surprise: Talk show host Oprah Winfrey sits atop a Pontiac G6 outside her Chicago studios, surrounded by some of the 276 people from her audience who each received one of the new cars at the start of the show to celebrate the premier of her 19th season. Courtesy AP
For a new Fox show, "Renovate My Family," producers sought not only families in need of home repair but with serious challenges hindering their psychological progress, like obesity or addiction. And on Sony TV's "Moving In," self-help guru and former 76ers owner Pat Croce parks his Winnebago in peoples' driveway for a day, offering not gifts but advice — every life-affirming, 12-step trick he knows.Part of the reason for the onslaught of new "feel good" shows comes from the success of more warm-hearted reality offerings like "Queer Eye for the Straight Guy" and the many home and fashion makeover shows."Once a company touches a nerve with the American people and shows the rest of the industry this is what America likes, other networks begin to copy it," says TV historian Fred MacDonald.But the shows also play into two long-time fascinations for Americans: philanthropy and the remade life. "The United States specializes in the makeover," says Dr. Miller. "The Macy's hatcheck girl who becomes a movie star is part of the grand mythology. What you're seeing now in the makeover shows is a reaching back into the rich lode of that myth."Back in the 1950s, "Strike it Rich" ultimately became a problem, says Mr. MacDonald, because so many hard-up people began moving to New York with nothing, hoping for a chance to get on the show.
File photo of US talk show host Oprah Winfrey dancing during a special Christmas party for needy children Dec. 22, 2002.
Courtesy Reuter
That's a similar criticism that some find in today's programs as well. Some call it flagrant marketing that takes advantage of the less fortunate. "It's really cheap. It exploits their emotional reactions as they squeal and holler and look like little kids at Christmas," says James Weaver, a professor of communication and psychology at Virginia Tech in Blacksburg.And he questions the long-term value of such giving. Instead of building a new home for a family, questions Mr. Weaver, wouldn't it be better to teach that same family how to renovate their own home?For Ed Justus, the mayor of Jeffersonville, the Catskills town of 420 in the midst of transformation, the effects can be lasting. Most of the plans of the Learning Channel in a new series set to air in January called "Town Haul" are top-secret. But Mr. Justus say they are building a teen center, beautifying local businesses, and renovating a building to accommodate a handicapped resident."I was gung-ho right from the start," Justus says. "It will put us on the map. I think in years to come people will talk about Jeffersonville."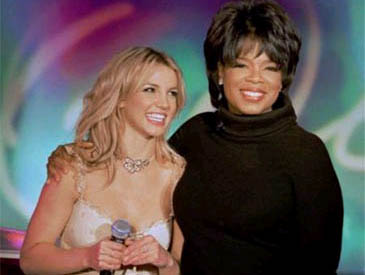 Oprah Winfrey (right) with Britney Spears on her show.
Such shows, with hope and change at their foundation, can play better with audiences than makeover shows where fame and fortune alone are the prizes, says Robert Thompson, a media expert at Syracuse University in upstate New York.That might be especially true today. While television is often used as an escape, some say terrorism, the war in Iraq, and joblessness make "nice" more appealing. "We are feeling so vulnerable and endangered, so worried about the future, there is a kind of drive to do something good and do it fast," says Faith Popcorn, a marketing trend watcher.But critics say that salaciousness is likely to remain a staple, at least on prime-time television. Most of the more benign programs can be found on cable networks and during daytime syndication, while the night is still committed to "wheeling and dealing," says Professor Thompson. "The very same audience that might really like a good knockdown dragout fight on 'The Apprentice' " he says, also delights in "the dream come true."After all, reality TV is a form of dramatic art. "Conflict creates drama, and villains create conflict," says Ed Robertson, a pop culture critic in California. "Nice isn't very dramatic. Unless you're Oprah."
How Oprah Conquered the US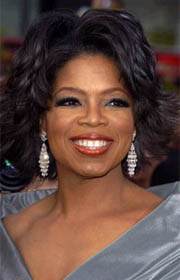 The United States has been well and truly conquered by Oprah Winfrey. Since her TV career began back in 1973, she has won 34 Emmy awards, and her show has topped talk-show ratings for 14 consecutive seasons. The emotionally charged, self-help approach of her programme appeals to millions, and Winfrey regularly flattens the competition. She can also attract the biggest names in showbusiness, and got away with asking both Tom Cruise and Nicole Kidman about their divorce when each star appeared separately on the show. Although they remained tight-lipped, they each spoke of their respect for their former partner and opened up to Winfrey's intimate interviewing style. Her success has not just been on-screen — a formidable businesswoman with her own production company, Harpo Productions, she is worth a fortune. In 1998 Winfrey announced the formation of Oxygen Media, which includes a women's cable network and is integrated with Oxygen's online sites for women. When she expanded into publishing, millions of fans flocked to buy her magazine, simply called O.If she recommends a novel through her book club, it is pretty much guaranteed to top the best-seller lists, and she makes self-help gurus into household names. She recently ran into controversy with author Jonathan Franzen, when he refused to have his book, The Corrections, named as her book of the month.
| | |
| --- | --- |
| | Martin Luther King Jr. (1929-1968): Winfrey cites him as a source of inspiration |
He later said he regretted the high-profile disagreement. Winfrey's empire was recognised by Time Magazine in 1998, when it named her one of the 100 most influential people of the 20th Century. She has also won several other notable broadcasting prizes, including the National Academy of Television Arts and Sciences' Lifetime Achievement Award, in 1998.Winfrey's approach appears to be simple — she is on a quest for self-improvement, self-empowerment and spiritualism. It has proved to be just what millions of Americans, especially women, wanted — her caring, sharing approach was a far cry from the voyeurism of the Jerry Springer show. Winfrey's confessional approach has also drawn in viewers — she revealed she had been sexually abused as a child, and has spoken freely of her struggle with her weight. She is equally vocal about her private life, and said she chose never to have children. "Because I wasn't mothered well I never felt compelled to do it. I always felt that I don't even know how to do that," she said.
Child abuse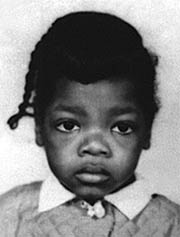 Her relationship with Stedman Graham, with whom she also lectures students on dynamics of leadership, is less well-publicised, although the couple have been an item for several years. Winfrey's work has extended to social change, and in 1991 she was instrumental in the National Child Protection Act. She testified before the US senate judiciary committee to establish a national database of convicted child abusers. Two years later former President Bill Clinton signed the national "Oprah Bill" into law.
Early career
Oprah Winfrey began life in 1954 in Kosciusko, Mississippi, and while she was still at school she began working for local radio. She enrolled in Tennessee State University in 1971, to study speech and performing arts, and was named Miss Black Tennessee the following year. Leapfrogging ahead of her competitors, she became the youngest person — and the first African-American woman — to anchor the news at Nashville's WTVF-TV aged 19. She went on to co-anchor Baltimore's WJZ-TV six o'clock news, before co-hosting their local talk show, People Are Talking.
Producer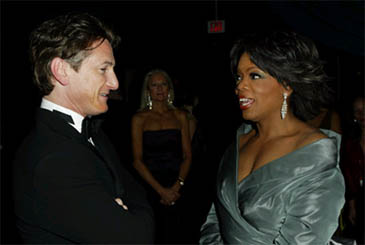 Oprah Winfrey in an Oscars 2004 Party Courtesy WireImage
By 1984, Winfrey was hosting WLS-TV's morning talk show in Chicago and after just one month it was topping the ratings. Two years later, the Oprah Winfrey Show was born, with its host also producing the programme. It went on to become the highest-rated talk show in TV history, and 26 million viewers tune in each week in the US to watch it. It is also broadcast in 112 countries, and although its ratings dipped recently, the show is still the most popular of its type. Winfrey's work also includes Oprah's Angel Network, which she launched in 1997, a campaign encouraging people to help those in need.
Acting
It has collected more than $3.5m to set up college scholarships and gives $100,000 weekly to people using their lives to improve the lives of others.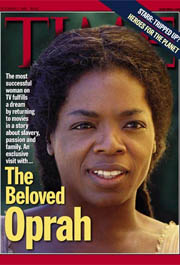 Her websites average about 15 million hits monthly, and receive about 3,000 e-mails each day. Winfrey also tried her hand as an actress, making her debut in 1985 as Sofia in Steven Spielberg's The Color Purple. She was nominated both for an Academy Award and a Golden Globe and hit the silver screen again in 1998. The film, an adaptation of Toni Morrison's Pulitzer Prize-winning novel Beloved, did not gain Winfrey the same recognition. But she said at the time she was compelled to make it after being drawn to its "spiritual odyssey."
The above articles are from CSM and BBC.