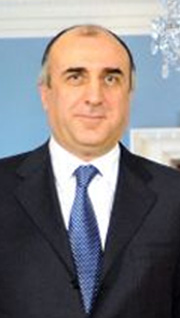 Azerbaijan Foreign Minister Elmar Mammadyarov
Mr. Elmar Mammadyarov, minister of Foreign Affairs of the Republic of Azerbaijan paid an official visit to the Republic of Korea on 14-15 December 2010.In the framework of the visit, H.E. Mr. Elmar Mammadyarov met with H.E. Mr. KimHwang-sik, Prime Minister of the Republic of Korea, H.E. Mr. Kim Sung-Hwan, Minister of Foreign Affairs and Trade of the Republic of Korea, H.E. Mr. Nam Kyung Pil, Chair of the Committee on Foreign Affairs, Trade, Unification of National Assembly of the Republic of Korea and H.E. Mr. Suh Byung Soo, Head of Korea-Azerbaijan Inter-Parliamentary Friendship Group.During the meetings very fruitful discussions were held on a wide range of issues withreaching agreement on majority of highlighted topics, including the cooperation in political, economical, cultural, educational and other fields of common interest.Touching upon the business activity of the Korean entrepreneurs in Azerbaijan, theimportance of using experience achieved by the Korean side in various fields of economy was stressed.The Korean government's decision to select Azerbaijan as one of its mainpartner for development cooperation for the period of 2011-2013 was also welcomed.The sides also stressed the importance of a broad exchange of experiences and thecontinuation of the meetings of working groups on the Azerbaijani-Korean inter-Parliamentary relations and significance of parliamentary diplomacy and its increasingrole in the modern world.There were also exchanged views on the current situation in Caucasian region and Korean peninsula, as well. The importance of continuous cooperation in the framework of international organizations was highlighted.Both sides also agreed to hold a variety of cultural events to enhance mutualunderstanding between the peoples of Azerbaijan and Korea, taking into account the upcoming 20th anniversary of establishment of diplomatic relations in 2012.
For details or inquiries contact the Azerbaijani Embassy in Seoul at 797-1765/6.