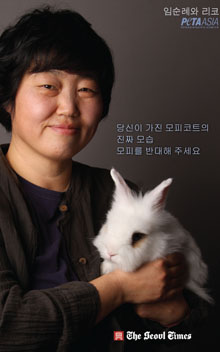 S. Korean Film Director Lim Soon-Rye Cries "Cut!" on fur commercial.

Popular Korean movie director Lim Soon-rye takes a leading role in a television ad for People for the Ethical Treatment of Animals (PETA) Asia. Lim's blunt description of what happens to animals on fur farms is as earnest as her plea to consumers to stop buying and wearing fur. Click here to see the video.
"There is nothing beautiful about the fur trade," says Lim, the director of the recently released Rolling Home with a Bull. "Animals are raised in filth and disease-ridden confinement, prevented from doing anything that is natural to them."
Undercover footage taken at fur farms in China, where 70 percent of the world's fur comes from, documents that rabbits, minks, foxes, and other animals spend their lives confined to tiny, dirty cages in which they can never burrow, forage, or make a nest. To kill the animals, fur farmers break their necks or smash their skulls before stringing them up by their legs and cutting their throats. Many animals are skinned while they are still alive and moving.
Lim's first feature film, Three Friends, was well received around the world. Her most recent movie, Forever the Moment, has also received rave reviews. It was one of the best selling Korean films in 2008 and won Best Film at the 44th Baeksang Arts Awards and the 29th Chongryong Movie Awards.
Lim joins a growing list of international celebrities—including Maggie Q, Eva Mendes, and Natalie Imbruglia—who shun fur and fur trim.
A broadcast-quality version of the PSA is available for download here. For more information, please visit PETAAsiaPacific.comContact:
Ashley Fruno +852-6718-4282 (mobile); AshleyF@PETAAsiaPacific.com
Jason Baker +852-6200-7588 (mobile); JasonB@PETAAsiaPacific.com