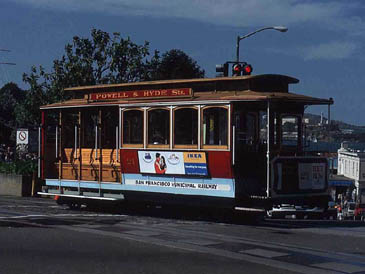 San Francisco
Few cities have inspired better epigrammatic praise than San Francisco. Paul Kantner of Jefferson Airplane described it as "49 square miles surrounded by reality." John Steinbeck claimed the city was "a golden handcuff with the key thrown away." And H. L. Mencken wrote that, upon arrival, he was immediately thrilled by the "subtle but unmistakable sense of escape from the United States."
THE MOOD
It's been said that San Francisco is a city where the young go to retire. But in the middle of the 1990's, a lot of young people went to San Francisco to get rich, and many of them succeeded. Armed with a vague cyberconcept and the eerie self-confidence endemic in the generation reared by baby boomers, they flocked to the city from around the world, just as gold rushers had roughly 150 years earlier. In terms of prices, parking and latte consumption, the results were seismic. But even in San Francisco, reality sometimes intervenes, and before the autumn of 2001, economic downturn and dot-com overload brought the party to an end. These days, almost everyone you meet in San Francisco talks about the boom years as if they're discussing a locust invasion or some other natural disaster they've survived. They'll tell you how pleased they are the bubble finally burst. Once again, they recognize their beloved home.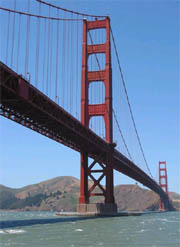 Golden Gate Bridge
They'll send you to South Park, a leafy enclave in SoMa, the South of Market district (and the birthplace of Jack London), to illustrate their point. It's a hidden corner of the city between Bryant and Brannan Streets, where some of the only buildings to survive the 1906 quake and fire hug a grassy oval that appears more Old Europe than California Contemporary. Previously the traffic-clogged, hypercaffeinated core of Silicon Alley, it had, at noontime on the June day I visited, the sleepy atmosphere of a village green. A languid couple was nursing iced drinks at the modest South Park Cafe. Hair stylists were smoking on the sidewalks. The only crowd to be found was at Jeremy's, a spacious store that sells overstocked and damaged designer clothing at significant discounts. Later that night, I went to Tallula, a restaurant in the Castro neighborhood with the kind of architectural eccentricity that's distinctly San Francisco: small, haremlike rooms connected by steep staircases. There, a young poet sipping a sake cocktail flavored with tamarind and cherries claimed that now it's not uncommon to find personal trainers or — still more gratifying — pizza deliverers who once were worth $10 million on paper. "That whole computer frenzy," she says, "was like a weird dream." San Francisco has always seemed to me like a weird dream. With its mysterious winds and unpredictable fog, its tolerance for hippies, heights and homosexuals and its unrivaled and improbable physical beauty, it strikes me as too pretty and benevolent — too good, in other words — to be true. An atmosphere of whimsy shrouds the cottages accessible only by wooden boardwalks off the switchback Filbert Steps pasted to the side of Telegraph Hill. The sight and sound of cable cars at twilight transport you to a storybook city from another century. Like many great beauties, San Francisco has suffered: earthquakes and fires, the AIDS epidemic and the energy crisis. Despite Mayor Gavin Newsom's creation of a "cabinet" to deal exclusively with the problem of homelessness and a compassionate get-tough policy called Care Not Cash, ragged street dwellers are ubiquitous in most neighborhoods. But the city is unusually adept at recovery, and just as physical evidence of the 1989 earthquake has all but vanished, so the scars of the latest gold rush have started to fade. Restaurant prices have become more sensible. In-town traffic isn't as severe. Deals on hotel rooms are relatively easy to negotiate.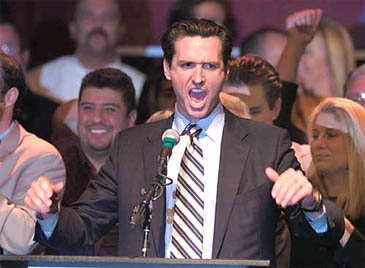 Mayor Gavin Newsom
Last February, Mayor Newsom allowed city officials to perform same-sex marriages in violation of a California ballot initiative passed in 2000. Before the courts halted the issuance of licenses, thousands of couples wed, and city residents of all ages and sexual leanings came to City Hall to toss flowers and pass out baked goods. It was a return to traditional values — San Francisco style.
THE FOOD
In this food-obsessed, restaurant-rich city, entrees can easily loom in the $40 range, as at the Fifth Floor, an intimate French restaurant in the hip and comfortable Hotel Palomar near Union Square. The chef is award winning and the prices are almost as impressive as the plush purple draperies, the zebra-striped carpeting and the atmosphere of updated 1930's glamour. At Millennium — a warm restaurant that glows with the light from chandeliers draped in golden netting — the chef's tasting menu starts at $60. And there, everything offered, from appetizers to dessert, is 100 percent vegan. More representative of what the current economic climate has wrought at table is Luna Park on Valencia Street at 18th in the Mission district. It's one of a number of restaurants that have opened up in this thriving neighborhood that offer simple, moderately priced meals and superb cocktails. (Admittedly, the mojito is minutes from joining the croissant sandwich and tiramisu in the cliche bin, but at Luna Park, this specialty of the house is strong, cold and thick with fresh mint.) The cuisine is the familiar culinary United Nations gathering: a little Italian, a little French, a little Asian fusion, all wrapped up in a blanket of American comfort food. (Macaroni and cheese, anyone?)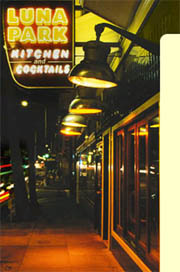 Luna Park in San Francisco
Entree prices rarely climb above $15. With its blood-red walls, the dining room has a bordello atmosphere, and the huge crowd is young. The affable hostess apologized to my party of 40-somethings for a delay in seating, explaining confusion with a group that had come in ahead of us. "They're also elderly," she said. Despite that appetite suppressant, a warm goat cheese appetizer and a salade nicoise were flavorful, fresh and satisfying, even if, ultimately, the noise level was more memorable than the food. If you're not tempted by Luna Park's dessert offerings — kitschy, high-carb Make Your Own S'Mores are a signature — you might stroll down Valencia Street to the Bombay Ice Creamery where, in a grimy storefront that sells homemade samosas and curried stews, you'll find ice cream flavored with, among other things, rose water, saffron, cardamom, fig and litchi. It's the most exotic in the city and some of the most delicious. Or you might get dessert out of the way before dinner at the Tartine Bakery on Guerrero and 18th Streets. This casual French bakery and cafe is a popular hangout for locals sporting everything from tie-dyed T-shirts and campy 1940's soft hats to pinstriped business suits. With its growing reputation, it's fast becoming a destination for tourists as well. One taste of the almond-and-lemon poundcake, the brioche bread pudding or a flaky frangipani croissant and you'll know why. Perhaps the best place to get a handle on the food scene in San Francisco is at the farmer's market in and around the newly restored Ferry Building on the Embarcadero at Market Street. At 8:30 on Saturday mornings, vendors open up scores of stalls selling fruits, vegetables, meats, cheeses, flowers and prepared food, almost all grown without the assistance of modern chemistry, and every bit of it so ripe and juicy as to be nearly pornographic. By 10 on the morning of my visit, the market was swarming with food aficionados in sun hats and boating shoes, carrying straw baskets heaped with fresh eggs, apricots, organic beef and huge bunches of intensely fragrant lavender.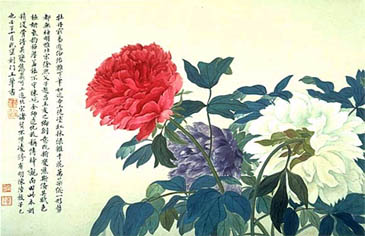 Three leaves from Landscapes and Flowers/Wang Hui (1632-1717) dated 1672/Ink and color on paper/displayed at Asian Art Museum of San Francisco under the title of "The Splendors of Imperial China: Treasures from the National Palace Musuem, Taipei."
A sign reading "Tasting Mandatory" was propped up in front of a display of five varieties of sweet nectarines. You could make a meal on the samples of everything from cheese to imaginative salsas, but it would be a shame to pass up breakfast at one of the tents where restaurants serve treats like huevos rancheros with corn tortillas and pumpkin-seed pesto, paper-thin buckwheat crepes or BLT's complemented with wild salmon. If you haven't sated your appetite for an entire day, you'd be well advised to linger in the neighborhood, enjoying the views of the Bay Bridge or wandering through the galleries along nearby Steuart Street, and then head back to the northeast corner of the Ferry Building for dinner at the new home of the Slanted Door. This restaurant, with its stylish but unaffected decor, its outrageously delicious California-meets-Vietnam cuisine and its emphasis on ingredients that are local and chemical-free exemplifies the very best of what's cooking in San Francisco.
THE STYLE
While a $200-million building, sheathed in 7,200 panels of dimpled copper, is being constructed in Golden Gate Park, a selection of objects from the collection of the M. H. de Young Memorial Museum is on display at the California Palace of the Legion of Honor, a Beaux-Arts spectacle strategically placed on a hill in Lincoln Park. With its clean rows of columns, its verdant setting and its views of the Golden Gate Bridge and the Pacific, the Legion of Honor has long qualified as the most beautiful museum in the city. The first serious challenge to this distinction came in March of 2003 when the new home of the Asian Art Museum was unveiled — a brilliant rehabilitation of the old public library in City Hall Plaza by the architect Gae Aulenti of Musee d'Orsay fame. It's a masterpiece of preservation, with sunlit staircases and airy galleries that lead you from one exhibit to the next with the logic and inevitability of a strong narrative.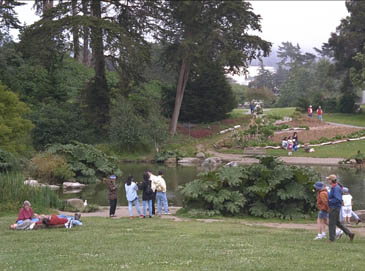 Golden Gate Park
Some friends and I planned to visit an Art Deco show at the Legion of Honor, but we took our time getting there. We first strolled through Haight-Ashbury, a neighborhood that, despite deep gentrification, still looks in many places like an LSD-inspired set from "Yellow Submarine." On Stanyan Street, we rented bicycles and spent hours pedaling through Golden Gate Park, visiting the Conservatory of Flowers — reopened last year after a five-star face-lift that includes iron and etched glass signage nearly as beautiful as the plants — stopping at the Buffalo Paddock and rowing a leaky boat around Stow Lake. Bicycling through San Francisco might not seem like a pleasant way to spend a day, but if you're hugging the flat(ish) coastal periphery of the city, there's no more exhilarating way to get around. From Golden Gate Park, it's a short trip to the ocean, and from there, a moderately challenging ride past the Cliff House (currently closed for renovations), the haunting ruins of the Sutro Baths (seemingly one of the few sites in San Francisco not slated for renovation) and on to the Golden Gate Bridge. Crossing the bridge on a bicycle, with tankers and cruise ships passing beneath you, is the best way to appreciate the magnificence of this landmark piece of sculpture as well as the engineering and construction feat it represents. By the time my friends and I arrived at the Legion of Honor, it was late afternoon. People were pulling up in polished cars for a demonstration of 30's-style ballroom dancing being held, to tie in with the Art Deco theme, in the museum's cafe. Two women stood out in the crowd: one a tall, curvy blonde in a sheath of clinging material that shimmered subtly in the fading sunlight, the other a short African-American woman in an embroidered black silk kimono and a white picture hat. Both were radiant, but for San Francisco, their coifs and couture were surprising. According to Sunhee Moon, one of several clothing designers who've opened boutiques in the Mission district, San Francisco's dominant style is relaxed. The boat-necked T-shirts and flared jackets lined with soft bridal satin in her 16th Street shop are casually elegant and named after Moon's friends. "You can wear what you want in San Francisco. To work, to restaurants. It's an accepting place."
| | |
| --- | --- |
| | Portrait of the Hung-wu Emperor/Anonymous (14th century)/Hanging scroll, ink and color on silk/displayed at Asian Art Museum of San Francisco under the title of "The Splendors of Imperial China: Treasures from the National Palace Musuem, Taipei." |
Even in the city's chicest spots, it's hard to feel underdressed. Take the Redwood Room, off the lobby of the Clift Hotel. When the hotel was given the full Philippe Starck treatment a few years ago, there was much fretting over the fate of this legendary 1930's cocktail lounge. But the result is respectful and dazzling — soft amber sconces, sleek bar stools, low, glass-topped benches lighted from within and shifting digital artwork displayed on framed plasma television screens. Two married businessmen I met explained that they always stay at the Clift despite "cramped rooms" because the lounge is the place to meet women. For this activity, they'd donned loud polo shirts and didn't look especially out of place. By the time I'd finished my overpriced gin and tonic, they were nuzzling a pair of look-alike blondes in capri pants and skimpy tops. As for the elegantly attired women at the Legion of Honor, both turned out, on closer inspection, to be men. In San Francisco, that fact made a great deal of sense. And raised nary an eyebrow.
The above article is from The New York Times.