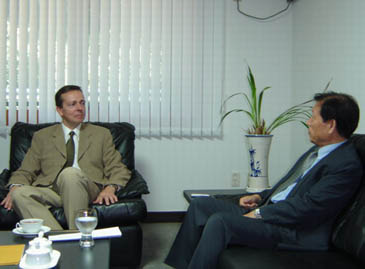 Amb. Tomas Smetanka (left) of Czech Republic talks with Mr. Min Byung-Il, editorial director of The Seoul Times in an interview held on Sept. 3, 2004 at Czech Embassy building in Sinmunno 2-ga, Jongno-gu, Seoul.
New Czech Amb. Tomas Smetanka has recently arrived in Seoul replacing former Amb. Ivan Hotek. The journalist-turned-ambassador, who served as ambassador to China and North Korea before his Seoul mission, is very ambitious with his plans to promote bilateral relations particularly in cultural exchanges. The Seoul Times became the first newspaper in Seoul to interview him to find out the outline of his plans in Seoul. Here are the questions and answers of his interview.
Q1:
To begin with, on behalf of all The Seoul Times staff and readers I welcome you as a new Czech ambassador to Seoul. Is this your first connection or experience with South Korea? Particularly which area of bilateral diplomatic ties will you focus on during your tenure in Seoul?
A1:
Thank you for the kind welcome. Yes, this is my first direct experience with the Republic of Korea. Until my arrival here as ambassador I have only read, heard and seen reports on your country. As for my future work here, I will definitely look at cultivating political contacts, enhancing economic ties and promoting Czech Republic as an attractive destination for a tourist, an investor or a businessman. And I will very closely follow issues related to the security situation on the Peninsula, North-South relations and whatever chances for a positive change there may be.
Q2:
Could you explain about the Independence Day of Czech Republic. Why is your Independence Day important and meaningful to Czech people and Czech Republic itself?
Amb. Tomas Smetanka

A2:
We celebrate our National Day on the 28th October which is the anniversary of the declaration of the Czechoslovak Republic in 1918 in the aftermath of WW I. I believe that in the first decades, when commemorating that day, the Czechs thought primarily of their national independence. Later, during the communist era, 28th October has become more of a symbol of the lost civil liberties and a reminder of the free and democratic country Czechoslovakia — as the only Central-European state — used to be in the pre-WW II period. The communists, ruling the country from 1948 until 1989, picked another date for the National Day and the 28th October has been celebrated again since 1990 and even after Czechoslovakia split into two states in 1993.
Q3:
How large is the trade volume between Republic of Korea and Czech Republic? What, do you think, could be done for increasing trade volume between the two countries?
A3:
The Czech statistics show the volume of USD 308 million of the bilateral trade exchange in the first six months of this year, with a considerable year-on-year growth of Korean exports, placing the Republic of Korea on the 20th position among our trading partners. Czech manufacturers and exporters have been very much focused on our European neighbors, even before the European Union has become a domestic market for us this year. This may partly explain why imports from the Czech Republic to Korea equal less than one twelfth of the value of goods sent in the opposite direction. More information going both ways, intensive direct contacts and a better presentation of Czech exporters here might help. We'll work on that.
Q4:
Many South Korean companies are now in operation in your country. What role do they play in your country? What are your plans to attract more South Korean corporations in your country?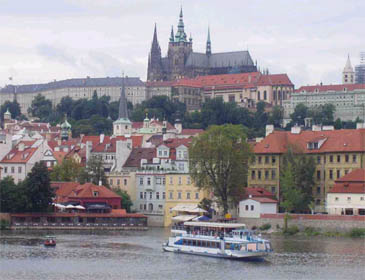 Prague
A4:
I would not say there are many South Korean companies operating in the Czech Republic. There are some and there is definitely space and favorable conditions for more. I am confident that companies like Daewoo or LG that brought know-how, management or marketing skills and found highly qualified, yet relatively inexpensive workforce in the very centre of the European continent made or are making good returns of their investments.Our country has an advanced system of investment incentives and a specialized agency to assist foreign parties that consider establishing a venture in the Czech Republic. CzechInvest offers guidance to investors to make the best possible use of investment incentives and continues helping them after their Czech operation has been established. There is a regional CzechInvest office (southeast-asia@czechinvest.org) which is focused on Korean investors, ready to provide them with custom-tailored information and assistance.The Czech Republic has really a lot to offer: besides the highly skilled personnel, favorable labor costs and a unique geographic position, which I have already mentioned, I should not omit the industrial zones ready for immediate use, research and development capabilities, well-developed supply base and investment incentives including tax relief, job creation grants or training grants.
Q5:
What are some of the important economic issues between the two countries? What should be done to boost bilateral relations in general? What, do you think, you can do to further enhance bilateral ties?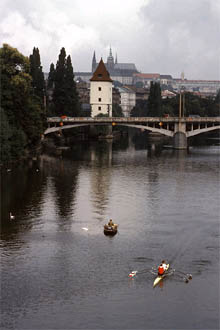 Vltava River in Prague
A5:
Well, the most important economic issues have already been mentioned: a good volume of bilateral trade with a not-so-good surplus in Korea's favor and attractive opportunities for investment. I haven't mentioned tourism yet, which is as much an economic as a cultural matter. The Czech capital, Prague, boasting wonderful samples of all major European architectural styles since the 10th century, a splendid layout on the banks of Vltava river and a vibrant cultural life as well as a developed tourism infrastructure, hosts millions of visitors every year.Last July, the Czech Republic has been represented at the Korea World Travel Fair and I expect more promotion of my country as an exceptional tourist destination to be done here. I am convinced the opening of a direct line between Seoul and Prague last May has been a considered and far-sighted move by Korean Air which is going to help a lot in the development of tourism, trade and bilateral ties in general. We, the Czech diplomats in Seoul, will try hard to present our country as an open and welcoming one, not being locked by its mind set in its European neighborhood, but willing to reach out to this very dynamic part of the globe.
Q6:
What are the present state of people's exchanges, and cultural exchanges between the two countries? Do you have any plans to introduce more Czech culture to Korean people, or vice versa?
A6:
When I came back home to Prague from my previous post abroad to have short summer vacations and get ready for Seoul I found a nice surprise in the street I live. The restaurant next door has replaced its old sign by a shining new one: Kimchi Korean Restaurant. I am sure they have — besides a few curious Czechs — a good clientele of Koreans, arriving in rising numbers as tourists and staying there as businessmen.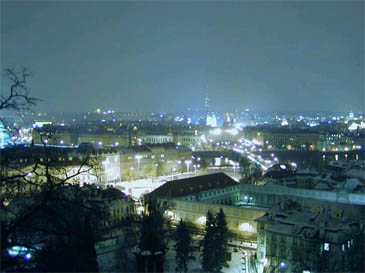 Nightly view of Prague
We have good working contacts in different areas, just to name the recent visits by the President of the Constitutional Court of the Czech Republic or the Minister of Informatics to Seoul. Minor Theatre of Prague held their puppet performances in the Sejong Center for the Performing Arts last month, having attracted a good number of schoolchildren for their lively show in Korean combined with Czech. Also in August, a representative exhibition of Czech glass has been held in Seoul.In November, a renowned Panocha Quartet will play Antonín Dvor
á
k (1841-1904) here to commemorate the composer's anniversary. And the same month Brno State Philharmonic Orchestra will give a concert, too. These are some examples of the encouraging growth of contacts and exchanges in various fields. One thing that I have already learned here and that motivates me is the good knowledge of the Czech culture, and music in particular, among Koreans.
Q7:
In the face of strong opposition from some politicians and people, South Korean government is trying to move its capital to an area of South Choongcheong Province. Do you think the issue of this magnitude should be decided by national referendum instead of a president's decision?
A7:
I have some doubts I am the right person to be asked. Why? In 1992 there was a heated public debate about the future of Czechoslovakia: many Slovaks felt a strong urge to have a state of their own and get separated from the Czechs — they seemed to be a majority in Slovakia. In the same time, most Czechs did not see a significant reason to split the common state. Popular calls for a referendum grew very strong and even the President tried to push the lawmakers to adapt the relevant legislature.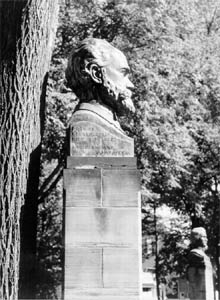 Antonín Dvorák (1841-1904)
The Parliament did not obey and Czechoslovakia split into two states by a political agreement of two local governments. The citizens and the Czech ones in particular felt circumvented and thought the referendum would have never allowed the common state do disintegrate. Yet after a few months opinion polls showed most people were satisfied with the separation and a decade later you hardly find a Czech or a Slovak who would complain the referendum did not take place. With this experience — you may understand why I am reluctant to formulate an opinion …
Q8:
During 2001-2004, you served as an ambassador to the People's Republic of China and the Democratic People's Republic of Korea. Now Anti-Chinese sentiment are brewing among South Koreans after Beijing tried to distort ancient Korean history in Manchuria. Beijing claimed that ancient kingdom of Gokuryo (37 B.C.-668 A.D.) belongs to its history, infuriating Koreans who are most proud of Goguryo. Would you like to comment on that?
A8:
Oh, history … I am sure it's fundamentally wrong to drag the past — and the more so the distant past — into a political present. Claims based on "historical rights" tend to be the most dangerous ones: look at the many attempts for a workable solution of the Israeli-Palestinian dispute. The parties there are captives of their national histories that prevent them from reaching a practical, feasible deal.I do not see any wrong in a historical study bringing new facts or reinterpreting the known ones. I enjoy innovative ideas challenging conventional views, even if they turn out not to withstand the test of the academic discussion. However, I would consider rising political, territorial or other material claims on historical grounds a crime. And nurturing nationalist sentiments by what should be a historians' dispute — either foolishness, or a tragic mistake.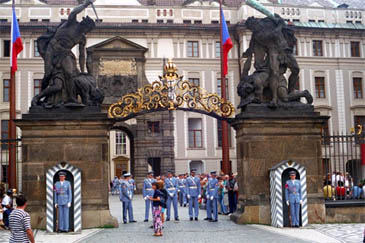 Q9:
What could be the ideal policy of South Korean government for the unification of Korea? What is the desirable attitude of South Korean people for that goal? How soon could Korea be peacefully reunified?
A9:
I am sure we all would like to see North Korea ruled by law rather than by the will of an individual, and following principles of democracy rather than an inhumane ideology. The South Korean government has definitely a much better insight in the problem of the divided peninsula and a considerably stronger capacity to formulate the ideal — or at least sound — policy than a European newcomer like myself has.Nevertheless, having lived thirty years under a communist dictatorship in pre-1989 Czechoslovakia, I have some experience and memories of what people "behind the iron curtain" aspired for and how they perceived the policies of the free world towards the regime ruling their country. People not yielding to the official propaganda felt a critical lack of information. Foreign radio broadcast in Czech, be it from Washington, London or Munich, penetrated the heavily guarded border and filled the gap. The Voice of America often used to tell us what happened next door. Magazines and books published either abroad and smuggled in or typewritten at home and distributed among friends were another source of information and encouragement.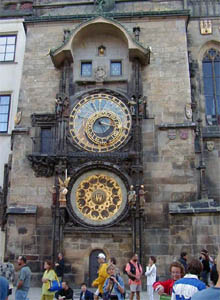 Astronomical clock in Prague square
The international interest in the human-rights situation in the country helped the few people who had the courage to risk their careers, livelihood and freedom for publicly expressing their critical views not to be forgotten and left completely at mercy of the regime. With more information available and the sense of support from abroad the number of people willing to strive for their freedom had been increasing — until 300,000 marched the streets of Prague in 1989, calling for an end to the Communist Party rule.
Q10:
Albeit short stay in Seoul, what are the things that are impressive to you?
A10:
It has been really a short time since I arrived here and there were not many chances to discover the city yet. For some strange reason ambassadors get quite often to airports — not as often as air-hostesses, but more frequently than bank clerks: the Incheon Airport impressed me by its functional architecture and smooth operation.In the rare sunny days I admired the dramatic view from the Namsan hill. I enjoyed watching my children getting joyfully soaked in the fountain near the City Hall, was fascinated by historical costumes of the guards at Gyeonbokgung, and witnessed the ceremony of repatriation of fallen American heroes at the Yongsan Base. All those have been impressive experiences, to name just a few.
Q11:
Could you please tell us in detail about your family? Are they all here in Korea? What do they do?
A11:
We are five here: me, my wife and our three children. All children have at least shortly been taught in English, although it's not their native language. That's why they got used to the Seoul Foreign School at once and seem happy there, with a couple of new friends.
Profile of Amb. Tomas Smetanka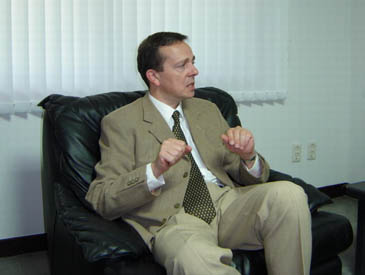 Amb. Tomas Smetanka of Czech Republic
The journalist-turned Czech Amb. Tomas Smetanka to Seoul graduated in 1978 from Charles University in Prague. He studied and taught at its Department of Oriental and Arab Studies. In 1983 he undertook further studies at Cairo University. In 1990 he participated in the Times Mirror Fellowship Program for Central European Journalists at the Times Mirror Center in Washington D.C. Upon graduating from college in 1983 he became a tutor of Arabic at the Faculty of Education of Charles University. Two years later he moved to Tripoli, Libya to work as an interpreter at a construction company. From 1985 to 1989 he taught Arabic and English at the Foreign Language School in Prague. In 1990 he started his journalistic career as the foreign-desk editor of Lidove Noviny newspaper, where he rose to editor in chief three years later. In 1993 he moved to Respekt weekly. Based on his experience as a journalist and educator he joined the Foreign Ministry in 1993. Two years later, he became director of the Middle East and North African Department. In 1996 he was chosen as ambassador to the Kingdom of Jordan for a five-year service. Between 2001 and 2004 he served as ambassador to China and North Korea. Amb. Smetanka and his wife Irena have three children.