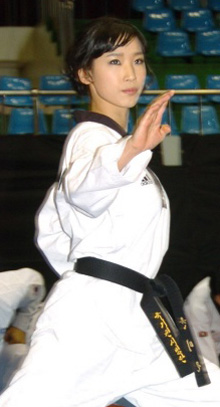 Basic pumsae of Taekwondo
Taekwondo is one of the most systematic and scientific Korean traditional martial arts, that teaches more than physical fighting skills. It is a discipline that shows ways of enhancing our spirit and life through training our body and mind. Today, it has become a global sport that has gained an international reputation, and stands among the official games in the Olympics. Taekwondo is composition of three words of Korean languages:"TAE" Means leg action such as jump, kick or smash by the foot.(A system of foot techniques)
"KWON" Means to block strike or smash with fists,(A system of hand techniques)
"DO" Means an Art.(A system of foot, fist and fighting techniques)
Taekwondo
Taekwondo philosophy tells us that training in the way "Do" is truly a way of life. We can often see those who define Taekwondo philosophy as only spiritual tenets, but, it is also one of the reason on understandings on Taekwondo. Philosophical principle of Taekwondo can be applied equally to both activities of mine and of body. So its Philosophical principle is same regardless whether its concerns mine & body. The philosophy of Taekwondo is very special. If we learn philosophy from books, we tend to forget it as soon as we leave them, because it is not related to our actual lives. But since Taekwondo is connected with our lives like every movement of ours is, we can never forget its philosophy. That is, the philosophy is one of actions that can be learned from other actions, and our everyday activities. Taekwondo philosophy represents the principles of the changes and movements in human beings. Therefore, we can say Taekwondo is a philosophy in itself. We can understand the philosophy of Taekwondo by doing Taekwondo, and this understanding should lead to better understanding and enhancement of our life.
Before one can call himself a Master and hope to help create a unified and peaceful world, he has to find himself, spiritually and morally and gain the respect of the fellows. "To promote the sense of morality one must treat others with faithfulness and sincerity based on righteousness, and to eliminate completely vicious thinking." Taekwondo places a great deal of emphasis on moral culture as it promotes a healthy body and a keen mind as well as good sportsmanship and the perfection of moral behaviour.Taekwondo certainly takes root in man's instincts to survive by means of protecting himself from outside threat with the bare-hand fighting skills, and it was developed into a systematized martial art in the times of three-kingdom era. The Koreans' ethical tradition and the history of Taekwondo well reflect the picture of Korean society in the past. Taekwondo as a traditional martial art is not merely the fighting skills but a proper product of national traditions comprising a philosophical spiritual world of martial arts. In the midst of fierce competitions for survival among different races on the earth, the Korean people has maintained through a history of 5,000 years the national spirit based on the "Seon" philosophy and Taekwondo spirit also has been developed along with the national history. The "Ancient Times" of Taekwondo spirit as martial arts is further explained in brief below:Ancient Times:Taekwondo has been developing with 5,000 year long history of Korea, being called by several names in the past. Back in the B.C. era, Taekwondo began as a defense martial art which was called, "Subakdo (手搏道)" or "Taekkyon" and it was basically an art of combat under Packje (18 BC).Later under Koguryo 37 (B.C.) and Shilla 57 (B.C.) dynasties a collective youth's education system called "Seonbae" & "Hwarang" developed which also included Martial Art and its extensive training programs. These were the customs of mutual exchange amongst these three prominent dynasties. So, the Martial Art techniques were also exchanged for betterment of the combat training. In fact, 'Hwarangdo' is the typical example of Shilla's martial arts, which is an assimilation of Koguryo's 'Seonbae' system. The youth warrior's corps was organized; Hwarangdo was well trained with the senses of filial piety, loyalty to the kingdom and sacrificial devotion to society to become important personalities for the rein of the kingdom.Notable among them were Kim Yu-Shin and Kim Chun-Chu that made definite contributions to the unification of those three kingdoms. The chronicle of Old Chosun described the life of Hwarangs, members of Hwarangdo: "Hwarang were selected by the kingdom through contests and, after selection, they lived together in a group, learning, exercising Subak, fencing and horse-riding, and sometimes enjoyed various games of communities, working on emergency aids and construction of fortresses and roads and they were always ready to sacrifice their lives at the time of war.""The warrior's corps of Hwarando"Hwarangs were particularly influenced by the Buddhist disciplines and therefore the bronze statues of a Kumgang Yoksa (a man of great physical strength) currently exhibited at the Kyongju Museum clearly indicate that various types of Martial art were practiced at temples by showing a strong man's bare-hand defensive and offensive stances. Especially the shape of a fist shown on the statue of Kumgang Yoksa exactly resembles that of a 'Jungkwon' (proper fist) in the contemporary term of Taekwondo. The statue also shows 'Pyon Jumok' (flat fist) and the use of legs, which are seen in today's Taekwondo. It is really noticeable that in the Shilla epoch the terms 'Subak' (hand techniques) and 'Taekkyon' appear together, signifying that both hand and foot techniques were used in martial arts as shown in today's Taekwondo.Taekwondo philosophy can be described as an idealistic and physical means of becoming one with the universe through the study of martial art. Taekwondo strives to develop the positive aspects of an individual's personality: Respect, Courtesy, Goodness, Trustworthiness, Loyalty, Humility, Courage, Patience, Integrity, Perseverance, Self-control, an Indomitable Spirit and a sense of responsibility to help and respect all forms of life. This takes a great deal of hard training and many do not reach far enough to achieve perfection in all of these aspects. However, it is the physical, mental, and spiritual effort which the individual puts forth that develops the positive attributes and image of both the individual and how he or she perceives others.The physical aspects of Taekwondo are merely a by-product of Taekwondo. It is the mental and spiritual development of a person which Taekwondo nurtures and helps give birth to. The philosophy of Taekwondo can be attained through the cultivation and maturity of all three aspects of the Art; physical, mental and spiritual, in each individual. Once these three aspects have been instilled in a person, then the total maturation of the person will start a chain-reaction which will, with God's help, lead us to a more peaceful world.
The principles of Taekwondo is "Sam Jae" (Three Elements) and that of "Eum" (Negative or Darkness) and "Yang" (Positive or Brightness). "Sam Jae" refers to "Cheon" (Heaven), "Ji" (Earth), and "In" (Man). In oriental countries, it has been recognized as the central principle that explains the changes of everything in the world. "Sam Jae" and the changes of "Eum" and "Yang" constitute the "Eight Trigrams for Divination" in the "Book of Changes." The principle of Sam Jae has been emphasized in oriental countries, especially in Korea. The principle of Eum and Yang has also been emphasized in oriental countries as the central principle of life. It maintains that everything has an opposite side. This principle explains various forms of changes, but it comes from "Taegeuk" (the Great Absolute), which represents the ultimate claim that Eum and Yang was the one and the same thing. If we understand Taekwondo according to this principle, we will find a solution, and by continuously changing skills, we will never get stuck, in any situation. After we understand these philosophical principles of Taekwondo, we can find proper ways to understand and develop our lives.
By Grand Master Jimmy R. Jagtiani, 8th Dan,
Technical Advisor: Kukkiwon
Technical Advisor: Taekwondo Hall of Fame, USA
Father of Taekwondo in India
Secretary General: Taekwondo Federation of India