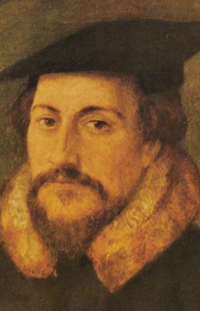 John Calvin, Pastor and Theologian (1509-1564)
ATHEISM vs. THEISM
The first choice presented to man is atheism versus theism. The argument for atheism is defeated through Pascal's Wager. The man who chooses not to believe in God faces not only the loss of the benefits from God that could come through prayerful assistance, who is all powerful, but such a man puts himself almost certainly in the path of utter ruin, even eternal damnation if his belief is wrong.
What if the theist is wrong? The theist loses absolutely nothing if he is wrong about God's existence, except perhaps those few strictures imposed by the laws of God that limit his behavior during this life. He will not remember such things in death. But not even the stricture of God's law is a loss for the regenerate theist, for the regenerate believer takes solace and joy in the laws of God, which are not a burden to him. Meanwhile, in his regenerated mind the supposed vain freedom of wickedness is perceived as odious.
Thus atheism is shown as the least reasonable of the two options.
CHRISTIANITY vs. THE HEATHEN SECTS
Next the attention is brought to which theistic religion to choose. Everything from Deism to Hinduism to Islam to Christ presents itself. When one examines Christianity, one finds a plethora of prophecies concerning Christ the Son of God. These prophecies came to pass not only in scripture, but in observable history, hence the spread and conquest of the gospel, the diaspora of the rebellious jews, and the prosperity of Protestant Christian civilization. We encourage all readers to read Justin Martyr and other early Church fathers for a full exposition of most of the Old Testament prophecies concerning Christ that have already been fulfilled, and that are beyond mere coincidence.
Another argument that soundly defeats the heathen sects is a theistic version of Pascal's Wager. If Hinduism or Deism is right, and one believes in Christianity, the chance of eternal damnation is zero or far less than if Christianity is the right religion. This is plain from the fact that Christianity alone (aside from Islam) threatens eternal damnation. This is an argument based on the fear of God, which while inferior in its motivation and less pure than the one based on fulfilled prophecies and the observation of history, is nevertheless a sound one.
Islam, which does threaten eternal damnation, is inferior to Christianity in two respects. First, no prophecies exist in Islam remotely comparable to those that have fulfilled the Jewish scriptures in Christianity. Second, Islamic civilization is cursed with poverty and is generally not prosperous. It is often subject to incredible tumult, and its people are often a confusion and unstable. This is a clear sign of God's disfavor. Protestant civilization is blessed of God and the most prosperous civilization on earth.
PROTESTANT CALVINISM (REFORMED CHRISTIANITY) vs. THE FALSE CHRISTIAN SECTS
Finally, what proves Protestant Calvinism above the other Christian sects should be considered. The false sects are founded on biblical verses (the earliest and most reliable evidence of what was taught by Christ) that have other viable interpretations. Protestant Calvinism alone is founded on verses that have no other plausible interpretation than that which supports Reformed Christianity. For example, the papists attempt to use Matthew 16 to prove the papacy. Yet, there are many other interpretations of the "on this rock I will build my Church" verse than that proposed by the papists. Thus, they have proven nothing from their foundational verse. Many early Christians rejected papal authority.
On the other hand, Protestant Calvinism is founded on verses and early authorities that can be interpreted in no other manner than the Calvinistic sense. One such verse is "to the man that worketh not, but believeth on Him that justifieth the ungodly, his faith is counted for righteousness." There is no other plausible sense to this verse from Romans 4 other than the Calvinistic interpretation. Another example would be Romans 9, which clearly teaches predestination that is based entirely on the good pleasure of God, without consideration of the merit or demerit of man's deeds. There are no other viable interpretations of these passages other than that proposed by Calvin and the Reformers, the devout followers of Our Lord and Savior.
God's Speed to the Elect in Christ
The Puritan Elder
puritanelder@bibleprotestantism.com