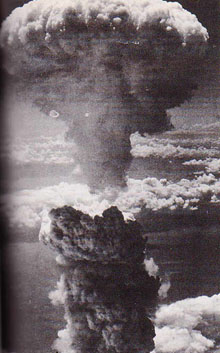 Nuclear explosion over Hiroshima, Japan in 1945
Two weeks ago, a former U.S. Air Force Surgeon General tried to share a plan for treating mass radiation casualties with South Korea's military. A U.S. government liaison tried to dissuade him on the grounds that deaths due to hematopoietic syndrome-the loss of immune functions due to bone marrow damage through exposure to radiation-pale in comparison to deaths resulting from the effects of a nuclear blast, i.e., physical trauma or burns.
In a letter published online in the January 2011 issue of International Journal of Radiation Biology, cord blood medical pioneer Dr. Norman Ende writes, "The current availability of advanced antibiotics and human cord blood...coupled with readily available intravenous fluids, would, in our opinion, save 80 to 90% of those who survive the first 72 hours following an accidental or intentional nuclear detonation."
The eighty-six year old Ende first established cord blood's medical potentials for cancer in the mid-sixties and early seventies. He supports his present claim by placing his research that expands cord blood potentials for rescuing bone marrow in context with pathological reports from Hiroshima and Nagasaki. Regarding these reports, Ende says, "Most of the deaths that occurred after two weeks were the direct and indirect effect of a compromised immune system."For reasons presented elsewhere on this page (See "Radiation Critical Care: a report to the U.S. Department of Defense"), the plan recently shared with South Korea may offer the only practical hope for mass casualties who suffer radiation sickness from a nuclear attack.South Korea might feel betrayed its long-standing ally didn't share this medical strategy sooner-like last February when North Korea threatened the South with nuclear war. Instead, if not for the outrage and persistence of a retired Air Force general, the South Korean government might never have learned of this critical solution to a medical nightmare.Whether South Korea plans to enact Ende's strategy remains unclear.U.S. law stipulates that cord blood should be used "in concert with Federal programs for response to terrorist or military weapons that can damage bone marrow." Nonetheless, despite Ende offering his plan to Washington in 2006, to the City of New York later that year, and its presentation to the White House National Security Staff in February of 2010, America remains without a viable strategy for treating mass radiation casualties. The Peoples Republic of China, however, thought Ende's proposal made perfect sense.In 2002, Vice President Hu Jintao of the People's Republic (the current Chairman of the Communist Party and President of the People's Republic) met in New York with Ende's associate, a Chinese national named Dr. R. Chen. Hu ordered his aides to take scrupulous notes concerning every aspect of Ende's proposal.Since the U.S. government chooses to allow Americans to remain without hope if exposed to radiation, perhaps the peoples of the Middle East, India, Pakistan, South Korea, and South Korea's neighbors in China and Japan-billions of humans who face the specter of nuclear threats-should not feel offended because U.S. folly endangers their lives...a tragedy Ende reveals in his blueprint for treating ten-thousand victims of a nuclear attack in Manhattan:
"At this point," he said in his 2006 report, "the establishment of a logistical plan could potentially save thousands. Currently, no money is needed, simply a plan for basic communication, logistics and use of existing facilities."
A former surrogate 'stem cells' spokesperson for the G.W. Bush White House, J. Perry Kelly ended his biotech activism when he came to believe the aspects of human nature that delay or block the advent of cures also propel mankind toward climatic disaster. He explores these issues on his Wordpress blog, Quantum Fires, and through his Twitter account as @quantumfires
James P. Kelly
ames@jperrykelly.com