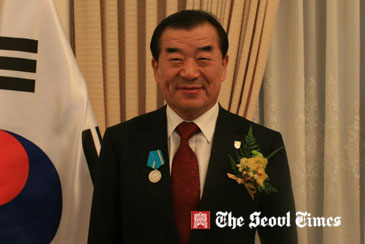 Korea University President Lee Ki-Su poses for camera atter he was awarded with "Pushkin Medal" at the Russian Embassy/
Korea University President Lee Ki-Su was awarded with "Pushkin Medal," a Russian State Medal, in an award ceremony held at the Russian Embassy in Seoul on Jan. 31, 2011.Lee was recognized for his contributions to the Russian-Korean partnership in the field of science and culture.The Russian State Medals were also awarded to four other Korean university professors: Prof. Lee Se-Ung of Seoul Cyber University, Prof. Eom Gu-Ho of Hanyang University, Prof. Kim Hyun-Taek of Hankuk University of Foreign Studies, and Prof. Kang Duck-Soo of Hanyang University of Foreign Studies.Konstantin Vnukov, the Russian Ambassador to Seoul, awarded the medals to the professors on behalf of the Russian President Dmitry Medvedev.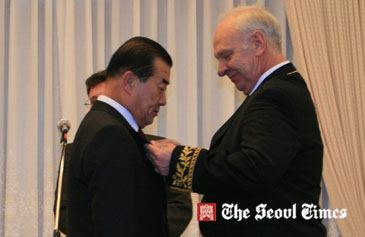 Russian Ambassador to Seoul Konstantin Vnukov (right) confers "Pushkin Medal" to Korea University President Lee Ki-Su.
Following the award ceremony, Amb. Vnukov and Madam Yulia Vnukova threw a reception with the Russian style dinner.President Lee was awarded the "Pushkin Medal," named after the great Russian poet, for his contribution to the development of the bilateral ties between Moscow and Seoul. Particularly, in the capacity of Korea University President, Lee met with the President of Saint-Petersburg State University in Russia, prior to the G20 Summit in Seoul, to discuss ways to perfectly prepare for the gigantic event. On Sept. 27, 2010, Lee was awarded the hononary doctor's degree in law from Saint-Petersburg State University. He was recognized for his contribution to the bilateral development through academic exchanges between Korea University and the Russian university.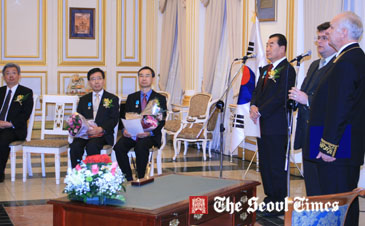 Korea University President Lee Ki-Su (3rd from right) delivers a speech while other recepients of "Pushkin Medal" are seated. At right is Russian Ambassador to Seoul Konstantin Vnukov.
Earlier this year, Lee was appointed as professor emeritus, which stands for "long and distinguished service," of the Moscow State University by its President (Rector) Viktor Sadovnichiy at the university's anniversary ceremony.Lee will step down as the President of Korea University at the end of February, 2011 after rounding up three years of his tunure as the university's highest official.Lee will leave for America to serve as a visiting chair professor at the Goerge Washington University for a year.In addition to his success in the field of education, President Lee has been very active with social activities. Lee Ki-Su has been serving as the president of a German Alumni Association in South Korea "ADeKo" since its inception in May, 2008.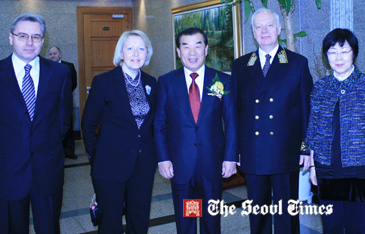 Korea University President Lee Ki-Su (center) poses with Russian Ambassador to Seoul Konstantin Vnukov (to his right), Mrs.Yulia Vnukova (to his left), and Mrs. Lee (right). At left is Minister-Counsellor Alexander A. Timonin, who is the deputy head of mission of the Russian Embassy.
Lee has also served as chairman of the Association of the Korean Law Professors.Recently, Lee was elected as the 4th Chairman of the Korea-Japan Law Association in its borad of directors meeting.He was born in Hadong, South Gyeongsang Province in 1945. After graduating from DongAh High School in Busan, he went to Korea University (KU) where he majored in law.Upon graduation, Lee went on to pursue his graduate degree in law at Eberhard Karls Universität Tübingen (University of Tuebingen) in Germany.In 1983, he earned his doctor's degree in commercial law from the German university.Lee became a faculty member at Law Department of his alma mater in 1987. In 1998, he became the dean of the Korea University's Law College.
For details or inquiries leave PR Officer Kim Na-Yoon an Email at nayoonkim@korea.ac.kr