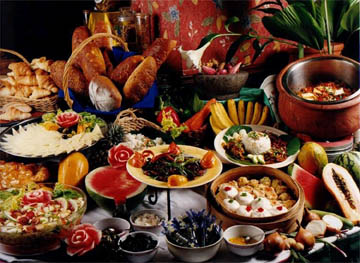 Buffet breakfast of Gerringhi Beach Hotel
Penang has always been a top destination for fun and excitement with a myriad of interesting attractions for the visitor. These include some of the most historic sites and well developed tourism products, notably golfing holiday programs.Luxurious golf tournament Penang Golf Circuit 2004 sponsored by the Penang State Government is part of a series of dynamic events to cater to both locals and visitors from near and far with contrasting cultures and colorful festive celebrations all through the year.According to Mr. Ishihara Shotaro, managing director of Tropical Resort Lifestyle SDN BHD, Penang Golf Circuit 2004 is set to be staged at five golf courses in Penang Dec. 14-19, 2004.The five are Bukit Jambul Country Club, Bukit Jawi Golf Resort, Kristal Golf Resort, Penang Golf Resort and Pearl Island Country club.Mr.Ishihara arrived in Seoul this week to promote Penang golf holidays at the MICE Seminar organized by the Malaysia Tourism Promotion Board (MTPB) office in Seoul at the Millenium Hilton Hotel on Sept. 22, 2004.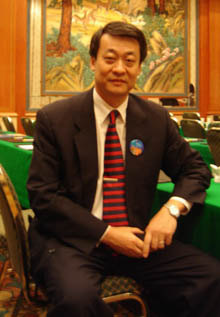 Mr. Ishihara Shotaro
More than 130 representatives of the Korean travel trade industry, news organizations and others took part in the seminar which served as an occasion to increase awareness about the Malaysian market, one of the fastest growing outbound markets for South Korea. Surrounded by mist-shrouded mountains, Kristal Golf Resort's par 72, 6938-yard layout is regarded as one of the best golf courses north of Klang Valley, the sprawling resort is a Malaysian-Japanese joint-venture developed by Suasa Kristal.The design of the course was undertaken by Japanese design firm Eiwa Sekki, aided by the Resort's chief advisor, Mr. Hideyo Sugimoto, who also happens to be the 1973 Malaysian Open Champion, he told The Seoul Times.According to S. Ishihara, Kristal Golf Resort is aiming to be a very unique and distinctive golf resort by combining Malaysia's beautiful nature and Malaysian's warm hospitality and Japanese expertise in developing and managing golf courses.Mr. Ishihara wants to confirm Kristal Golf Resort's identity as a Malaysian golf club with international standard and sincerely hopes the resort will attain a place as the new prime social and sports activity center in the rapidly growing areas of Seberang Prai Selatan (Mainland Penang) as well as becoming a new tourist attraction of Penang State. Touching on Penang which is widely known as the "Pearl of the Orient," he said that Penang's natural beauty and exotic heritage have been attracting curious visitors for centuries.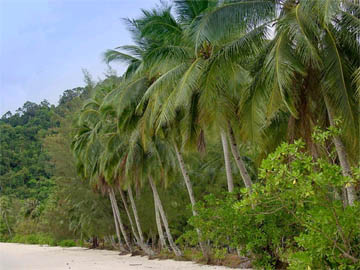 Monkey Beach in Penang, Malaysia
Literary giant Somerset Maugham (1874-1965) is known to have stayed on the island and spun tales about the romance of the white planter in South-East Asia."Perhaps Penang has more to offer per square mile than any other place in the world. For sheer variety of locales, cultures and foods, Penang is hard to beat," he adds.In its capital Georgetown, modern skyscrapers rise from one of Southeast Asia's largest collections of intact prewar buildings. Manufactures of sophisticated electronic goods compete for space with wet markets and old temples. "Where else can you find a century-old church, a Chinese temple, an Indian temple, and a Muslim mosque all within a five-minute walk from one another?" he said.Turning to Penang Golf Circuit 2004, Mr. Ishihara said that there will be two groups for the tournament scheduled for Dec. 14-18.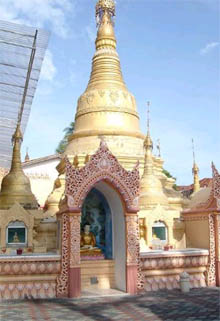 One group will be consisted of about 100 golfers and each group has one set of prizes. Three golf courses out of the five courses in Penang (mentioned earlier) will be played at this tournament. For a golf holiday package, price is a mere $318 which covers a 5 star hotel for 4 nights, 3 rounds of golf, airport transfer to hotel plus meals at hotels and sightseeing.He believes more than 100,000 Korean tourists are expected to visit Malaysia this year, a whopping increase from a year ago, expressing hope that more would not miss Penang's fantastic tourism attractions plus golf holidays.