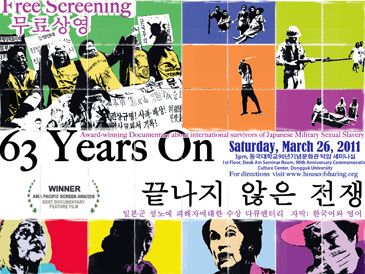 "63 Years On," documentary film about "comfort women"
What:
FREE Documentary screening of "63 Years On", the story of "Comfort women" – the film is in multiple languages with English subtitles. There will be a speaker and group discussion after the film.
Date:
Saturday, March 26th, 2011 Time: 3:00 p.m. – 5:00 p.m. Film duration: 63 min.
Where:
Dongguk University, 90th Anniversary Commemorative Munhwa Gwan (Cultural Center), Deok Am Seminar Room, 1st Floor (How to get there: Dongguk University Station (Line 3), Exit 6. Go up the escalator and follow the road until you see Lee Hae Lang Fine Arts Theater. It's the building on the back side of the theater)
From:
The House of Sharing - International Outreach Team
| | |
| --- | --- |
| | Late Kim Hak-Soon: The former comfort woman was born in Pyeongyang in 1924 and moved to Manchuria, where she was, at the age of 16, forced to become the sex slave for the Japanese soldiers. "My life was over when I was 16 years old," she cried in an interview. "I tried to run away several times from the military brothel" In 1991 she took the courage to tell the world that she used to be the comfort woman. She and others staged protests regularly in front of the Japanese Embassy in Seoul, demaning an official apology from the Japanese government. She died a lone death in Dec. 15, 1997, donating her entire fortune of 17 million won to the needy. |
The documentary film, '63 Years On' will be shown at a free screening at Dongguk University in Seoul's Pil-dong, 90th Anniversary Commemorative Munhwa Gwan (Culture Center) on March 26, 2011.This is an opportunity for both the Korean and International communities to further engage with the 'Comfort women' issue and to support the continuing fight for justice. A brief Question & Answer session will take place after the film, an opportunity to ask questions and share thoughts on the film.In this film, award-winning Korean Director Kim Dong-Won presents the harrowing experiences of five international survivors of Japanese military sexual slavery during WWII.The very personal telling of their experiences is supported by excellent research and archival footage to create a powerfully honest, determined, and often heartbreaking documentary. While this gripping film may evoke great sadness and anger, the bravery displayed will truly inspire all who see it.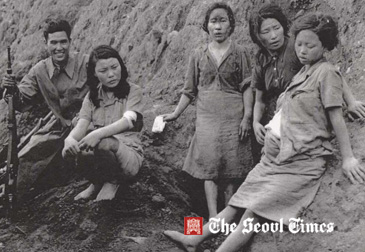 Ms. Park Young-Shim (center) poses with her comfort woman friends in North Korean region during the Pacific War. A man with the rifle appears to be Japanese soldier.
The House of Sharing's International Outreach Team works to raise awareness of the issue of Japanese military sexual slavery and to support the survivors in their on-going struggle for historical reconciliation and justice.The team is composed of both foreign and local volunteers who lead English tours at the House of Sharing and works to highlight the continuing crimes against humanity in the form of sexual violence during war that women and children across the world continue to experience.This screening provides a window to an episode of Asian and international history which has been willfully ignored by so many for more than 63 years. You are invited to join the House of Sharing and show your support to the survivors who continue the fight for justice.
Japan Recruits Sex Slaves during Pacific War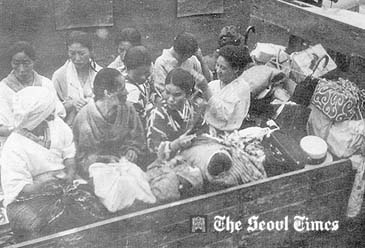 Japan recruits sex slaves during Pacific War (1941-45).
Imperial Japanese Army first introduced "a system of military sexual slavery" or euphemistically "comfort woman system" for its soldiers in 1932. By 1938 the system was spanned out to the entire military, which conquered and ruled much part of Asia during WWII. "The Rape of Nanking" incident led to the heinous system. When Japanese soldiers raped Chinese women in Nanking and anti-Japanese feeling heightened Japanese military decided to set up "comfort places" or sex facilities within its military units as a way of relieving its soldiers of their pent up desire. In 1941 when Pacific War broke out and the Japan's war front was expanded they needed more comfort women. With the help of Japanese governor general in Seoul, Japanese military officers were on a hunt for comfort women in the entire area of the Korean Peninsula.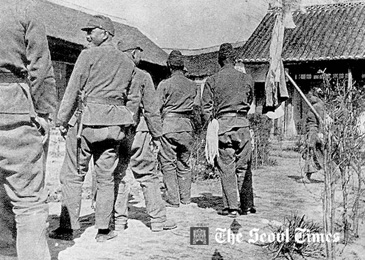 Japanese soldiers are waiting in line for entering a place of "comfort women" during the Pacific War (1941-45).
The number of Korean victims was estimated at between 80,000 and 200,000. Japanese government denied that they ran any such system until 1991 when a brave woman named Kim Hak-Soon came out and revealed the Japanese atrocities to the world. Japanese Governor General's Office in Seoul incinerated all related documents before the closing of WWII. A 1994 report shows that there are still hundreds of former sex slaves alive. Most of them are women of Asian countries occupied by Japan before and during the Pacific War. Among them are 160 South Koreans, 131 North Koreans, 100 Filipinos, 50 Taiwanese, 8 Indonesians, and two Malays. These numbers are only for those who revealed their real name. There are much more victims living out there who do not want to identify their tragic past. Even after Korea's liberation from Japan in 1945, many of the Korean victims chose to live in the Asian country where they were forced to serve sex to Japanese soldiers.Info: www.houseofsharing.org
Email: info@houseofsharing.org Contact: Shannon Heit
Email: shannon.heit@gmail.com