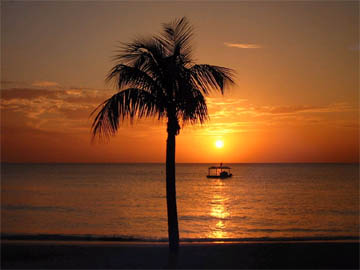 I was dubious, but I was clearly in the minority. It was late Friday afternoon, and a guy in the poolside calypso band was revving up the crowd on Majesty of the Seas, one of Royal Caribbean's giant cruise ships, for our three-night jaunt to the Bahamas. The hot tubs on the main deck were packed, the pool a hive of activity. Men were shooting hoops on the sports deck, and the buffet tables, groaning with tacos and fat sandwiches, were under siege.We had not even set sail. But the partying starts early on this weekend cruise, which leaves Fridays at 6 p.m. from the Port of Miami, a routine I had grown used to watching from my 30th-floor office downtown. Though I had never longed to experience a cruise, a year of living in Miami, eyeing the lustrous white ships and hearing colleagues rave about weekends at sea had made me curious. We traveled in late July, before the two hurricanes that postponed and in some cases prolonged cruises like ours (they were diverted to safe waters) but left the Majesty's ports unscathed.So here I was, holding a garish frozen drink, listening to Jimmy Buffett covers and starting a mental list of sayings I spied on T-shirts. ("Your Lips Keep Moving But All I Hear Is Blah, Blah, Blah" was the first, followed by "For Sale: Husband" and "Jesus: That's My Final Answer!")There were 809 crew members from 51 countries on board our 880-foot-long ship. It carried 2,645 passengers from 65 countries, according to our captain, the strapping Per Kristoffersen. Many were young couples or groups of college-age friends, perhaps taking advantage of the fact that the drinking age on Royal Caribbean ships on international waters is 18, with parental consent. Though I had heard jokes about cruise ships being old-folk magnets, I saw many more families than retirees. I had come with Kyle, my boyfriend, who asked, "What does it matter if the boat even leaves?" as we surveyed the early revelry.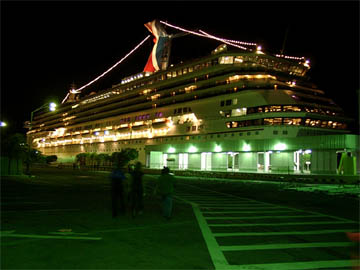 He had a point, though for us, departure turned out to be a highlight: watching Miami's iridescent skyline recede in a presunset haze, from deck chairs where we downed our first of many greasy buffet snacks and enjoyed a gentle sea breeze. We felt nicely dazed, despite the blaring of songs like "Who Let the Dogs Out" and "Everybody Wang Chung Tonight." We quickly learned that bars abound on Majesty of the Seas — there are 10, including the Mast Sports Bar on Deck 12, the Champagne Bar on 7 and the Paint Your Wagon Lounge on 8. The spa was crowded with appointment-seekers Friday evening, while the library, a faux-austere spot with a chessboard under glass, was abandoned.I was darkly curious about some of the activities listed in our Cruise Compass newsletter — a tooth-whitening seminar in the beauty salon, for instance — but laziness won out. We retreated to our cabin after departure, where I discovered my soon-to-be-favorite cruise activity: watching the old movies ("Mr. Smith Goes to Washington") and TV shows ("Charlie's Angels," "The Munsters") that the ship played on a continuous loop, far from the poolside partiers. Here are the stats on Stateroom 9570, a superior ocean-view stateroom (albeit with a view through a small porthole and obstructed by orange lifeboats): a snug 157 square feet, with peach-and-green carpeting, a mirrored wall with miniature cupboards and drawers, a tiny blue couch and a low queen-size bed. Our bathroom, barely big enough to turn around in, felt antiseptic. There, as in every public restroom, signs stressed the importance of washing your hands, a reminder of the stomach virus outbreaks that have plagued cruise ships.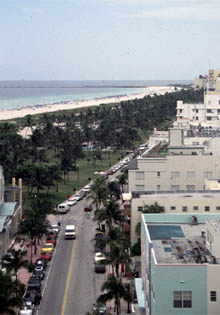 We had chosen the later dinner seating, at 8:30, thinking it would be child-free. But on reaching our table in the Mikado dining room, we discovered Alex, 3, Brooke, 8, and Brittney, 10, our dinner mates for the duration along with their mothers. Alex's mom, Emily, was a travel agent who told us he had been on 30 cruises and she, 350. My. The food was fair. I think I had chicken, but we more enjoyed the trio of musicians who went from table to table, playing "The Devil Went Down to Georgia" and other cheesy chestnuts on violin, guitar and bass. You could pose for a picture with a crew member dressed as a pirate, his plastic knife pressed to your throat.The night life options were dizzying, but two stood out: the Adult Scavenger Hunt in the Paint Your Wagon Lounge, and later, a Disco Inferno party in the On Your Toes Nightclub. As with most organized activities we witnessed, a few zealous types took part while everyone else sat around watching, drinks in hand. For the scavenger hunt, teams had to produce a man wearing lipstick, a man wearing a toe ring and a man wearing two bras on his head. At the disco party, we watched fellow passengers dance to "Jungle Boogie" with cameras around their necks. By midnight I was more than ready for sleep, though the fun would continue for hours. When we awoke Saturday, we were anchored just off CocoCay, Royal Caribbean's private island in the Bahamas (it took some damage from Hurricane Frances, and ships won't stop there until early October). It sounded like tropical splendor but looked kind of scrubby. Instead of debarking, I went to the Majesty Day Spa for a $99 facial. I fell into a lovely dream state as my facialist applied various potions, but was jarred awake when she recommended that I buy $500 worth of skin care products.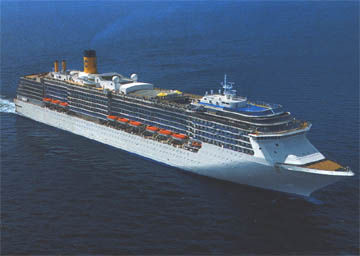 By 2, we were ready to check out CocoCay, a more inviting prospect now that many who had gone ashore earlier were returning, sunburned and clutching copies of "The Da Vinci Code." We took a quick tour of booths selling straw bags and other souvenirs, glimpsed two large iguanas and sized up the pretty beach, where you could rent floating mats, snorkeling equipment or WaveRunners. But we were soon ready for the air-conditioned comfort of our stateroom, where we watched "Flipper" and "Chico and the Man" until it was time for the Champagne Gala Fine Art Auction preview. There was a painting of two otters hugging, prints of Woody Woodpecker and the Pink Panther, a few works by Peter Max, whom the auctioneer described as "definitely the new Picasso of our day." He urged us not to feel intimidated: "This is not a Sotheby's or Christie's auction. You can yell like it's the Super Bowl in here if you like."More popular was the line for portraits before dinner, for which you could choose fake backdrops like a huge full moon or lurid sunset. It was formal night, with an abundance of sequins and rhinestones, tuxedos and floor-length gowns, even for little girls. We stayed at dinner for almost two hours, playing tick-tack-toe with Brooke and Brittney, our favorite fellow passengers.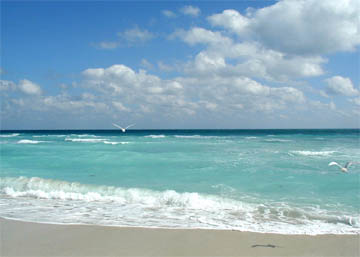 Next came the Dancing Under The Stars party, another chow fest by the pool with tables of roasted meats, melted chocolate to dip fruit in, tacos, pasta, burgers, ice cream and, for $7.99 on your SeaPass (basically a Royal Caribbean credit card used for all shopping, spa and alcohol purchases), frozen drinks in hollowed-out pineapples. One sweaty crew member carved an ice sculpture to Vanilla Ice's "Ice, Ice Baby," a complement to the eerie carvings of faces in watermelons propped here and there. Sunday morning in Nassau, we debarked early, eager to walk off the uncomfortably sated feeling we woke up with. You could buy excursions galore onboard — a Pirates and Dungeons tour for $29 an adult, for example, or a Close Dolphin Encounter expedition for $92, but we kept it simple and strolled the neighborhood near the huge cruise ship docks. It teemed with duty-free shops where you could buy designer sunglasses and diamond jewelry, a popular activity judging from the crowds. Museums and many locally owned shops were closed, as it was Sunday, so we walked 30 minutes to the Queen's Staircase, a landmark that slaves carved from limestone in the 18th century.From there, we strolled near the harbor in the other direction, ending at a restaurant called Twin Brothers where we ate delicious conch fritters, my best meal of the weekend. When we returned to the ship around 4 it was pouring rain, though it cleared up in time for our 5 o'clock departure, which I spent in a yoga class on the deck outside the ShipShape Fitness Center. Here was another highlight: assuming baby cobra and downward dog positions while the ship chuffed out of Nassau Harbor, our instructor purring, "Think only of yourself." After a final dinner that ended with the serving staff performing a musical number with lines like "We'll miss the smiley faces that we've welcomed every day," we skipped Final Jackpot Bingo and the Retro 80's dance party and decamped to Deck 12. Finally we found silence under a velvet sky, much starrier than Miami's. Then two teenagers perched behind us, one asking: "How do you know which star is which? Because they start gleaming at you or something?"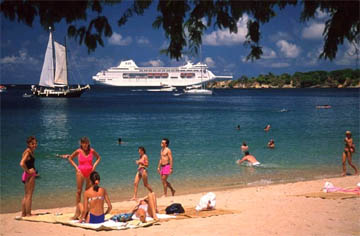 The intrusion mattered little. We were content as the Florida coastline reappeared on the horizon and the weekend, not the best of our lives but with its pleasing moments, neared its end.Majesty of the Seas, (800) 327-6700,
www.royalcaribbean.com
, sails from Miami to the Bahamas year round, with stops in CocoCay and Nassau. Rates for the three-night cruise are $249 to $3,029 a person, including port charges. There are also four-night cruises, at $249 to $4,499.
The above article is from The New York Times.