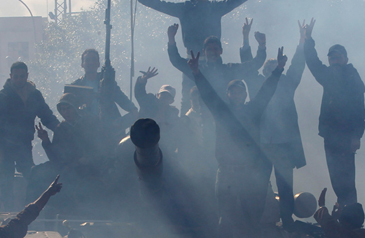 Egyptian protesters on the Libyan army tank manned by soldiers opposed to leader Muammar Qaddafi in the city of Zawiyah near Tripoli on March 1, 2011.
We are witnessing such a transformative world 4th waves toward full democratization, fleeing away from oppressive, dictatorial and undemocratic practices. It is touching to watch the gradual collapses of those oppressive regimes in Tunisia, Egypt, Libya, and in many other potential Middle East nations in which some fevers toward more people's sovereignty are being more and more arising.Is it really impossible for us to have a world of full peace by which everyone on globe will be guaranteed full rights of peaceful livings? It is never yet easy question to answer this in one sentence. As an international political scientist, I have elaborated much on Peace Studies thinking on how to secure this kind of world, albeit, in a gradual dimension. Peace Studies is a field of study that came to be born after the Second World War, largely caused by the failure of a range of social and internationalist movement to prevent to outbreak of two world wars within twenty-five years. Entering the 1990s, our peace and security concerns began to focus more on the major issues of the North-South wealth and poverty issue, and global environmental pollution concerns. Conflict-resolution, and post-conflict peace-building has been the dominant issues of the critical security and peace studies areas. Potential areas for conflicts to come also includes energy wars and ethnic cleansing. When we look at those popular uprisings in the Northern Africa and the Middle East, we have to think about the skills of conflict resolution; in a way to guarantee and protect the People's basic political and civil rights. The three recent interests areas on this issue nowadays usually centers around conflict prevention, conflict resolution and peace-keeping.Along with a combination of socio-economic divisions and environmental constraints, human security dimension does cover more wide range of security issues in a much more comprehensive way, as we came to recognize, looking out of the recent people's uprisings in the Middle East; how the Arabs gained momentum of such a brave courage into more liberty. Political philosophers and scientists, as of now, have go through more multi-dimensional, ontological efforts to demand a comprehensive rethinking of concepts of security, incorporating unprecedented cooperation for sustainable world peace for each individuals on earth as well as for many groups such as nations in the world, and also for economic development and environmental management. We political scientists have more imperatives to deepen our understanding of the interconnectedness problems of world politics and world economy, and ethnic issues, and their relations to comprehensive security. We have to develop acceptable, more active peace regimes for world peace, not only to tackle those issues in Libya, Tunisia and etc., but also to tackle those issues of security linkages between theory and practice. Just looking into the issue of Libya, we all have the responsibility to protect the people's basic human and political rights by the name of UN or by another accepted model of peace regimes. At this critical juncture, the UN must behave in its right position more than just a lofty principle. Unfortunately, however, we all agree that the capacity and role of the UN is too much limited and constrained, though we watched the recent resolution in response to Muammar el-Qaddafi's continued assaults on civilians in Libya. It is a small relief that the UN Security Council adopted a unanimous and historic resolution in an unusual Session.We must not overlook the importance of enhanced role of Peace Regimes with more reconciled and strengthened responsibility to protect people, based upon more extended concept of comprehensive human security. In this context, the situation in Libya is a test case for searching for the potential to either reform or transform the functioning of the UN or to look for other ways possible to build more peaceful and powerful Peace-Regimes.
Yellow Flowers
Dr. Tae-Woo Park (Poet)
They all smile at us
during their life time
Without hesitation
Without fatigue
Only with pleasure
They all dance with us
during sunny days
Without any mistakes
Only with harmony
They all breathe with us
Day and night always
Without even a break time
Only with a wish of oneness
They all dream same dreams
Every night in sleeping
Without even a dot change
Only with a hope of joy.