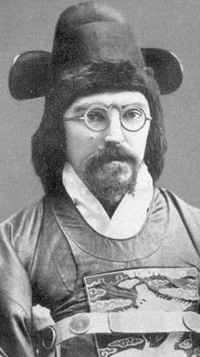 Paul Georg von Möllendorff
(1847-1901)
Around the end of the 19th century Korea, so-called "Hermit Kingdom" by the West, was bemoaning under the hefty influence of its aggressive neighbors of Japan, China, and Russia.
King Gojong (高宗) of Korea's Jeoseon Dynasty (1392-1897) was trying nearly everything to keep his kingdom independent from the sinister scheme of the imperialist nations to swallow the weakening Korea.
As a part of his efforts to save his Kingdom, Gojong hired a German diplomat Paul Georg von Möllendorff (1847-1901) as his court official in 1882.
As a linguist himself Möllendorff quickly mastered the Korean language and earned the trust of King Gojong.
Later, he became Gojong's deputy foreign minister, adopted the Korean name Mok In-Dok (穆麟德), and played a very influential role in King Gojong's court until he was forced to resign under extreme pressure from China and Japan.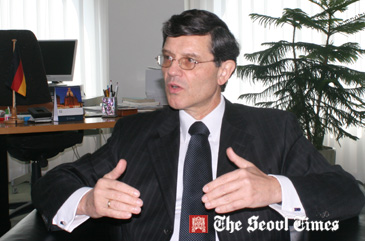 German Ambassador to Seoul Hans-Ulrich Seidt in his office
"He loved Korea and its people so much that he wanted to introduce the Korean culture to Germany and Europe," said German Ambassador to Seoul Hans-Ulrich Seidt in a meeting with local news media at his embassy in Seoul on March 4, 2011.
During a couple of years of his serving the king, Möllendorff recorded various aspects of Korean culture including eating customs in Korea, how to make Korean dishes and houses, how Koreans skincare, different types of coins, weapons, smoking, and the means of transportation.
Moreover, he collected artifacts of Korea and the living items of Korean people.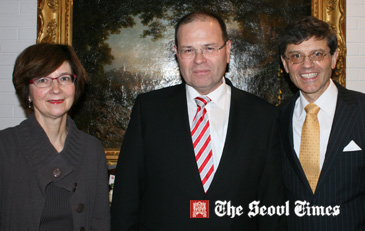 German Amb. Hans-Ulrich Seidt (right) and his spouse Marita Seidt pose with Leipzig Deputy Mayor Uwe Albrecht (center).
"He collected more than 1,250 pieces of Korea's cultural objects, mainly the ordinary living items of Korean folks, from potteries to palanquins, Amb. Seidt said. "When he was forced to leave Korea,
he brought back all of his collections and gave them to the Grassi Museum Leipzig, which accumulated additional Korean traditional objects since."According to the German envoy, King Gojong bestowed Möllendorff with the "Great Sword" that belonged to King Sunjo and used in his fight against Japanese during Hideoshi's Invasion of Korea.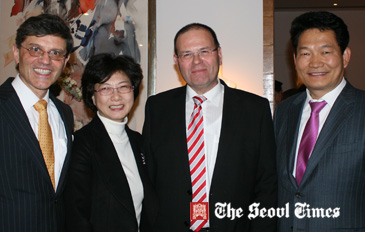 German Ambassador to Seoul Hans-Ulrich Seidt (left) poses with Leipzig Deputy Mayor Uwe Albrecht (center), Incheon Mayor Song Young-Gil, and Mayor's Song's spouse at envoy's residence.
He stressed the fact that Möllendorff was the first and only official of Korea from a foreign nation, it was the beginning of the flulishing relationships and ever growing cooperation between Germany and Korea.The German envoy siad that Germany's Leipzig delegation would visit South Korea from March 6 to March 10, 2011 to pormote ties and cooperations between the two countries.
The German delegation consists of Leipzig's Mayor Burkhard Jung,
Leipzig Deputy Mayor Uwe Albrecht, and Leipzig Chamber of Commerce representatives.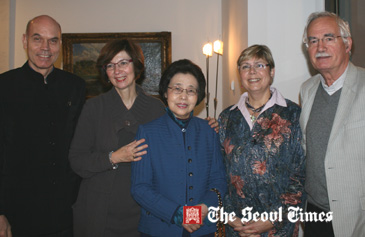 Madam Marita Seidt (2nd from left), spouse of German Ambassador to Seoul Hans-Ulrich Seidt poses with her friends. At far left is Dr. Colin Durkop, resident representative of Konrad-Adenauer Foundation's Korea Office.
It is also accompanied by the full members of the Leipzig Gewandhaus Orchestra, which performed at Seoul Arts Center on March 7 and 8, 2011.The ambassador said from this visit, the two nations woudl not only make the bilateral relationships stronger, but also would build stronger ties between Leipzig and several cities in Korea.According to the envoy, Leipzig, in addition to producing reputable musical talents including Johann Sebastian Bach and Gewandhaus Orchestra, is also known as the city of air transportation.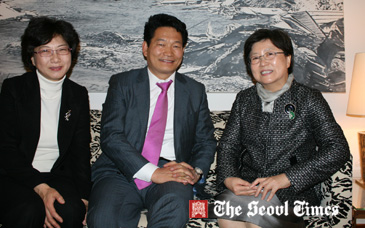 Incheon Mayor Song Young-Gil (center)poses with his wife (left), and with President Kim Sun-Uk of Ewha Womans University.
Leipzig International Airport, unlike its counterpart in Frankfurt, was built primarily for cargo and is open for 24 hours all year.
In addition, the German city is located in central Europe and facilitates well-organized railway and highway systems. It has a capability to effectively distribute cargo throughout the entire European Union."In terms of music, the city of Leipzig is comparable to the city of Vienna, but in terms of its trade volume, it is comparable to Frankfurt," he added.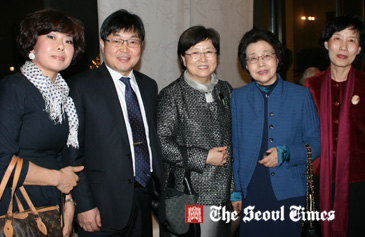 President Kim Sun-Uk (center) of Ewha Womans University poses with other guests. At right is Dean Chae Moon-Kyung of Ewha Womans University's College of Music.
In many ways, Leipzig is very similar to the Korean port city of Incheon.With its huge international airport and seaport, it is the most important transport hub in Korea, and it has recently transformed into a global business hub centered around the high-tech and futuristic Songdo International City.
He said that Leipzig Mayor Burkhard Jung invited Incheon Mayor Song Young-Gil to make a keynote speech about the importance of transportation at the forthcoming International Transport Forum in the German city.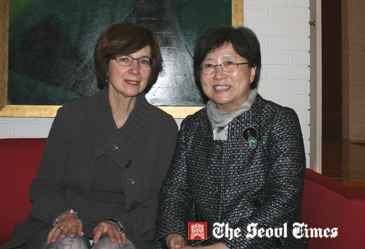 Madam Marita Seidt (2nd from left), spouse of German Ambassador to Seoul Hans-Ulrich Seidt, poses with President Kim Sun-Uk of Ewha Womans University.
The two mayors already met for a variety of plans for cooperation in the nation."As cities of transportation, I believe Leipzig and Incheon could cooperate to generate a synergy effect," he said. "When the Korean lawmakers ratify EU-Korea FTA (free trade agreement), the trade volume between EU and Korea for the next 10 years will increase at least 8 to 10 percent every year," he added.
The German envoy also stressed the cooperation in the medical field.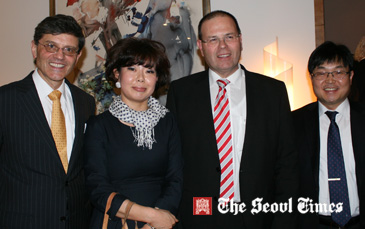 German Amb. Hans-Ulrich Seidt and Leipzig Deputy Mayor Uwe Albrecht pose with local guests.
He said that Chonnam National University decided to cooperate on the stem cell research with a Leipzig university.Leipzig also has strong historial ties with the Korean provincial city of Gwangju.
On May 18, 1980 in Gwangju, there was an uprising called Gwangju Democratization Movement.
In 1986 when Germany was still separated into two parts, Leipzig was the place where democratization movement was initiated in Germany.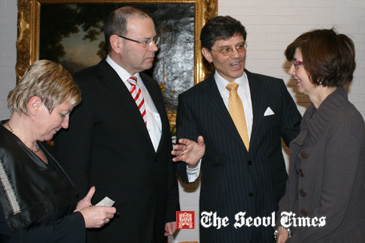 German Amb. Hans-Ulrich Seidt (2nd from right) introduces Leipzig Deputy Mayor Uwe Albrecht (2nd from left) to his spouse Madam Marita Seidt (right).
"The two cities share very important historical phenomenon that liberalized citizens of the two nations from despotic governments," he said.
He said that the German delegation would visit the industrial city of Ulsan, art city of Gwangju, and the port city of Incheon to discuss the further improvements that can be made for the cooperation.