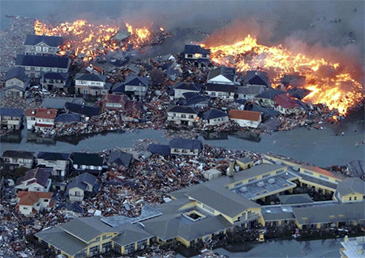 Japan hit by monster tsunami: A massive 8.9-magnitude earthquake and several powerful aftershocks struck the eastern coast of Japan on March 11 (Friday), 2011, triggering tsunamis that devastated the coastline north of Tokyo.

The massive earthquake and subsequent tsunami that hit Japan this morning underline the fact that no amount of preparedness and mitigation can avert the damage and loss of life of large-scale natural disasters.The catastrophic events do demonstrate, however, just how many lives can be saved by strong transnational disaster warning networks, state-of-the-art disaster-resilient infrastructure, and a capable and responsive government that considers disaster management a central component of state-society relations.The pictures and video streaming the Web are astonishing in their portrayal of the damage. For me, though, among the most stunning visuals are the Japanese buildings, bridges, and other infrastructure still standing despite the major quake, strong tsunami currents, and multiple aftershocks.If there is any place in the world ready for a disaster of the scale and scope of this historic calamity, it is Japan. Tsunami is, after all, a Japanese word, and the Japanese are hardly unfamiliar with the risks posed by natural hazards. The Great Kanto Earthquake of 1923, measuring 7.9 on the Richter scale, resulted in over 100,000 casualties. The more recent Kobe Earthquake of 1995, measuring 7.2, killed some 6,000 persons. An archipelago at the intersection of three continental plates, Japan is home to the greatest occurrence of earthquakes in the world and an equally impressive cadre of experts to respond to them. It was only a year ago when I was in Kobe that I ran into a U.S. delegation (many members of which were from Louisiana) meeting with city officials to glean what they could from their earthquake and disaster recovery efforts.And, of course, Hyogo is the city in which 168 countries pledged for the first time to address recurrent human vulnerability brought about by natural hazards in the landmark 2005 Hyogo Framework for Action.Physical hazards are growing in intensity and frequency with each and every year. An 8.9 magnitude earthquake is simply jaw-dropping in strength, no matter a country's experience or the measures it takes to prepare for and mitigate its risk.To offer some context, this quake falls just short of the largest on record: a 9.5 magnitude earthquake that rocked Chile in 1960. Combine it with the subsequent or cascading disasters that are sure to follow such a massive shake, in this case the nuclear scare at plants north of Tokyo, the dam failure in Fukushima prefecture, and the on-going power outages and lack of functioning public transportation in Tokyo, and it is clear to see that it is simply impossible for any country—no matter its focus on preparedness—to predict and plan for all of the potential consequences of a natural disaster.Still, Japan seems to have performed extraordinarily well over the last 24 hours. Considered by many to be economically stagnant, particularly since the global economic crisis of 2008, Japan has found itself very much in the shadow of other Asian nations over the last decade. At the same time, it has been hampered by its own internal political problems. So it is encouraging to see Japan's commendable handling of this unspeakable disaster in these early hours.Given the level of expertise for disaster management in Japan and across Asia, there will be many interesting things to watch as events unfold. For one, how well will the Japanese government be able to address the urban disaster relief needs of the 12 million citizens stranded in Tokyo? How effective will the relief cooperation be between Japan's Self-Defense Forces and the military forces of its long-time ally, the United States? And, finally, to what extent will Japan's regional neighbors, most notably China, Korea, and Russia, with whom relations have often been uneasy, come to its aid at this critical hour?
Stacey White is a senior research consultant with the Program on Crisis, Conflict, and Cooperation (C3) at the Center for Strategic and International Studies in Washington, D.C.
Commentary is produced by the Center for Strategic and International Studies (CSIS), a private, tax-exempt institution focusing on international public policy issues. Its research is nonpartisan and nonproprietary. CSIS does not take specific policy positions. Accordingly, all views, positions, and conclusions expressed in this publication should be understood to be solely those of the author(s).