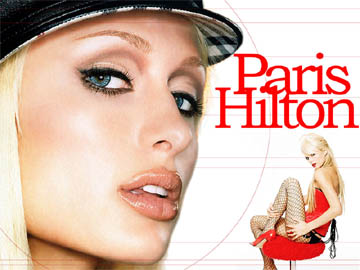 When Paul Marciano, the creative director of Guess, decided he wanted Paris Hilton to be the Guess model — the one featured in all the coming advertisements — he called her agent, who quoted what Mr. Marciano called "an astronomical fee."That did not go over well. Speaking with a trace of his French origins, Mr. Marciano said he somewhat tartly told the agent for Ms. Hilton, the celebrity socialite: "That is not the way we work with our models." Finis.When his office phone rang two weeks later, Mr. Marciano was not surprised. "Paris Hilton wanted to be the Guess girl," he said. "I told her I didn't want to meet business managers, lawyers; it would be just the two of us, no contract. We pay her, yes, way less, but think of the exposure for her — worldwide!"They each got their way (the amount paid is a secret) and now Ms. Hilton, photographed in demi-pornographic poses wearing silky pink cocktail dresses and much less, is the face (and body) of Guess, which, as a company, is getting its own makeover.Guess is introducing two new store concepts: the Marciano chain for a slightly older consumer — grown-ups eager for sophisticated tops, fancy jeans and, yes, even glittering evening dresses and fur capelets; and Accessories, mall-based boutiques with only handbags, hats and small leather goods, but no clothes.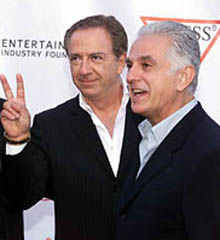 Paul Marciano, left, and his brother Maurice have created two new store concepts for Guess.
Fred Prouser/Reuters
The Marciano store openings -one in a Los Angeles mall a week ago; one on Wednesday in McAllen, Tex.; and one in Toronto yesterday — were just the first. The company will open 9 more Marcianos in this country in the next 12 months, and 27 more Accessories stores, here and around the world. And it is still opening Guess stores; altogether, 100 store openings are planned in the next 12 months. Guess is climbing out of the depressed state into which it fell around the turn of this century, when it lost a significant chunk of its business to "streetwear," the brands put out by Sean John, Russell Simmons and other rap stars and impresarios. Urban youth considered these brands more authentic than brands like Guess and Tommy Hilfiger. "We were not going to change, or start running after the customer," said Mr. Marciano, who founded the company 22 years ago with his three brothers and, besides being the creative director, is also a co-chief executive. "Not the streetwear customer, not the beach wear customer that Quicksilver and PacSun got; we still identify with the sexy young customer." So there will be no change in image — Ms. Hilton's ads prove that. Instead, Guess has chosen to reinvigorate its roots, trying to recapture the Guess customer of old, club-hopping 18- to 22-year-old men and women, as well as the fashionable crowd who wore Guess a decade (or two decades) ago, and now may feel left out of the scene.The time is ripe, the owners say."The whole business has come our way," said Maurice Marciano, the other co-chairman and co-chief executive, who trumpeted the emergence of the premium denim market, with jeans that regularly sell for more than $100. At the same time, Guess has upgraded the quality of the denim it uses, and lowered the waistlines. "The highest now comes only to the hip," he said. "More sexy, more cool, younger."With better management and announcements of the new chain concepts, Guess's stock price has risen more than fivefold, to $17.67 yesterday, from its low of $3.32 on March 10, 2003, and is up nearly 50 percent this year.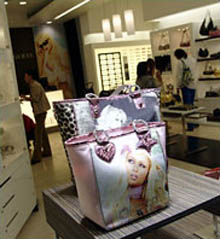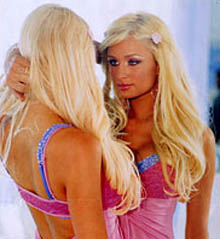 Guess wants to recapture the business it lost to "streetwear." It has hired Paris Hilton, inset, as the face in its ads and on some of its products like the handbag in a Los Angeles store, above. Top, Stephanie Diani for NYT
Yet the price is still little more than half its peak of $32 on March 31, 2000. The spring of 2000 was a peak time for the company, which made its name by putting sexy jeans and short-shorts on Naomi Campbell, Eva Herzigova, Claudia Schiffer and Anna Nicole Smith — those Guess girls of yore. By the beginning of 2003, many department stores and specialty shops had banished the brand, which seemed to have lost its cachet. Once, Guess tops and jeans appeared in 2,400 "doors," that is, department store and specialty shop locations. Even now, with a turnaround in progress, they are still sold in only 950 doors.Paul and Maurice Marciano together own close to 70 percent of the 44 million shares. Of the four brothers who founded the company, George retired 11 years ago, and Armand sold his interest 18 months ago, just as the company started to take off. Last year, Guess sold about $1.3 billion of merchandise with the Guess name.But in 2000, the company had overbought and its inventory was far too high.As a result of the losses in department store share, Guess's management decided to make "a big transition," Paul Marciano said. "We were 70 percent wholesale — department stores — in 2000. Right now, we are 72 percent retail," meaning sales in its own stores. Nevertheless, he said, he intends to "recapture the department store business" and expand into Europe. The company has already opened Guess stores in Bucharest, among other places, and a "Guess by Marciano," the transitional name for Marciano until Europeans understand who the Marcianos are, in Marseilles. "And we're pushing a lot into Canada," he added. The company already has 36 stores in Canada, he said, "and we hope to open another 12 stores in the next 12 months."To one analyst, these are the right moves.Eric M. Beder, who covers Guess for JB Hanauer & Company in New York, predicts that with 200 more stores planned for the next couple of years, Guess "could be the same size as Bebe," whose clothes Mr. Marciano sees as the major competitor for Marciano. Mr. Beder also expects Guess to revive a sizable piece of its department store business, possibly increasing the number of doors to 1,400. Margaret B. Whitfield, who covers the company for Ryan Beck & Company, continues to recommend the company, which has racked up excellent sales over the last three quarters. "Guess," she said, "continued its momentum."Ms. Whitfield said yesterday that she had just returned from a visit to the mall in Los Angeles "and the new stores look great." Pictures of the first Accessories store show well-lighted rows of sleek sunglasses, with tote bags emblazoned with photographs of Ms. Hilton.The racks of the Marciano store include full-length white rabbit coats with gold-toned belts for $498, and bedizened cashmere v-necks for $138, along with stretch pocket jeans for $148. The chain's logo is a big "handwritten" M.Mr. Beder likes the new Marciano stores, too, calling them " a slam-dunk." The Marciano brothers, analysts say, were known as great merchants, but as less-than-great business operators. When things started heading downhill, in late 2000, the company hired a chief operating officer, Carlos Albertini, and a chief financial officer, Frederick G. Silny. Within three years, they had cut inventory in half, thereby achieving better mark-ups, that is, profits.Nevertheless, not all analysts are high on the company's stock. Dorothy S. Lakner, an analyst for CIBC World Markets, said in a report issued on July 30 that although the retail stores looked "the best we've seen in years," the decline in department store sales "seems to support our view that department stores have more choices in contemporary brands." For Guess, she added, "we are not sure a fix is in place."She rates the stock sector underperformer, saying that she does not see much potential to rise in the stock. The rating is not a judgment of the health of the company, she said yesterday.Ms. Lakner also wrote that she was concerned about introducing Accessories and Marciano simultaneously, "before testing the waters" with just one. Ms. Lakner had no comment on Ms. Hilton, who models clothes for both Guess and Marciano.But Mr. Beder, the analyst for Hanauer, calls her presence "a big win."In photographs, Ms. Hilton lies in various sultry poses, holding a Champagne glass, and cuddles — apparently wearing only jeans and a jeweled belt — with a very fluffy white stuffed animal."It's kind of scary," Mr. Beder said. "But managers tell me customers come in, pointing at these pictures of her, begging for the whole outfits. They consider it, er, aspirational." The catalog, he said, "is slightly pornographic, but so were the older catalogs."
The above article is from The New York Times.