Asia-Pacific
Blame the Pitches, Mate!!
By Abhishek Joshi
Associate Editor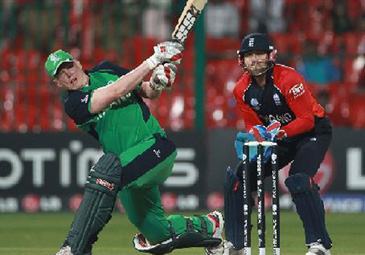 Irish Kevin O'Brien hitting six in Bangalore

"Oye! What a tie it was!" expressed Sharan after an enthralling India-England cricket world cup match came to an end. For many on both sides of the aisle, the match was an upset victory, or an upset tie as the scores showed. Posting a giant score on the board, India thought it has won the game. Little did the Indian team know that the party will soon end. Blame the pitches. Every match played in India has seen massive runs on the scoreboard. In fact the pitches in the Indian subcontinent are known to be batsman friendly. Where are the pitches that ensured a victory in low-scoring matches? The 1999 Cricket World Cup was one such extravaganza. The 2011 Cricket World cup is not. The pitches at Bangalore and Nagpur cannot imitate the pitches at Edgbaston and Old Trafford. The first match saw even cricketing minions such as Bangladesh score 283 runs against the mighty Indians. Barring the England-South Africa clash, every match involving the big eight has been a batsman's fantasy and a spectator's delight. Indian Sachin Tendulkar's impressive 120 and English Andrew Strauss's marvelous innings of 158 runs set the tone for this world cup. No wonder we witnessed a tie after 676 runs were scored in that epic match. Irish Kevin O'Brien's onslaught of 113 runs in 63 balls and Kiwi Ross Taylor's birthday gift of 131 runs to his country show what is more to come in this world cup. The last thirty balls that Taylor faced single handedly demolished the hopes of Pakistani team. Shahid Afridi, the captain of Pakistan team, did not know what to do. His ace bowlers Shoaib Akthar and Abdur Razzaq failed him miserably. The Indian subcontinent loves runs. The subcontinent likes to see its batsman score; it doesn't care much about its bowlers. It loves to see a batsman hitting the ball all over the fence and demolishing the bowler's confidence. We are led to believe that pitches that are flat, that offer no seam, and that spin a little bit late in the game, inadvertently suiting the spinners, make the game interesting – the norm of the subcontinent pitches. The subcontinent pitches are of a great advantage to India, a hotshot contender to win the world cup. Not a pleasant thought to think that India won the world cup because of home pitch advantage. On the contrary, Australia, the cricketing goliath, won all three previous world cups in what could be called "not so batsmen friendly" pitches away from home. The last time India won the world cup was in 1983 in England, surprisingly in a low scoring match. Back then India had a great bowling attack against a formidable West Indies batting order. It has been said before that this world cup is bowler's graveyard. I agree. Scoring 280 is a norm, and scoring 330 runs doesn't guarantee the victory anymore. South Africa chasing Australia's 434 runs might have been considered a one-off event four years ago, but not anymore. Everyone is waiting for the knockout stage of this world cup. From the knockout stage, all we are left to count is how many batting records will be broken and how many runs will be scored in the remaining 700 overs, before one team lifts the cup in Mumbai. As a fan of low scoring matches, I have a lot to complain but I don't want to be a killjoy. The cricket board in India should make pitches that are compatible to both the batsmen and the fast bowlers. Until then, I am choosing to change. I reluctantly enjoy the game as runs keep on piling. Blame the pitches, mate.

Related Articles
Crimea Crisis
Left Moves to Far-Left, Right Moves to ...
Sarkozy's Financial Transaction Tax, ...
NRI's Dandi 2.0
"S. Korea Can Learn from Australian Experience ...
Midterm -- Democrats' Curse for Obama's 2012?
Yet Another Apology, Eh?
Liberal Democrats Should Support Conservatives
Is it the End of European Dream?
Can Park Stall Chung and Lee's Sejong City?
What Effect Will Dalai Lama Have on Chimerica?
"President Should Not Confuse People for ...
"Pakistan Also Hub to Middle East, Central ...
Model Six-Party Talks
Yukio Hatoyama: 100 Days, East Asia and U.S.
Pakistani Envoy Talks with Local Journalists
Whom to Blame: Law or Men?
A Different Korea Sparkling
Is Corruption Cool and Acceptable?
Who Else Has the Right to Vote?
Indian Embassy Celebrates the Republic Day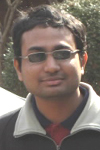 Mr. Abhishek Joshi serves as associate editor of The Seoul Times. He graduated from the School of Electrical Engineering of Seoul National University. He was also a member of SNU Quill, first English magazine from Seoul National University, as a writer.