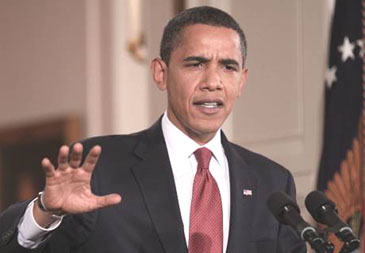 US President Barack Obama
WELCOME/MODERATOR:
NEAL URWITZ,
MEDIA RELATIONS MANAGER,
CSIS SPEAKERS:
STEPHEN JOHNSON,
DIRECTOR OF AMERICAS PROGRAM,
CSIS MEREDITH BROADBENT,
SCHOLL CHAIR IN INTERNATIONAL BUSINESS,
CSIS DANIEL F. RUNDE,
DIRECTOR OF PROJECT ON PROSPERITY,
CSIS Date: WEDNESDAY, MARCH 16, 2011
WASHINGTON, D.C.
NEAL URWITZ: Let's go ahead and get this going. I know under no circumstances are you here to listen to me. So I'm just going to go ahead and start with the introductions. Steve Johnson is the director of our Americas program. He has over 20 years' experience in the region. He is the former deputy assistant secretary of defense for Western Hemisphere affairs. And he has actually even lived and observed elections in El Salvador, one of the stops on the trip. Next, we have Meredith Broadbent. She is a CSIS senior advisor and our William M. Scholl Chair in International Business. She is a trade expert and the former assistant U.S. trade representative for industry, market access and telecommunications. Finally, we have Daniel Runde, who is the director of our project on prosperity and development. He has previously served as the head of the foundations unit for the department of partnerships and the advisory service operations at the International Finance Corporation, which is the private-sector arm of the World Bank Group. So without further ado, I'm going to kick it over to Stephen Johnson. STEPHEN JOHNSON: (Audio break) – for getting up so early to come over and be with us today. This is an exciting time; a lot going on in the world. And the president is making a trip to Latin America, which I think is going to be very well-seen by Latin American people, the folks within the region, simply because this is a chance for him to come through on some of the promises he made to strengthen relationships at the Americas summit. He's very well-regarded; he's popular as a person. But I think there's been some disappointment in the two years that he's been in office because a number of things that have been expected of him in terms of solidifying relationships have not happened up to this point. This is somewhat reminiscent of President Bush's first term in which he made commitments at the Americas summit, and then after September 11th he was drawn into the Middle Eastern orbit and challenges with homeland security, and really didn't begin to recoup his initiatives toward Latin America and the Caribbean until late in his first term, and really, at the beginning of his second term. I think you could probably describe this for President Obama as a discovery visit. It's a get-to-know-you trip – like apparently on initiatives, not a terribly clear strategy in visiting these countries, but probably heavily – but probably heavy on listening. And there is quite a bit of listening to be done because the region has changed in the last 10 years. It's much less dependent on aid, which is something that Dan will talk about. It has rocketed ahead of the United States in terms of its trade relationships and commercial relationships with the rest of the world, which is something that Meredith will talk about in a – in a couple of minutes. And it is a region which is increasingly flexing its muscles in terms of its actions and activities in the international stage. Brazil and Chile, for instance, are much more active than they have been in international peacekeeping operations. They're much more active in terms of their commercial relationships. Brazil is seeking a spot on the Security Council in the United Nations, which is something that's probably going to be discussed between President Rousseff and President Obama. But there have also been developments that are very different in the ways that these countries look at the world and in geopolitics, and in also their economic relations. For instance, in Brazil, when the president arrives, one of the things that he hopes to do is have a business roundtable with some of the key officials like Treasury Secretary Geithner and Commerce Secretary Locke to talk about perhaps how to bridge differences in business philosophies. Brazil is all about joint ventures. It's all about building its own industrial capacity by cooperating and collaborating with other countries. But it's not so much about free enterprise unfettered by government regulation or government support; it's not so much about free trade. So the president will have a lot to talk about in terms of bridging that gap in Brazil. Chile is quite different when he goes there. Chile is one of the countries in the world that's most advanced in free trade. It has dozens of free trade agreements when the United States only has a handful. And possibly, in talks with President Piñera, President Obama may get a number of questions on his commitment to solidifying trade relationships within the region, particularly with Colombia and Panama – two agreements that he has yet to give a firm commitment to. Chile has also done something that is very topical, I think, at this time when a number of countries in the world are being – are subjected to natural disasters, natural and even manmade disasters. Chile has gone ahead and developed a national emergency notification system and a national plan to respond to disasters, which – although it's very self-critical of its own efforts in its earthquake – shows a measure of responsibility above and beyond what some other countries in the region and the world are capable of handling. And I think President Obama is probably going to congratulate President Piñera on that, and also the response to the way Chile reached out to different countries in the world, gathered expertise, and then was able to extract the miners in the rescue attempt, or the – you know, the successful rescue last September. Central America may be the most substantive part of his trip. President Funes can be expected to bring up citizen security, being surrounded by countries that are highly impacted by the presence of Mexican cartels and Colombian drug traffickers, particularly Guatemala and Honduras. He will probably hear something about the efforts to coordinate actions in this area among countries that sort of have a different philosophy, political philosophy, especially Nicaragua – being sort of the odd country out in that regard. President Funes will probably talk about poverty reduction, which is important in his country. Remittances – the U.S. economy will be a topic with him; what's going on with the U.S. economy – because a lot of El Salvadorans – you know, large numbers of them live in the United States. And they send back remittances which account for a good chunk of the gross domestic product. And then finally, migration – temporary protective status being extended to more El Salvadorans. So these are all issues that he'll cover. If you look at the selection, you could say, OK, here's Brazil, Chile and El Salvador. They're not necessarily U.S. strategic partners the way that Mexico and Colombia are, but at the same time they represent a broad cross section – from a very rich, populous country with a 1.3 trillion (dollar) gross domestic product which compares to about the gross metropolitan product of the New York City area, to Chile, which is sort of midway with 17 million people and about 164 billion (dollar) gross domestic product and comparable to about the Phoenix metro area, and then El Salvador with 7 million population and about a 20 billion (dollar) gross domestic product comparable to about Santa Rosa, California, which has about a 20 billion (dollar) gross domestic product. So there's a good spread in terms of the size and the kinds of nations, and the kinds of issues that they're – that they have to deal with. And probably, he will get a very good picture of the region, recognizing – and probably will come back with the image in his mind – that it's not so much of a Latin America that we talk about as a region of like or similar countries, but it's a region that has countries that are very different in many ways. So although it's a discovery visit, he should come back a lot better informed, and should be able to develop policies that will take his promise of strengthening partnerships much farther forward than it's gone to this date. Thank you. MR. URWITZ: Meredith? MEREDITH BROADBENT: Yeah, I cover the trade cone here at CSIS – international business and trade agreements. And I think from – I would agree with Steve that this is a good selection of countries in the sense that they all – on the trade side of things, they all represent sort of different types of players in the international trading system. Brazil, the seventh-largest economy, is a major player in the World Trade Organization. I think that trade will come up in all of these countries, but in a little bit of a different way. Brazil – the trade – the trade issue with Brazil that is looming right now, although undetermined on how it will come out, is really whether Brazil and the United States can work a little closer in bringing the Doha Round to a conclusion, or coming to a resolution of how that negotiation proceeds. It's been ongoing for about 10 years. And Brazil is the seventh-largest economy in the world – a major emerging market – plays a key role there. But as you know, it's been in deadlock and has – it has – it's very quiescent right now. But there could be an opportunity of these two leaders. And I think that's what it will take – is heads of state – to re-look at the problem of Doha and see if there's a new approach that might be tried. Ambassador Kirk had an interesting op-ed in the – in, I think, Reuters this week where he talked about the role of the three emerging economies in the Doha Round – India, China and Brazil – and Brazil's importance there, which is to open – doing some liberalization particularly in the manufacturing sector: for example, joining the information technology – Brazil is the seventh-largest user of the Internet and could really benefit by trade liberalization in information-technology products and chemicals, other areas where it would be beneficial for the United States to make inroads there. On Brazil's – Brazil will have issues itself. And I'm not certain that this would be discussed at this meeting in any event, but I think at some point the relationship needs to evolve where the United States and Brazil can discuss the Doha Round and discuss where these two leaders can take it. So we would hope that at some point, there would be some good groundwork laid and relationships-building between the two presidents of Brazil and the United States to move that initiative forward sometime in the future. The other two countries from a trade perspective are a little bit different. Chile is one of – very much a like-minded country with the United States in terms of its approach to the trading system – always looking for opportunities to be competitive and open its market. It's probably the poster child for building a strong economy based on integration with the global economy and becoming competitive, and allowing trade to help build your economy. And it's interesting. I think he may hear on the trade side from the Colombians that they should – that the president should look closer at implementing the Colombia and the Panama free trade agreements. And it's interesting from the perspective that Colombia already has those tariff advantages. So you might think, you know, why would Colombia want other countries to have free trade agreements with the United States, which would to some degree undercut the benefits that Colombia has? And I think it really goes back to their commitment to the trading system and their view that continuing to expand trade ties is good for the international economy. And El Salvador – I mean, I think there'll be discussion – a little bit of the CAFTA agreement. CAFTA is the free trade agreement that we have with Central American countries and the Dominican Republic. It just reached its five-year anniversary on March 1st; very little fanfare there. There was supposed to be a ministerial meeting of the CAFTA trade ministers, and that was – I don't think the U.S. really sent a trade minister to that meeting. I think we sent our deputy. So I think this will be an opportunity for the president to reaffirm that that is an important agreement, and has been beneficial to the more developing nature of that region. And they may talk a little bit about capacity-building assistance that CAFTA countries could use to come up to speed on labor rights and certain things that are objectives in that free trade agreement where countries do need some assistance. So I think given where the international economy is now – we're seeing so much disruption in the Middle East with oil prices, not knowing what the implications are, to the disruptions in the global supply change in Japan, of the third-largest economy in the world – that it's going to important for the president to listen and hear how other countries view the U.S.' role in the world. And I think he may take back an appreciation of why it's important for the U.S. to be nimble and active in the region, being able to be viewed as decisive and able to take decisions on trade agreements. And I think that underlies the argument that at some point this administration should think about asking for more trade negotiating authority so that they can, you know, participate on an equal level in the region with countries like China, which are being aggressive in building their trade relationships. So overall, we're hopeful that he's going to hear a lot of good things about trade and the importance of the U.S. being involved and continuing to go – to press forward. We just had a major breakthrough on the NAFTA trucking dispute that had been going on for a long time. This administration was able to make a proposal to help resolve that dispute. And I think it's a key indicator that it's seeing the value of trade agreements, and the U.S. continuing to respect them and be in compliance. So this should be good discussion for him. And we're anxious to hear how the meetings go. DANIEL F. RUNDE: OK. President Obama is visiting three countries at three different stages of development. You have a country such as Chile, which is a member of what's called the OECD – it's the wealthy country club – it's the Organization of Economic Co-operation and Development (ph). It's the second Latin American country to join the OECD. It joined in 2009. And Chile has aspirations to become what they call an "advanced economy" by 2018. So this is a country that's on its way to becoming a very wealthy country. At the same time, you then have a country such as Brazil, which has many parts of the country that are developed and developing, and have made great strides economically and socio-economically over the last 15 years or so. And then, you have a country such as El Salvador which is less wealthy, but has also made great strides in the last 20 years, but is also more dependent on foreign assistance and a partnership with the United States. We've had a strong – the United States had a strong foreign-assistance presence in the region. And since 2004, the United States has provided between about $800 million and a billion dollars a year to the region in foreign assistance, depending on the year. At the same time, Latin America has had arguably one of its best decades in history thanks to stable democracies, rising commodity prices and a series of hard decisions by policymakers in the region over the – over the last 20 years. And they've been beneficiaries over the last 10 (years) or so. It's a region that's more prosperous and free than ever before. We've played a strong and constructive role in the success of the region through our long-term engagement and foreign assistance and our advice, and supporting and catalyzing investment in the region. At the same time, I think given the fiscal situation that we find ourselves in in the United States, I think the 10-year bull market on foreign aid has come to an end. And so I don't think we can expect the president to be coming bearing foreign-assistance gifts on this trip. This is not going to – I don't think this is going to be a trip where they'll be announcing major new foreign-assistance proposals in the sense of offering new initiatives for development. I'd be – I would be very surprised. In the case of Brazil and Chile, expect to see more joint work on international development issues in third countries. In the development business, we call this "triangular cooperation." And I think this is something very attractive to both Chile and Brazil, to be treated as peers by the United States and partnering in countries outside of – so in countries such as Paraguay or in Portuguese-speaking Africa. And in the case of El Salvador, I think this is an opportunity for President Obama to support President Funes to remain on the course that El Salvador has been on for 20 years. You have had a change in government last year. And the party that President Funes represents has a spectrum of views, not all of them constructive on economic issues. And so this is an opportunity for President Obama to support President Funes and stay – to stay the course. Just drilling down in the case of Chile, we don't provide any foreign assistance to Chile at this point. As I said, it's a member of the OECD. Chile and the United States last month signed an agreement to work on foreign-assistance projects in Paraguay. So USAID, which is the foreign-aid arm of the U.S. government, with the Chilean foreign-assistance arm, is going to be working with the government of Paraguay on customs administration, export promotion and support for farmers. This is in Chile's interest, to have a more prosperous neighborhood. Oftentimes, it's been described that you can't have the most beautiful house in a bad neighborhood. And so Chile has the most beautiful house in, sometimes, a bad neighborhood. And so I think these sorts of projects to support economic development in the region is in Chile's self-interest. In the case of Brazil, the United States continues to have a small foreign assistance presence, mainly focused on the Amazon region – the rainforest. But I think it's highly likely in the short term, given our budget situation, given the economic success of Brazil, that we'll be getting out of the development business in Brazil shortly. And I think it's in our joint interest to find ways to do that where we maintain our partnership relationship with the Brazilians and do so in a way where they can have access to our technical expertise. We've also had a series of deepening partnerships with the Brazilians on foreign assistance. There was an agreement signed last month between USAID and what's called ABC, which is the Brazilian aid agency, to exchange staff. There's going to be staff exchanges between – so Brazil has a foreign aid program of about $30 million a year in soft grant monies. And so they're in the process of learning the official development business, if you will. In addition, there have been a series of agreements over the last several years between Brazil and the United States in Portuguese-speaking Africa around agriculture and health. Mozambique is one country in particular where this has been – happened, as well as São Tomé, which is a small island nation off of the coast of Africa. There's also been agreements between Brazil, the United States and the ILO, which is the International Labor Organization, which polices labor rights and labor standards, on child labor issues in Haiti. And that was signed about six months ago. In the country of El Salvador, as I said, it's made significant progress in the last 20 years. You've got – 15 percent of the economy is from remittances sent back from the United States. The United States has two programs, traditional – two sorts of foreign assistance programs there. They have something called a Millennium Challenge Corporation compact. The Millennium Challenge Corporation is a foreign aid agency of the U.S. government. And it's a five-year project that focuses primarily on infrastructure in connecting the northern part of the country of El Salvador to the rest of the country. There's also a traditional USAID foreign assistance program that focuses on democracy and governance issues, health issues and economic growth issues. And the economic growth issues often are related to the – building on the successful CAFTA free trade agreement. And then the democracy program: It's looking at gangs – the gangs issues – as well as ensuring that there's a rule of – and strengthening rule of law. I'll stop there. Q: (Off mic.) MR. RUNDE: Sorry. You know, I don't – I don't know the answer to that one. MR. URWITZ: If you could turn on your mic. MR. RUNDE: I think that will – I think they do get Merida. MR. JOHNSON: Yeah, as a matter of fact, there is a component of the Merida Initiative that initially went to Central America. And there's an additional component to it called the CARSI component, which, I think, the administration is asking – you'll have to check on the facts on this, the exact figure. But I think it's an additional $200 million for Central America that it will be asking for this year for counternarcotics. MR. URWITZ: And if we could open it up to questions. If you can just identify yourself – your name and organization – that'd be great. Q: Kara Rowland, with The Washington Times. While we're on the topic of aid, can you talk about other global powers, like China, Russia and Iran – what their aid presence is in the region? MR. RUNDE: These other powers don't follow what you'd call the Marquis of Queensberry rules of foreign assistance that many developed countries in Europe, the United States and Japan follow on foreign assistance. So it's fairly untransparent (ph). It's not in the form of – it's oftentimes in the form of subsidized oil, gifts of oil or in kind, or when you see – There's discussions about Chinese engagement. It's oftentimes tied to trade finance, as opposed to soft grant monies. So it's in the form of oil. It's in the form of construction. It's very tied – what we'd call tied aid. So they'll say, well, we'll build a road for you. But we want you to use only Chinese firms or these sorts of things. So there is a significant presence. I don't think in the countries, in the sense of foreign assistance, as in El Salvador, you know, there's some engagement, obviously, with the Venezuelans. And obviously China has extensive interests in terms of purchasing base metals and agricultural commodities in the region. But it's not – it's sort of at the intersection of trade and foreign assistance, if you will. MR. JOHNSON: If I could just add a little bit on that. Russia and Iran particularly and even China focus a lot of their economic activity on the ALBA countries: the countries that are in the Bolivarian Alliance for the Americas that was set up by Hugo Chávez of Venezuela. And Dan's right. A lot of what comes out of that are in terms of reciprocal agreements or one-way grants that go to either – like, from Iran to Venezuela. There are separate projects as well for things that – like a hospital in Bolivia that was agreed to and constructed recently. And then there's a lot of military assistance that comes in the form of sales from Russia that has gone into Venezuela particularly. But the interesting thing – and I think that's news that – it's been covered pretty much over the past few years. But the interesting thing is in something that Dan touched on, is that Brazil has developed a model for providing aid to other countries. And it sort of highlights the effect that we're seeing or the development that we're seeing now, is that some countries in Latin America are beginning to be countries that offer assistance to other countries. For instance, in its approach to African development, Brazil offers a contrasting model to the one of China, which – the Chinese traditionally sort of rely on their own people doing a lot of the work. They don't necessarily hire locally and they don't tend to encourage the industrialization of the host nation that they're in. Brazil is doing the opposite. They do hire locally. And they are responsibly trying to encourage the industrialization and diversification of the economies that they work with. So that's, you know, a positive development. MR. RUNDE: Let me just add, former President Lula – he just left office – has set up a foundation, similar to the Clinton Foundation that you're all familiar with, focused primarily on the Brazil-Africa relationship. So his future project is about the Brazil-Africa relationship. I think it gives you a sense of how Brazil sees itself in the world. MR. URWITZ: George. Q: Yeah, George Condon with the National Journal. I wanted to pick up on, Stephen, what you were talking about on discovery of – when prior presidents went to Brazil, the Brazilians always chafed because they didn't think they were being treated as a big and important country. And we always looked at their debt and their inflation and didn't treat them – I mean, it was true we didn't treat them that way. When President Obama goes there, is he discovering a different Brazil because of their new oil reserves, their economic growth? I mean, how is he going to have to show that? And is he encountering that? MR. JOHNSON: You know, that's a great question, George. My sense is that for one thing, he's going to be building off of some things that began to happen in the late Bush administration. I think there was a turnaround in the last two or three years of the Bush administration when George Bush went to – visited Brazil and talked with President Lula about setting up a biofuels cooperation pact and some other things – a competitive business agreement. I think that was indicative of the kind of recognition – you know, the change in recognition that we had for Brazil because that's, you know, Brazil. And in that era, in the mid-2000s, was really beginning to have its turnaround moment and to develop itself as a player much more outwardly looking and much more capable of moving itself forward. It was during this timeframe that it developed its strategic development and defense plan, which is something that is really a novel development in that Brazil had never really done – had an exercise like that before. And the United States was supportive of these developments. But you're right. And I think what is going to happen on this trip is that President Rousseff is going to take the initiative to explain a few things about Brazil's outlook on the world, the problems that – or the challenges it faces, say, with the undervalued currency in China, trade relationships with other countries and then how to bridge that gap with the United States, as well as, you know, its place in the world. My sense is that this will be a moment for the president, again, to listen and to come up with some initiatives later that he can build on what he hears. But I don't necessarily see that he's got anything to take down to Brazil with him to start something new. Although, you know, hopefully, we could be surprised by that. Q: Does the fact that they – that they're an important country in the G20 also force him to treat them differently? MR. JOHNSON: Well, I think so. And also, it's a BRIC nation. And BRIC nations have gotten a lot of recognition lately as countries that are more powerful in the international arena. I would let Meredith talk about that a little bit, if she'd like. MS. BROADBENT: Yeah. I mean, I think the creation – the G20 group was created out of a recognition that countries like Brazil were much more important to the international economic and trading system than they were 10 years ago and that you needed a group where these big powers could discuss some of these important issues. So I think, you know, Brazil is emerging as a player. It's not quite clear what kind of identity it's going to take, I think, in the international marketplace: whether it wants to be the leader of all developing countries or whether it will push for more market-based solutions that actually could be in Brazil's economic interest. Brazil is a powerhouse exporter on the agriculture side and could do really well from very strong disciplines in the WTO to cut back on subsidies and so forth. There's a prohibition on export subsidies, which is on the table in the Doha Round, which would be helpful to Brazil's economy. And Brazil currently benefits from the World Trade Organization and the international rules that the United States supports. But you can see Brazil also wanting to be a leader of developing countries that are not so much forward-leaning on trade disciplines, not wanting to contribute that much trade liberalization to an international agreement. So I just – I think it's – I think there's a chance that – or, as I see Brazil, they're emerging and it's hard to tell what their identity will be as they get more mature and more important in the world marketplace. But as the seventh largest economy with huge resources and, as you said, twice, I guess, the reserves, now, of oil that the United States has, they are going to be – have a lot more responsibility and a lot more position to influence things. Q: Laura Meckler with The Wall Street Journal. I have two questions about trade for Meredith and then one broader question. The trade questions are, you mentioned that in Brazil, they may be trying to talk about bringing the Doha Round to a conclusion. But some folks at the Chamber told some of us yesterday that there was also the possibility of concluding a trade and economic cooperation agreement. Is that significant at all? MS. BROADBENT: Yeah, I'm not sure – I would not say that Doha is necessarily on an official agenda. I think it's a backdrop to the whole global economy that we have now and the position of the United States and Brazil. I think we are – both countries are wanting to get closer on the trade side. And that is a step – the trade and economic cooperation agreement is – Q: Are you expecting that to come out of this? MS. BROADBENT: Not sure yet. I don't know. It could be possible. Q: Do you expect that Chile will be pressuring the U.S. to conclude the trade – the free trade agreements with Colombia and Panama? MS. BROADBENT: I mean, I think they will. I mean, I – my expectation is they think that it's important for U.S. to be engaged in the region. As I mentioned, even though Chile has an advantage over Colombia right now because they're in and Colombia has not implemented yet, they still think it's important for the good of the world trading system to get those agreements implemented. So my guess would be the Colombians will be forceful in saying they think it's important that – that Obama goes forward. Q: The Colombians will be forceful? MS. BROADBENT: Which he's going to do. I mean, he said – Q: Well, the Colombians will be forceful? I mean, are we even going to hear from the Colombians? MR. : You mean Chileans. MS. BROADBENT: I mean, excuse me. Chile. Chile talking about Colombia. Excuse me. I got my countries mixed up. Q: Okay. Okay. Great. And just the last one – and this kind of piggybacks on George's question. We hear a lot, you know, that these countries want respect and they – it's not enough to – we said all the right things, we need to start acting. But, yet, when we hear talk about this trip and say, well, what's going to actually come out of it, it all seems very minor or just all more symbolism. So I'm just not clear on exactly if what they really want is action and not just nice words, how is this trip helping? Is just going there, again, action? I mean, what exactly is it that we should be seeing to come out of this that will make any kind of a difference in this relationship? MR. JOHNSON: Well, ideally, you'd like to see a strong policy toward the hemisphere – hemispheric policy that has some very concrete points to it. That's very hard for U.S. presidents to do because, again, the region is very disparate. There are a lot of different countries that have different size economies. They have different political systems. They have, generally, most of them – you know, the good news is that most of them are democracies now and democracies that are actually, you know, deepening their democratic process beyond elections. But that isn't really enough to, you know, develop a coherent policy. And the fact that they're different makes that tough. But I think what we see here is if you go to the State Department's website and you look at the policy for the Western Hemisphere, it's more of – kind of a development-lite approach. And you see things like clean energy. You see citizen safety. You see governance and governance sort of shoved down as something that's to be handled in collaboration with the Organization of American States. There's nothing in that strategy, if you will, that – or policy – it's really not a strategy – that policy, if you will, that has a very clear direction to it of things that the United States is going to work for. And that carries over, I think, into the trip in that it would be difficult to articulate anything like that, particularly when you don't have a clear focus in your policy. The other thing is that, when you do look at what the Obama administration has done, there's sort of a disconnect. And it's not a bad thing. And this is not a criticism. The policy looks like sort of development-lite. But in fact, what the administration has done has been – it has developed an emphasis on security issues.
It has continued the Merida Initiative beyond the money that was contemplated for it originally under the Bush administration, by about $300 million. And it's been slow in delivery. I think reports have been that only about $500 million have been obligated out of the original Merida Initiative up to this point. But still, the administration is looking forward to contributing a number – a number close to, I think, $300 million in addition to that. It has developed a Caribbean base and security initiative – something like $124 million if that were to become reality, which is a significant increase in security-related support for the Caribbean nations. It's got additional money contemplated for Central America in the security arena. One of the things that, probably, President Obama will talk about in Brazil is cooperation in the area of defense industries, which is an area that Brazil is trying to develop and to get into. It has a wonderful aircraft industry. But it's trying to move beyond that into the defense sector as well. What kind of cooperation is possible there? So when you look at it in terms of the money spent – and granted, on defense and security, the hardware tends to raise the costs quite a bit – but when you look at where the money is actually going, it tends to be more of a policy that's focused on security than it is a development – and certainly trade, I think, has been lagging. And that's something that it needs to do work on. It is part of the overall policy if you go to the website and look at it, but it has been something that the president has been reluctant to engage on. Q: Since this is a listening tour, in a sense, could you boil it down to what you think each of the three countries – maybe the top one or two things they are going to ask President Obama for, or to work on, in each of their respective cases? And I have a second one when you – MR. JOHNSON: Well, I think, again, in Brazil it'll be how to work together to develop better working commercial relations, and Meredith can explain a little bit more of that. With Chile, obviously there'll be some emphasis on developing better trade relations with Latin America, I think on its part, to encourage us to do more. There will be I think some praise given to Chile for its efforts and its example in disaster response – also peacekeeping efforts, where it's contributed around the world. And in Central America, you'll probably get the heaviest agenda at all, where it's citizen security, it's poverty alleviation, it's remittances and – which are tied to the U.S. economy – and migration issues, such as temporary protective status. And your second question? Q: (Inaudible, off mike) – and we asked, probably, yesterday, the White House what role the environment is going to play in a lot of these development strategies. Do you have any thoughts on what role the environment is going to take in any of these meetings? (Inaudible) – how they discuss, what they're discussing? MR. JOHNSON: Well, my sense is that it would be – would revolve around clean – the development of clean energy. And that's something that Brazil has taken the lead in, in terms of adding ethanol to its fuel supply. And it's developed this over about a 25-year period. Supposedly, we have a partnership with Brazil to work and collaborate on the development of biofuels. It's something that probably will get some play in Chile as well. Chile is – doesn't have a lot of natural petroleum resources itself and has to import petroleum and natural gas, and so the development of alternatives to that, not only to avoid the expense of shipping petroleum supplies and declining supplies. It's also important to – I think, in the minds of regional leaders, to be able to figure out how these new energy sources will be much less environmentally impactful. That's a not very articulate way of saying this, but they're looking for ways to make it cleaner and safer and less expensive. MS. BROADBENT: One point on the Brazil side – the Brazilians are always – express a lot of concerns about our tariff on ethanol, as you know, because they have a competitive ethanol industry. And that's sort of an issue that they continue to raise, but I don't really see a way for that to be improved from the Brazilian standpoint until you had a more broader agreement on tariffs, potentially in the WTO. And even that would take an awful lot of partnership and working together between Congress and the administration, because that's an important tariff to the Senate and Congress. So that tends to be an issue they raise, and there doesn't seem to really be a way forward that I've seen within the immediate future. MR. JOHNSON: The other thing on the environment is that there are so many ways that that could go, too, because of course you have the Amazon and you have the development of the Amazon. You've got the development occurring in what used to be ungoverned spaces in countries like Colombia. So it's possible that there could be a broad-ranging discussion of different environmental issues. But my sense is that a lot of it would involve energy use and how that's going to develop over the coming decade. Q: Mike Emanuel from Fox. Thanks for doing this. A question for you about Brazil and how much you think the conversations there may be devoted to Iran, and considering they seem to have an unusual relationship with Iran and whether President Obama will try to lean on them to do something about Iran. MR. JOHNSON: That's an interesting question, but I think it's answered best by looking at whether Brazil's position was more personal diplomacy on the part of President Lula or whether it was actually part of a greater agenda that is broadly shared by successive presidencies and also the foreign policy establishment. Estimation, or my sense of the situation is that that was more President Lula's initiative. MR. URWITZ: Jim, if you want to – Jim, if you want to give us the last question? Q: Hi, Jim Kuhnhenn with the Associated Press. The president will use – Obama will use Chile as a platform to deliver a speech to the entire Latin American community. And some have described it as kind of his Cairo speech to the community. You've touched on a lot of the aspects of this, but I'm wondering, what is it that he can put in a kind of overarching theme to the region that would describe his policy to Latin America and – going forward? And then I had a specific question on Brazil. MR. JOHNSON: I think it's important that the president do two things: one, make it clear that the development of democracy and free markets in the hemisphere is a positive trend that makes for better neighbors, that makes for a safer neighborhood; and that in turning that corner, the region is much more capable of partnerships that may benefit the world community and that this is truly where collaboration can do some good, where individual nations are able to show some leadership in the international arena. I think it – those two aspects probably would be the most important message. And the reasoning behind that is because the trend has been in U.S. foreign policy perhaps not to spend as much time, not to talk so much about Latin America and the Caribbean as we did in the past, but at the same time, as it has roared ahead and developed and it has become more democratic, it's become more capable. And so I think calling attention to that and calling attention to the fact that it's good to have neighbors that can shoulder some of the burden of promoting positive values, values – democratic values and values supporting human rights, values supporting markets and prosperity in the world, that this is also helpful to us – sort of a lift – the-sea-lifts-all-boats speech. Q: Specifically on Brazil, Brazil has wanted a permanent seat on the UN Security Council. Is that anything that the president should, can discuss while he's there? Is it a better – topic left avoided since he can't – if he can't deliver it? What should he be doing there? MR. JOHNSON: Again, it's something that he can listen to and something that probably will be touched on, but I think it would be speculation to figure out what the president might say or try to guess what – how he would handle it. Q: And a lot of talk about a nuclear-cooperation agreement with Chile, given recent circumstances. Is that likely not – the White House was fairly noncommittal yesterday when they were asked about that, what the terms of that agreement might be. Do you see that coming through at this point? There's been a lot of reconsideration over nuclear policies locally. MR. JOHNSON: I think that's hard to say. I think the situation with Japan is so fluid at this time that my guess is that they wouldn't want to announce anything. Q: Thank you. MR. URWITZ: All three of the experts you saw today will be available for interviews, just contact me. We're also going to have audio and video up of this up shortly, and we're going to be sending out a transcript this afternoon. Thank you to our panelists and thank you to you for coming.