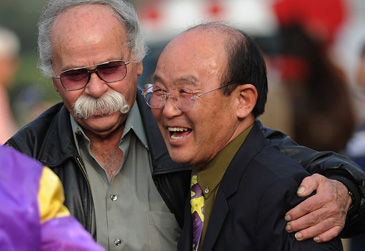 Korean-American Cho Myung-Kwon (right)
Courtesy of Cynthia Lum/Eclipse Sportswire

With just under two months to go in the 2011 Kentucky Derby trail, which trainer has the most formidable contenders? Some might think that is a slam-dunk and say Todd Pletcher, but Los Angeles-based businessman and trainer Cho Myung-Kwon makes for a pretty good argument.Pletcher has Uncle Mo, but Cho has Riveting Reason (seen above losing to Anthony's Cross by nose) and Premier Pegasus. Pegasus is a homebred for Cho, who also owns him, and like Riveting Reason is out of a dam who has already produced a stakes winner.Cho, 68, lives in California with his wife Lydia and has five children. He arrived in the United States in 1978 and built up a clothing export business which still ships to Asia from the downtown plant is Los Angeles.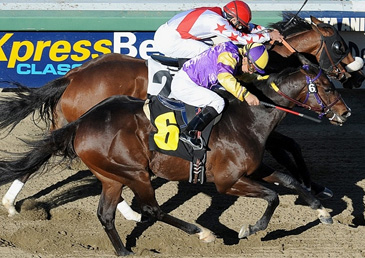 Riveting Reason (6) battles Anthony's Cross to the wire in the Robert B. Lewis Courtesy of Cynthia Lum/Eclipse Sportswire
But when the racing bug hits, who can stop it? Cho got involved with racing and by the mid '90s was training, according to Breeders' Cup records. He enjoyed early success with a $40,000 claimer Video Ranger. He has taken other modest sales purchases and has had likewise success.The aforementioned Video Ranger ended up fourth in the Kentucky Derby. Cho then took Critical Factor, a $30,000 Keeneland purchase, and finished third with him in the 1996 Breeders Cup Juvenile. Next up for Cho was another show finish in the Juvenile in 1997 with maiden Nationalore.But it wasn't until 2008 when Cho would again start to make noise on the Derby Trail with Street Hero. But Street Hero's party was short-lived. The Grade One winner was injured after finishing third to Midshipman in the Breeders' Cup Juvenile.
It is in Street Hero's dam Squall Linda where you can find Myung Kwon Cho's link to the 2011 Kentucky Derby trail. Premier Pegasus is also out of Squall Linda, and that makes him Street Hero's half-brother.Cho's other Derby contender - Riveting Reason. His stretch drive duel with Anthony's Cross in this year's Robert B. Lewis is arguably the most stirring battle yet between Derby contenders. As with Premier Pegasus, Riveting Reason's sire is also Fusaichi Pegasus.To say Cho Myung-Kwon likes the Mr. Prospector sire line provided by 2000 Kentucky Derby winner Fusaichi Pegasus is an understatement. The stallion stands at Coolmore's Ashford Stud in Versailles, Ky. If Riverting Reason or Premier Pegasus make it to the first Saturday in May and win, it will be both their sire's and Cho's first Derby win.Whether it is $25,000 Keeneland purchase Riveting Reason or his homebred Premier Pegasus, Cho Myung-Kwon looks as if he is ready to have an impact on the rest of the 2011 Derby Trail. And, if this Derby Trail doesn't work out for Cho, there is already another Squall Linda baby out there for Cho. This one a yearling and a full brother to Street Hero.
The above story and photos are provided by Mr. Scott Serio Founder, Chief Photographer, Eclipse Sportswire www.EclipseSportswire.com