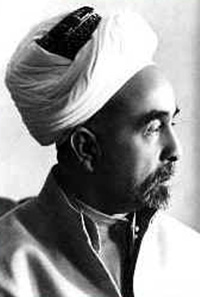 King Abdullah bin Al-Hussein (1882-1951), founder of the Hashemite Kingdom of Jordan
As a kid growing up in Brooklyn, my pals and I hung out at the corner candy store where we would bullshit one another. 'Jocko' swore he could bench press 350 pounds while 'hot rod Harry' claimed that he had pushed his jalopy over 100 mph. I was reminded of these bull sessions recently when I received an e-mail containing a speech by King Abdullah ibn-Hussein, the first king of the Hashemite kingdom of
Transjordan.This explanation of the Arab position on Palestine was presented in November 1947. (Abdullah was later assassinated on July 20, 1951 by a disgruntled fellow Arab/Palestinian on the Temple mount
in front of the al-Aksa mosque.)Abdullah's assertions still form the foundation of Arab propaganda which, with the help of defeatist Israeli policies and actions, continues to dominate public opinion in the international community
and media.Abdullah avers that Palestine has been 100% Arab for 2000 years. Historically this is false because the Arab conquest of Jerusalem came after Mohammed's death in 632. It is estimated that the population of Palestine at that time was between 400,000 and 500,000, mostly Jews although the country was taken from the Byzantine Christians.(Israel is full of ruined ancient synagogues and churches from this period.) The Arab commanders actually discouraged Arab settlement in the holy land because they viewed the subjugated population as an important source of tax revenue with which they did not want any interference. Today, there are Arab Moslem villagers in Israel whose folklore alludes to their Jewish origins.Abdullah explains that the name "Palestine" comes from the Greek "Philistia". He is apparently ignorant of the fact that "Palestine" is derived from the Hebrew root PLSH and translates as "invade." Indeed, Israeli archaeologists working on Cyprus have proved that the Philistines originated on that Island.The king claims that the Jews are newcomers who have few, if any, roots in Palestine. He sees them as a threat to the supposedly native Arabs. However, the opposite is true. With the start of the return to Zion in the 1880s it has been the Arabs who have attacked Jews (e.g. hacking 69 Jews to death in Hebron in 1929 and most recently the Fogel family in Itamar last week). Even "President" (his term of office has expired) Mahmoud Abbas explained that his family deserted their Safed home in 1948 out of fear of Jewish reprisals for the Arab attacks during the 1936-39 uprising.Abdullah makes no mention of the fact that all Jewish settlements, at the time of his address, were on land purchased by Jews. Nor does he dare remind his audience that the majority of Arab village names are
transliterated versions of their original Hebrew names. The king declares that the Jews are foreigners, unwanted strangers in the land.Yet it is Abdullah who is the alien newcomer. He was born in 1882 in the Hashemite Kingdom of Hejaz, Arabia. His Hashemite clan, claiming descent from the Prophet Mohammed, was charged with protecting the holy places in Mecca. Unfortunately, the Al-Saud clan attacked and captured Mecca in 1924 killing about 800 defenders. In 1925 King Ibn-Saud marched into Mecca and the Saudis have been there ever since.As compensation, the British made Abdullah emir of Transjordan (which is over 70% of the original League of Nations mandate for Palestine) and his brother Feisal king of Iraq.Abdullah has no complaint against the British who made him King of Jordan but he condemns the British Balfour declaration specifically and western colonial interference in general when it is supportive of
the Jews.King Abdullah refers to the myth that Jews were generally well-treated in Arab lands. He believes that Jewish expansion and success in Palestine is fostered by powerful Jewish political influence in the US. He fails to mention the pro-Arab state department, ARAMCO supportive lobbying and American anti-Semitic attitudes.Abdullah says that the US and other western countries encourage large-scale Jewish immigration into Palestine because they feel guilty about the Nazi atrocities but they, themselves, do not want more Jews in their midst. Abdullah feels it is unfair to force Arabs to pay the price for Nazi atrocities. But the Arabs, by and large, sided with the Nazis. In fact Haj Amin al-Husseini organized Moslem fighters who helped the Germans and shared their hatred of Jews.Abdullah, however, is right about western countries blocking Jewish immigration. When Jews were being oppressed in Germany, a proposal to allow Jewish settlement in Alaska led the Alaskan governor to travel to Washington to successfully lobby against Jewish immigration to
Alaska.In this 1947 talk, King Abdullah states that Arabs are not nearly as adroit at propaganda as are the Jews. Wow! Today, 2011, we see how Arab propaganda has come to be the dominant narrative in the world.
The legitimate rights of the Jewish people have become an international joke. The Arabs are experts when it comes to weaving Middle East fairy tales. My Brooklyn buddies were amateurs in comparison to today's Arab story tellers. Click on www.palwatch.org
if you need proof of this.