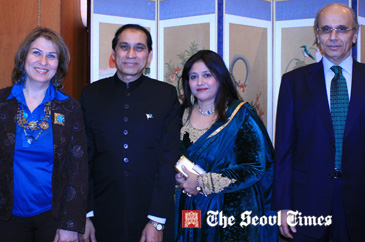 Pakistani Ambassador to Seoul Shaukat Ali Mukadam (2nd from left) and his wife Mrs. Kauser Shaukat Ali Mukadam (to his right) poses with Lebanese Ambssador Issam Mostapha (right) and his wife Mrs. Majida Mostapha during Pakistan's 71st "Resolution Day" reception held in Seoul on March 23, 2011.
Pakistani Ambassador to Seoul Shaukat Ali Mukadam and his wife Mrs. Kauser Shaukat Ali Mukadam hosted a reception at a hotel in Seoul, commemorating the 71st anniversary of "Pakistan Resolution Day," which observes the passing of the Lahore Resolution in 1940.The dinner reception was held at 6:30 p.m. on the day and lasted into the evening. Scores of top foreign envoys including German Ambassador to Seoul Hans-Ulrich Seidt, Kenyan Ambassador to Seoul Ngovi Kitau, and Ukrainian Ambassador to Seoul Volodymyr Belashov were among the numerous guests.Local Korean guests included Minister Yoo Jeong-Bok of South Korea's Ministry of Food, Agriculture, Forestry, and Fisheries.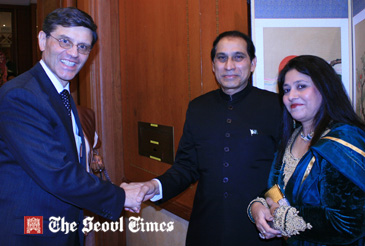 Pakistani Ambassador to Seoul Shaukat Ali Mukadam (center) and his wife Mrs. Kauser Shaukat Ali Mukadam receive German Ambassador Hans-Ulrich Seidt at Pakistani National Day event.
In a welcoming speech Amb. Mukadam highlighted that South Korea and Pakistan were developing bilateral cooperative efforts to strengthen their political and economic ties. He stated that "Pakistan and Korea enjoy the strength of thirty-one agreements and MOU's."He also noted that South Korean conglomerates were forming lucrative investments in Pakistan's growing domestic markets. He stated that "Many of the South Korean conglomerates, such as Lotte, Sambu, K-Water, Hyundai Heavy Industries, Hyundai E&C, Doosan E&C, STX, Daewoo Engineering and KOSPO etc. are engaged in 24 mega Hydel water, thermal power, road, chemical plants, steel industry projects or have expressed their keen desire to do so."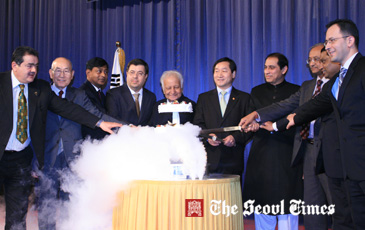 He also expressed his condolences for the March 2010 sinking of the South Korean Navy vessel, the Cheonan, and the November 2010 shelling of Yeongpyeong Island.He continued his speech by highlighting the accomplishments of South Korea, which included the successful coordination of the November 2010 G20 Summit in Seoul, praising South Korea as a viable international host to some of the world's most prominent figures.Minister Yoo also honored the occasion with his congratulatory speech.In his speech he emphasized the growing relationship between Pakistan and South Korea. The two countries have expanded their economic relations and experienced unprecedented trade volumes of 1.2 billion US dollars, a "remarkable growth from the 160 million US dollars of 28 years ago."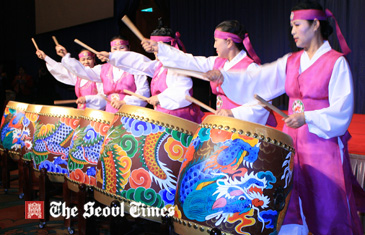 Furthermore, Minister Yoo stressed that Korea would support Pakistan by providing 200 million US dollars in official development assistance (ODA), offering concessional loans to target infrastructure and human resources development, and promoting cultural exchanges between governments, corporations, academics, and media.The two speakers of the reception gave a promising outlook into the future of Pakistani-Korean relations and further extended a warm and welcoming hand to each other in hopes of continuing their developing relationship, which began on Nov. 7th, 1983.Pakistanis annually celebrate Pakistan Resolution Day, which gives reverence to the Lahore, or Pakistan Resolution. The resolution was presented by A.K. Fazlul Huq in March of 1940 as decree to the Muslim League to create a separate and autonomous state from British India.This state would later become Pakistan after the resolution passed on March 23, 1940 in the city of Lahore. Since Pakistan became a Republic in 1956, people have celebrated this holiday as symbol of nationalistic pride and achievement.