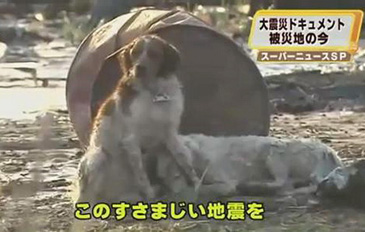 A loyal dog helps rescue his injured friend in the diaster of the tsunami that hit the northeastern part of Japan on March 11, 2011. Millions of lives, human and animals, were dead or missing from the tsunami which causes a serious health problems for those who survived.
Q1:What health challenges does Japan face in the wake of its 9.0-magnitude earthquake and tsunami?
A1:
Japan is host to a complex, three-pronged humanitarian crisis, with affected areas—particularly Iwate, Miyagi, and Fukushima prefectures—facing the health consequences of a historic earthquake, the tsunami it caused, and leaking radiation from a damaged nuclear plant. Evolving Japanese estimates now report over 8,500 deaths, over 2,500 injuries, and over 12,500 missing persons. Approximately 350,000 people have moved into 2,500 evacuation centers, which have started to receive needed supplies of food, water, blankets, and fuel. As of March 20, 2011 over 1 million households had lost running water. The immediate health issues related to disasters of this nature include treatment of injuries, disposal of bodies, monitoring for disease outbreaks, and lack of clean water and sanitation. Ensuring that healthcare facilities are staffed and stocked with supplies to deal with emergency care is important, but steps must also be taken to ensure that displaced people have access to regular medications and medical supplies.Most reported, however, has been the spread of radiation from the maimed Fukushima Daiichi nuclear power plant. In Fukushima prefecture, authorities have detected radiation levels exceeding legal limits in 11 vegetables, including spinach, cabbage, radish, parsley, cauliflower, and broccoli. The Japanese government has suspended shipments of these vegetables, as well as shipments of raw milk and parsley from neighboring Ibaraki prefecture. In addition, several countries, including the United States, have blocked food and milk imports from these potentially contaminated areas. The World Health Organization (WHO) clarified that the levels detected do not pose a health risk to the general population but still classified the radiation threat as "serious," as it had spread to farms 90 miles from the nuclear plant. Reports of higher than normal radiation levels in samples of seawater around the power complex have raised concerns about the potential of contaminated seafood, which would have grave consequences for Japan's exports and domestic supplies. Thousands of Japanese fishermen have already lost their boats and their livelihoods in the tsunami's destruction. WHO has also cautioned people not at immediate risk against taking potassium iodide tablets, which prevent the thyroid from absorbing radioactive iodine-131 and which—in the panic around the Daiichi plant—have sold out even in some parts of the United States. The Japanese government has prepared to distribute iodide tablets if necessary. So far, the only reported cases of hospitalization due to radiation exposure are two plant workers who stepped into radioactively contaminated water while laying electrical cables in the basement of the building housing reactor No. 3.Any natural disaster of this scale—involving sudden loss of life, traumatic destruction, relocation and homelessness, and deep uncertainty about the future—carries serious risk of short- and long-term psychological impacts. Nuclear accidents and other man-made disasters also produce profound anxiety and mental health complications. Studies on the psychological consequences of Chernobyl and Three Mile Island show increased depression and post-traumatic stress disorder even years after the event, especially among mothers of young children. Children themselves are psychologically vulnerable but also can be quite resilient, if a sense of normalcy returns as quickly as possible.
Q2: How does Japan differ from the sites of other recent health crises?
A2:
With more than 20 percent of its population age 65 or older, Japan is one of the oldest countries in the world. In the coastal areas struck by the tsunami, that number rises to nearly 30 percent. The elderly are particularly vulnerable to disruptions in food, water, medical services, and regular schedules of essential medication. They are also highly susceptible to hypothermia and pneumonia—significant risks due to heating interruptions and blanket shortages in some shelters and hospitals. As reported in The Lancet, Japanese troops recently discovered 128 elderly patients, some comatose, deserted in an abandoned hospital less than 10 miles from the Daiichi power plant.Unlike many of the areas that have been hard hit by disasters in the last few years, Japan is a wealthy, developed nation with stable governance, advanced infrastructure, and its own strong history as a global health donor. In part because Japan has significant resources and experience with humanitarian relief, as of March 23 the Japanese government had accepted only 15 of the 102 offers for help it had received from other countries. It should be noted that although Japan may not need additional financial resources at this time, it may benefit from the considerable international expertise in refugee relief and humanitarian efforts that other countries can offer. How the Japanese government puts this accumulated knowledge to use will impact the speed and effectiveness of the recovery. While the final death toll is expected to exceed 20,000, a spokeswoman for the International Federation of the Red Cross told the British Medical Journal that the health consequences "would have been far worse had Japan not had such excellent crisis preparedness." Unfortunately, damage to roads and ports, interruptions to energy and communications systems, and the simple scale of the disasters reduce the impact of even substantial, well-deployed resources.The capacity and willingness of the Japanese government to make decisions and undertake central relief functions have made coordination of the international response easier. However, efficient communications remain a challenge. The nuclear crisis alone has required difficult coordination of WHO, the International Atomic Energy Agency, and relevant health and energy agencies in Japan, the United States, and elsewhere.
Q3: What has the U.S. government contributed to the response?
A3:
As of March 20, the United States had provided a total of $23,310,614 in humanitarian funding to the government of Japan through the U.S. Agency for International Development (USAID) and the U.S. Department of Defense.USAID has deployed a Disaster Assistance Response Team (DART), comprising disaster response experts and nuclear experts from various federal agencies, as well as urban search-and-rescue teams from the Fire Departments of Fairfax and Los Angeles counties. The limited supply of fuel, however, has so far constrained DART operations.Thanks to years of exercises and interoperability, the U.S. Pacific Command (PACOM) is highly equipped to work directly with the Japanese Self-Defense Forces. PACOM's support for the relief effort involves 17,000 personnel, 100 aircraft, and 14 ships, including the aircraft carrier USS Ronald Reagan, which was already in the area.The Centers for Disease Control and Prevention (CDC) has made available its knowledge of the health effects of tsunamis and radiation. This week, the CDC hosted a previously planned conference on public health and radiation emergency preparedness. You can access the conference website here: http://cdcradiationconference.org/The Nuclear Regulatory Commission, the Environmental Protection Agency, and the Food and Drug Administration are carefully monitoring the Fukushima Daiichi crisis, although none expects meaningful levels of radiation to reach the United States.
Seth Gannon
is a research assistant with the Global Health Policy Center at the Center for Strategic and International Studies in Washington, D.C.
Lisa Carty
is the deputy director and a senior advisor with the Global Health Policy Center at the Center for Strategic and International Studies.Critical Questions is produced by the Center for Strategic and International Studies (CSIS), a private, tax-exempt institution focusing on international public policy issues. Its research is nonpartisan and nonproprietary. CSIS does not take specific policy positions. Accordingly, all views, positions, and conclusions expressed in this publication should be understood to be solely those of the author(s).H. Andrew Schwartz
CSIS
www.csis.org