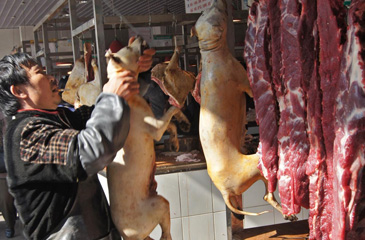 Only Asians Eat Dog Meat?

Dogs have been a source of food for human in various places in the world since very long time ago. In some areas of China, it is believed that people started eating dog meat since around 500 BC, or possibly even earlier.
In Ancient Mexico during the time of the Aztecs, people apparently bred 'Maxican Hairless Dogs' for the purpose of eating. A historical report shows that these dogs were among the goods sold in the city market. Not only that, some tribes of the original inhabitants of North America relished dog meat as a delicacy.However, most countries in the world including United States, Germany, and Japan prohibit eating dog meat in modern days. They believe that eating animals such as dogs and horses is inhumane.Despite historical records of dog meat consumption in various places around the world, people in only a limited number of countries such as China and Vietnam publicly produce dog meat for sale and consumption in contemporary days.These cultural differences have raised debates between people who are pro- and anti-dog meat.In the West, where dogs are usually accepted and adored as a family member, people are astonished, or sometimes furious, to find out dogs are eaten in several countries in the world, and they severely criticize of the fact.Particularly, people always tend to associate Korea when the subject of eating dog meat raises international conflicts and criticisms. The sale of dog meat was outlawed in Korea on Feb 21, 1984 although the regulation is not strongly enforced as the government acknowledges it as a social phenomenon. Let alone the international preconception. There still exist various places in the world where eating dog meat is a custom.
China
The Chinese people have enjoyed eating dog meat for nearly 7,000 years. Dog meat is favored by Chinese for its flavor and health benefits. They believe that dog meat warms their bodies during winter. Excluding Hong Kong where eating dog meat has been illegal since 1950, people throughout mainland China still continue to consume dog meat in modern days. Today, dog meat is produced commercially by dog breeding farms. Various breeds are reared, but many farmers prefer St. Bernards for their rapid growth, bulk, and flavor. Farmed dogs endure short, confined, and miserable lives. Brutal death awaits them. Many dogs are tortured or bled to death slowly because some believe that this results in adrenaline-rich meat which, according to folklore, makes men who eat it more virile.As the host of 2008 Summer Olympic Games, Chinese government put effort in cleaning-up of its capital city of Beijing, which resulted in the closure of many dog meat restaurants. For its unique culinary custom might embarrass or disgust foreigners. In cities across China however, roadside restaurants still specialize in dishes made from every conceivable part of the dog, including the head, legs, testicles, and innards.
South Korea
The practice of dog-eating may have originated during times of famine when people killed and ate their dogs, but this practice is viewed with disgust by the community in modern days. On Feb 21, 1984, the sale of dogs was outlawed by classifying dog meat as "disgusting food." Not only that, Seoul Metropolitan Government categorized dog meat as "repugnant food," of which using as food ingredient is prohibited. Those who eat dog meat cite superstitious beliefs to justify their acts. Some claim that keeping an old dog brings disaster to the household. Some even assert that a woman who is too fond of dogs may become infertile. Dog meat dealers also exploit the myth that eating dog meat increases male virility.
According to BBC, 85,000 tons of dog meat are consumed every year, with another 93,600 tons used to produce a medicinal tonic called gaesoju. It is estimated that over 2 million dogs are butchered annually.Although the sales of dog meat are illegal in South Korea, many restaurants nationwide still do so. According to the National Assembly of South Korea, more than 20,000 restaurants in Korea, including 6484 registered, serve dog meat in 1998. In 1997, an appeals court acquitted one dog meat wholesaler in Seoul on charges of selling dog meat illegally, ruling that dogs were socially accepted as food.In past times, many dogs were subjected to a cruel, slow death due to the superstitious belief that the more the animal suffers, the better the meat tastes. Some even hanged dogs and beat them to make meat more tender. As of 2007 however, these inhumane actions seem to be disappeared.
Despite South Korea's recent economic success, eating dog meat is still favored by many people throughout the country.
North Korea
In North Korea, dog meat is called "dangogi," meaning sweet meat. Many North Korean people still enjoy dog meat. When high-level South Korean officials visited North Korea, they were treated with dog meat or dog soup at fancy restaurants in its capital city of Pyeongyang.According to a former Japanese cook, dog soup was always listed on the menu for the North Korean leader Kim Jong-Il.During Japanese occupation of the Korean Peninsula from 1910 to 1945, many partisan independence fighters enjoyed dog meat and soup.In early 2010, the government included dog meat in its new list of one hundred fixed prices, setting a fixed price of 500 won per kilogram.
Vietnam
The dog-eating custom, which developed as a result of poverty, originated from then-North Vietnam. In the north, dogs were the cheapest source of protein.Vietnam is one of few countries in the world that legally allows the sales of dog meat. Eating dog meat therefore thrives throughout Vietnam today.The owner of Ho Chi Minh City's flourishing Hai Mo dog restaurant explains that the dogs served at the restaurant are not pets or strays, but are from breeding farms in the countryside.The restaurant features 10 dishes, including steamed dog meat, minced and seasoned meat wrapped in leaves, fried intestines, spare ribs, and fried thighs. A sour dog curry with fermented wine is served with noodles for variety while the most expensive dish is bamboo-shoot dog soup.The practice of eating dogs has gone unchallenged in Vietnam. The country has no animal welfare organization nor laws to protect animals from cruelty. Opinions on dog-eating are divided although many Vietnamese see it as unsavory.
Denmark
The royal families of Europe have traditionally been dog lovers, pampering their corgis, labradors and wolfhounds.
Prince Henrik of Denmark, however, loves dogs in a rather different way: delicately sliced, lightly fried and served on a plate. "Dog meat tastes like rabbit," he said in an interview published in the lifestyle magazine Ud & Se. "Like dried baby goat. Or perhaps like veal. Like the veal of a baby suckling calf, only drier." But the culinary tastes of the 72 year old Prince have caused concern on two accounts. First, he is the husband of Queen Margrethe and Prince Consort, one of the official voices of Denmark, a country committed to ending animal cruelty. Secondly, he is honorary president of the Danish Dachshund Club. The Prince apparently developed an appetite for dog-bone stew and other canine delicacies at an early age. He grew up in Vietnam, where roast dog remains a speciality. "I've got no qualms about eating dog meat," he said. "These dogs are bred to be eaten, just like chickens." He is most passionate about food and dogs. Among the books he has translated into Danish is a compilation of recipes entitled "It does not always have to be goose liver!"
Others
The practice of eating dog meat is not uncommon in other places in the world.In Philippines, the Philippines Animal Welfare Act in 1998 prohibited killing selected group of animals which includes dogs. However, time to time local reports show dog-eatings still take place in some areas of the country. Particularly, the Province of Benguet allows its indigenous people to use dog meat for cultural and limited commercial purposes.Although the production of dog meat for commercial purposes is illegal in Switzerland, the rural Swiss cantons of Appenzell and St. Gallen are known to have tradition of eating dog meat. Dog sausages and smoked dog jerky remains a staple in these regions. A farmer was quoted by a local weekly newspaper as saying that "meat from dogs is the healthiest of all. It has shorter fibers than cow meat, has no hormones like veal, no antibiotics like pork."In the past, dog meat was considered to be of higher quality than pork or chicken in Hawaii. People raised both dogs and pigs as pets and for food. This practice seems to have decreased significantly as Hawaii was influenced by the US.