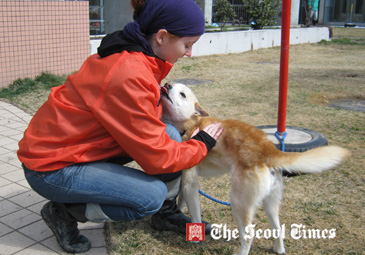 A with dog - Animal Rescue Japan, March 2011
After PETA Asia-Pacific learned about the devastation left in the wake of last week's earthquake and tsunami, I caught the first flight into Tokyo after the airport reopened the next day and traveled by train to Niigata, where I met up with a team from a local animal shelter there and then travelled by car to Sendai. As many people have seen in images on TV, the tsunami ripped through the region with such force that cars were smashed into houses, debris was swept for miles through rice fields, and entire families drowned in their homes. Travel was extremely difficult because of miles-long lines at gas stations and the rationing of gas. There were few signs of life in the hardest-hit areas, but we encountered some citizens who refused to leave their badly damaged homes because many evacuation centers are not allowing companion animals inside.
One woman we met was carrying her dog, a young sheltie who was terrified by the earthquake and aftershocks and the chaos that ensued. Tears came to the woman's eyes as she told us that she had risked her life for three days while staying in her still-shaking house because the evacuation center would not allow her to take her dog with her. She was finally able to take her dog to a family member's home in an area of the city that had not been hit by the tsunami.
At one evacuation center that was housing some animals along with people, one of the center coordinators told me a touching story about his Akita, Shane. When the man heard the tsunami warning, he rushed to warn his neighbors after letting Shane out into the yard. He tried to get back to his house to get Shane, but the tsunami was rapidly approaching, and he was forced to go to the school on higher ground.
He said he had given up hope of ever seeing Shane alive again. But six hours later, one of the people staying in the center said that they saw a dog outside. The man went to look, and it was Shane! The dog had never been to the school before, but somehow his instincts led him there. Shane had managed to swim through deep water to be reunited with his guardian.
The man took us to see Shane, who was staying at his house, which is now dry. Shane must have clung to debris, as he had cuts on both his elbows. We instructed the man on how to clean Shane's wounds and gave him some ointment. We left fuel with a local veterinarian who volunteered to visit more evacuation centers in Sendai, and he returned to check on Shane and provide him with antibiotics.
It is for Shane and for the countless other animals whose plight so often goes overlooked in the aftermath of disasters that I beg people never to leave animals to face a disaster on their own. Shane's guardian had little choice, but making an emergency plan now can help prevent tragedies from being repeated during the next disaster.
Remember, if conditions are too dangerous for you, they are too dangerous for the dog in the backyard, the cat sleeping on the front steps, and the caged hamster. If at all humanly possible, it is vital to take animals with you when forced to evacuate. In the wake of catastrophic earthquakes and storms, animals aren't safe at home because, even if the home itself isn't damaged, impassable roads may prevent homeowners from returning for weeks, leaving animals stranded without food and water.
While many evacuation shelters do not allow animals, many hotels do, and others will often waive their restrictions on animal guests during disasters. If you can't afford a hotel, and you don't have friends or relatives with whom you and your animals can stay, your animal companions are still better off going with you, even if you have to camp out at a campground or in your car (although you must be careful never to leave animals alone in a car during warm weather).
If you absolutely must leave your animal companions behind, leave them inside the house, with access to upper floors and at least 10 days' supply of dry food and water. Fill multiple sinks, bowls, pans, and plastic storage containers with water.
Before the next storm strikes, invest in a sturdy, roomy carrier for each of your animals that, if worst comes to worst, can serve as their temporary living quarters. Be sure that all your animals are up to date on their rabies vaccinations and are wearing collars with identification tags, and remember to pack leashes, bowls, towels, blankets, litter pans and litter, and at least a week's supply of food and medications.
We may never know how many people put themselves at risk and possibly perished in this disaster because they were afraid to leave their animals behind. Government and nonprofit agencies must learn from this tragedy and include animals in future disaster planning—if not for the animals' sake, then for the sake of the people who would rather die than leave them behind.
Don't wait until the next disaster strikes—make an emergency plan today. Your animal friend might not be as lucky as Shane.
Ashley Fruno is a senior campaigner with PETA Asia-Pacific.