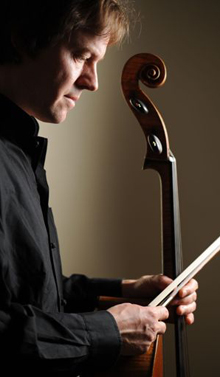 Cellist Jan Vogler
World famous German cellist Jan Vogler will visit South Korean on April 18-24, 2011 for his tour in Seoul, Cheonan, Busan, and Gwangju, the Germany Embassy in Seoul announced recently.Vogler is the organizer and artistic director of "Moritzburg Festival," a famed German music festival.He will be accompanied by four other musicians for his South Korean concerts. They are Colin Jacobsen (violin), Park Hye-Yoon (violin), Lise Berthaud, (viola), and Antti Siirala (piano).The musicians will play works by Salzburg-born prolific composer of the Classical era Wolfgang Amadeus Mozart (1756-1791), Argentine tango composer Astor Piazzolla (1921- 1992), and German composer and pianist Johannes Brahms (1833-1897).Duing their concerts "Klaviertrio C-Dur KV 548" by Mozart, "The 4 Seasons of Buenos Aires" by Piazzolla, and "Klavierquintett f-Moll Op. 34" by Brahms will be played, followed by the late Korean composer Yoon Yong-Ha ( 1922-1965)'s "Boribat" or Barley Field."They will perform under the theme of "Togetherness" on their South Korean tour. It will be hosted by the German Embassy in Seoul.According to the embassy, their concerts are aimed at contributing to the exchange of music and musicians between German and South Korea.They will offer one concert in Seoul, Cheonan, Busan, Gwangju, respectively. They are:April 20: Seoul's Kumho Art Hall at 8 p.m.
April 21: Cheonan's Bongseo Hall at 7:30
April 22: Busan Cultural Center at 7:30 p.m.
April 23: Gwangju's Chonnam National Univ.During the concerts in the nation, Moritzburg Festival's Artistic Director Jan Vogler will offer a special concert and a master class to local musical prodigies.Some of them will be invited to a two-week program of the Moritzburg Festival Academy, which was founded 2006.On May 19, 2011 Jan Vogler will have a concert with South Korean pop singer "Rain" at Semper Opera House in Dresden under the title of "Asian Pop Meets German Classic," according to the German Embassy in Seoul.Cellist Jan Vogler and his music friends' South Korean tour is sponsored by European Aeronautic Defence and Space.Upon arrival on April 18, 2011, German Ambassador to Seoul Hans-Ulrich Seidt will host a dinner reception for the German musicians at his residence in Seoul's Seongbuk-dong at 6:30 p.m.
For details or inquiries please contact the German Embassy in Seoul at 748-4114.