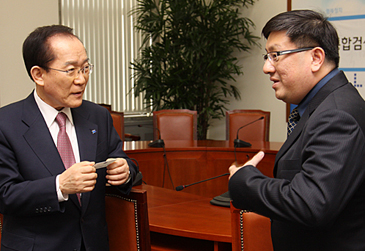 LFP Chairman Lee Hoi Chang (left) greets New Singapore Envoy Peter Tan at his office of the National Assembly on April 1, 2011.
Singapore Ambassador to Seoul Peter Tan Hai Chuan paid a courtesy visit to Chairman Lee Hoi-Chang (×Ýüåóã) of Liberty Forward Party (LFP), South Korea¡¯s third major party at his office of the National Assembly in Seoul¡¯s Yoido area on April 1, 2011.The new Singaporean envoy discussed with Chairman Lee ways of enhancing bilateral ties between South Korea and the island nation.They also exchanged views and ideas on a variety of issues and mutual concerns facing the two nations.Chairman Lee is one of the most important and highly influential senior political leaders in South Korea.The newly arrived envoy has been meeting with South Korean leaders in various sectors of society since his recent arrival in Seoul.Mr. Peter Tan Hai Chuan (陈ú­ô») was appointed as Singapore's ambassador to the Republic of Korea with concurrent accreditation to Mongolia in early 2011.He joined the Ministry of Foreign Affairs in 1992. Since then he has served in various capacities on issues related to Northeast Asia, Eastern Europe, Australia, New Zealand and the Pacific, and Southeast Asia.Mr. Tan¡¯s overseas assignments include Japan, Malaysia, Mongolia, and South Korea.From 1995 to 1998 he served at the Singapore Embassy in Tokyo, Japan.He also worked at the Singapore High Commission in Kuala Lumpur as Counsellor from 2001 to 2002. Since then he moved back to Tokyo to serve at the Singapore Embassy there between 2002 and 2005. He served there as a counsellor, and subsequently as acting minister-counsellor and deputy head of mission.After that he returned to Singapore to serve at the ministry headquarters. He was appointed to the second director of the Southeast Asia Directorate on Dec. 27, 2005. Afterwards, he was promoted to the director and served in that position from October 2006 to August 2010.Mr. Peter Tan Hai Chuan (陈ú­ô») graduated with a bachelor¡¯s degree from the prestigious National University of Singapore in 1992.
He earned his master of arts degree in East Asian Studies from Columbia University in New York in 2000.Mr. Tan was awarded the Public Administration Medal (Silver) in 2008.Mr. Tan was born on Sept. 11, 1967. He is married to Madam Sim Siew Eng.
For details contact the Singapore Embassy in Seoul at 774-2464~7.