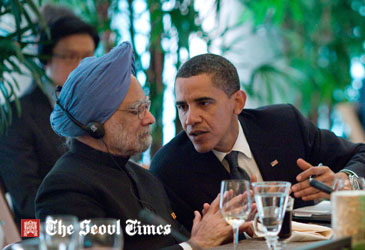 India's Prime Minister Manmohan Singh (left) talks with US President Barack Obama during G20 Summit held in Pittsburgh, Pennsylvania, in the United States on Sept. 25, 2009.
As India is embracing the election time in five provinces, the ruling Congress party is facing a hard time. Even the prime minister, Dr. Manmohan Singh faces the heat and the recent attack came from the opposition leaders as well as a banned separatist organization. The soft spoken premier is alleged to be insensitive to his State of residency, where he should have gone for voting in the recently concluded polls. Moreover, the permanent residential place of Dr. Singh is also being dragged into controversy.After general election in 2009, Indian provinces including Assam, West Bengal, Tamil Nadu, Kerala and Puducherry go for elections with results are due in the middle of May. The incumbent Congress government hopes good results out of peace initiative card and development, while opposition parties tried to woo voters highlighting the Congress-led central government's corruption relating to Commonwealth Games, 2G spectrum and Adarsh Society scam. At least in Assam and Puducherry, the Congress is fighting for regaining power, where as the party is expected to increase its tally in West Bengal, Kerala and Tamil Nadu. Around 15 crore electorates are expected to vote for their preferable candidates in these elections, the counting of all provinces is due on May 13.Officially the prime minister Dr Singh represents Assam in upper house of Indian Parliament. The northeastern State had gone for poling on April 4 and 11. By virtue of its residency, Dr Singh was supposed to come to Guwahati for exercising his franchise. But he did not turn out. That's gave an ample scope for the firebrand opposition party leader Narendra Modi to criticize Dr Singh as insensitive to the
exercise.The Bharatiya Janata Party leader and the chief minister of Gujarat went on saying that he was pained to know that the premier did not come to Assam to cast his vote in the second and final phase of elections on April 11. "Dr Singh and his wife are registered as voters in Dispur constituency of Assam. As a responsible citizen of the country he should have arrived there for voting. But ignoring the important duty, they have only sent wrong signals to the new generation," the Gujarat chief minister asserted, while addressing a public rally in Gandhinagar recently.The Congress however rejected the allegation and clarified that the prime minister had to leave for China and Kazakhstan on April 12 and hence he could not be in Assam the previous day. The party also stated that Dr Singh and his wife Gursharan Kaur exercised his franchise through postal ballots. But controversy related to his residency in Assam remained as a young Assamese political leader Pradyut Bora argued that it was big lie. The intelligent BJP leader even claimed that 'his Rajya Sabha membership is based on a lie' and so thus his premiership. Days back, the banned United Liberation Front of Assam also blamed Dr Singh as a liar because of his official residential address in Guwahati. The militant outfit, which is fighting Indian Union government for a Swadhin Asom, argued that the economist turned politician actually hails from Punjab State in north India and shows a rented house in Guwahati to contest for Rajya Sabha polls from Assam.Officially Dr Singh, who was born in Gah (Punjab of Pakistan) is a permanent resident of Assam and his address is shown in the government document as House No 3989, Nandan Nagar, Sarumotoria, Dispur, Guwahati, Assam-781006. All these arrangements were made by the then Assam chief minister Hiteswar Saikia in 1991 to facilitate Dr Singh to reach the upper house of Indian Parliament as a Congress nominee. In the PV Narasimha Rao government, Dr Singh served as the Union finance minister and initiated for liberalization in Indian economy.Since then The Oxford Doctorate economist remains a Rajya Sabha member from Assam and incidentally he became the prime minister instead of the Congress party chief Sonia Gandhi. After the general election in 2009, Dr Singh, though he did not contest in the Lok Sabha election, became Prime Minister for the second consecutive time.The ULFA hardliners called for an Assam Bandh (shutdown or total non-cooperation) on April 2 to protest against the visit of Dr Singh to Assam for poll campaigning ahead of 126 State Legislative Assembly elections. In an e-mail statement issued by the ULFA (Paresh Barua faction) alleged that Dr Singh had made enough useless promises to the people of Assam. The last one was the promise made by him 'to discuss all core issues for political solution of Assam-India conflict' but it was not materialized.The 12 hours bandh could make impact on the State, where the shut down was almost total in Brahmaputra valley and was partially effective in Barak valley of Assam. The roads wore a deserted look as there was little traffic and also shops were closed, though the train and air services were operated as usual. The armed group, which has been maintaining a war against New Delhi for three decades, earlier called for a day long Assam bandh on March 28, the day Dr Singh initially planned to visit the State. Suddenly Dr Singh's visit was postponed and the outfit too immediately withdrew their bandh call.