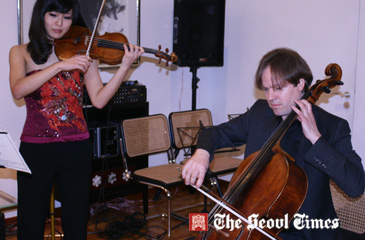 German cellist Jan Vogler performs at residence of German Ambassador to Seoul, Hans-Ulrich Seidt, on April 17, 2011.
This year's Dresden Music Festival will take place from May 18 to June 5, 2011. For the third time, the festival is under the direction of Jan Vogler, world-renowned German cellist. Vogler is also the organizer and artistic director of the "Moritzburg Festival," a famed German chamber music festival.From April 18 to 24 of this year, Jan visited Seoul on a tour of South Korea's major cities including Seoul, Cheonan, Busan, and Gwangju, at the invitation of the Germany Embassy in Seoul. Jan Vogler also received a specially made cello bag as a gift from MCM's Sung-Joo Kim. With the Dresden Music Festival's motto "Five Elements" — earth, water, fire, air, spirituality — in mind, he has chosen the music of Asia as the focus of this year's festival. The emergent city of Dresden, with its rebuilt Baroque city centre and famous Frauenkirche, will open its doors to established and young artists alike for a juxtaposition of works and performers from both oriental and occidental parts of the world — a special kind of musical journey.The 2011 Dresden Music Festival schedule is as follows.
Wed, 18 May – Sächsische Staatskapelle Dresden, Esa-Pekka Salonen and soprano Lilly Paasikivi perform Kaija Saariaho's "Lumière et Pesanteur" as well as Mahler's symphony No. 3 at the opening concert
Thu, 19 May - Korean dancer and singer Rain and cellist Jan Vogler gather for Asian Pop meets European Classics
Sat, 21 May – New York Philharmonic, Alan Gilbert and baritone Thomas Hampson perform Mahler's "Kindertotenlieder" and symphony No. 5
Tue, 24 May - Christian Tetzlaff, Six Bach sonatas and partitas for solo violin
25/26/29/30/31 May – Asia's stars of tomorrow - this festival concert series introduces some of Asia's greatest young talents who interpret classical Western music as well as compositions from their home countriesSat, 28 May Arabian Nights, Absolute Ensemble, K. Järvi - The New York-based Absolute Ensemble and its conductor Kristjan Järvi travel in pursuit of music without borders – from East to West and vice versa
Thu, 02 June Thomaner & Kruzianer – Two famous Dresden boys' choirs which were both founded in the 14th century, sing works by Mendelssohn, Bach and 'birthday boy' Franz Liszt
Fri, 03 June Cloud Gate Dance Theatre of Taiwan & Rustavi Choir - before a backdrop of Georgian chants, elements of Peking Opera, Tai-Chi and Buddhist meditations are combined
Fri, 03 June Berlin Philharmonic and Sir Simon Rattle perform Gustav Mahler's symphony No. 6 – This concert also features the grant of the Glashütte Original Music Festival Award
Sun, 05 June Leipzig Gewandhaus Orchestra, Christoph Eschenbach and cellist Jan Vogler present Dvorak's cello concerto and Saint-Saëns' organ symphony
The complete program can be found at the Dresden Music Festival's offical website: http://www.musikfestspiele.com/cms/en/home/
Who Is Jan Vogler?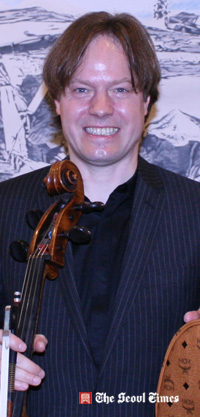 German Cellist Jan Vogler
Jan claims music was his first love, and his fans believe it. At age six, Jan began studying music with his father, Peter Vogler, and after that with Josef Schwab in Berlin, Heinrich Schiff and Siegfried Palm. Growing up in a musical family instilled in Vogler the firm belief that music is an integral part of life.After a rigorous music education in East Berlin, Vogler assumed the head cello position of the Staatskapelle Dresden at age 20 – the youngest concertmaster in that orchestra's history. However, in pursuit of his dream of a solo career, Vogler left his position in Dresden in 1997. Other than his teachers in East Berlin, Vogler counts Rudolf Serkin, Felix Galimir, and other great musicians featured at the Marlboro Music Festival during his youth, as having a lasting influence on his music.Today, Jan shares his time between Dresden, Germany and New York City, balancing the roots of his traditional music education with the contemporary style of interpretation for which he has become known.Vogler has performed at some of the most prestigious concert halls around the world, and with internationally-renowned conductors including Lorin Maazel, Fabio Luisi, Semyon Bychkov, David Robertson, Giuseppe Sinopoli, Manfred Honeck and Donald Runnicles. He has appeared with the New York Philharmonic, the Chicago Symphony Orchestra, the Boston Symphony Orchestra, the Pittsburgh Symphony Orchestra and the Cincinnati Symphony Orchestra, the Dresden Staatskapelle, the Montreal Symphony Orchestra, the Cologne and Frankfurt Radio Orchestras, and the Vienna Symphony, with some of the world's premier musicians.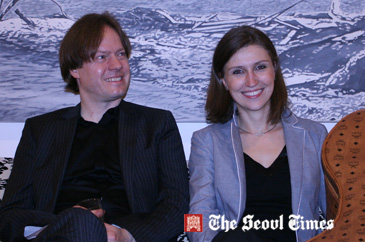 German cellist Jan Vogler (left) poses with PR manager Mandy Jarsumbeck at the residence of German Ambassador to Seoul Hans-Ulrich Seidt in Seoul on April 17, 2011.
Jan Vogler has won the Echo-Award twice and the European Cultural Award in 2006. In his own words, Vogler's mission is to 'get people addicted to classical music again,' a mission he carries out not only through his performances, but also through his role as festival organizer. Vogler is artistic director of the Moritzburg Festival, and will direct this year's Dresden Music Festival for the third time. Vogler notes that audiences have become much more selective and don't always accept what presenters and record companies think is good for them. He sees this as a unique and timely opportunity to influence the music scene. His festival programs seek to give audiences a better understanding of the motivations and thoughts of composers, as well as highlight the parallels between different periods in music history.According to Vogler, the key to a successful concert is giving the performances life, through a complete emotional and physical investment. In interviews, the German cellist states emphatically that artists have a duty to include personal emotion in their music.Vogler doesn't believe that education is necessary for people to appreciate classical music. Although he acknowledges a classical music education helps people to understand music, he believes an initial exposure and emotional response is what is most vital. It is the classical musician's responsibility to bring his enthusiasm for music across to his audience, and thereby incite people to learn more. With a strong classical foundation, Jan Vogler embraces the work of his contemporaries. However, a process of experimentation, expansion and refinement is clearly evident in his performance style, as well as the music he champions. Vogler has recently premiered works by renowned composers Jörge Widmann, Tigran Mansurian with the WDR Sinfonieorchester conducted by Semyon Bychkov at the Cologne Triennale, John Harbison, with the Boston Symphony Orchestra and Udo Zimmermann with the Bavarian Radio Orchestra. Jan currently records exclusively for SONY Classical. His discography includes J.S. Bach's Gambensonaten with pianist Martin Stadfeld released in November 2009, and two CDs with The Knights and Eric Jacobsen: New Worlds on which Jan performs Dvořák's Silent Woods (March 2010) and Experience: Live from New York (June 2009), which includes Shostakovich's famous Cello Concerto No. 1, a selection of his waltzes arranged for cello and orchestra, and Machine Gun, by Jimi Hendrix in a special arrangement for cello and orchestra. This live CD was recorded at Le Poisson Rouge, more famously known as the Village Gate, home to many Hendrix concerts. Jan's other releases for SONY Classical include the multiple award-winning (Choc – Le Monde de la Musique and the Diapason d'Or) "The Secrets of Dvořák's cello concerto" with the New York Philharmonic conducted by David Robertson, My Tunes – a selection of short favourites for cello and orchestra, Concerti Brillanti featuring 18th century concertos, and TANGO! with the Moritzburg Festival Artists that spotlights the music of Astor Piazzolla. His extensive discography also features Cello Concerti by Barber, Korngold, Bürger (Berlin Classics), Schumann and Fauré Piano Quintets (Sony Classical) with James Ehnes, Mira Wang, Naoko Shimizu and Louis Lortie and Mendelssohn's Cello Sonatas (Berlin Classics) also with Louis Lortie. His recording of the Schumann Cello Concerto and world premiere recording of Jörg Widmann's Concerto (Berlin Classics). He has also recorded the Haydn cello concertos (with Virtuosi Saxoniae, directed by L. Güttler), the Schumann and Widmann cello concertos (with Munich Chamber orchestra, Christoph Poppen) and the concerto by Camille Saint-Saëns (with Hannover Radio Orchestra), the complete works by Beethoven, Schumann and Brahms with pianist Bruno Canino and the cello sonatas by Weill, Shostakovich and de Falla. His recording with violinist Mira Wang features the Duos by Ravel, Eisler and Kodaly and his solo recording works by Solo Suites by Bach and Reger. Recent performances include a recital in Dublin with Baiba and Lauma Skride in the summer of 2010 in New York's Central Park with The Knights, a tour with the Baltic Youth Orchestra culminating with a performance at the White Nights Festival in St. Petersburg, and a tour with the Dresdner Kapellsolisten in Germany and at the Moritzburg Chamber Music Festival, of which Jan is also artistic director.The 2010-2011 season has so far featured an ambitious set of concerts and recitals in Europe and North America. Jan began the season in Europe in recital with Hélène Grimaud followed by a concert tour of Germany with the New York-based ensemble The Knights led by Eric Jacobsen which featured the Shostakovich Cello Concerto and Jimi Hendrix's Machine Gun – recorded for the SONY label and released to critical acclaim in 2009. Jan then undertook a second German tour, this time with the Singapore Symphony Orchestra, conducted by Lan Shui. In his performances, Jan Vogler plays the Domenico Montagnana cello 'Ex-Hekking' made in Venice in 1721.This year's Dresden Music Festival will take place from May 18 to June 5, 2011.
Contact: Marietheres Eicker
PR² classic - Kreuznacher Str. 63 - 50968 Koeln
Tel: +49 221 38 10 63 - Fax: +49 221 38 39 55
office@pr2classic.de - www.pr2classic.de
Visit our NEW HOMEPAGE: www.pr2classic.de
Follow us on Twitter: http://twitter.com/pr2classic