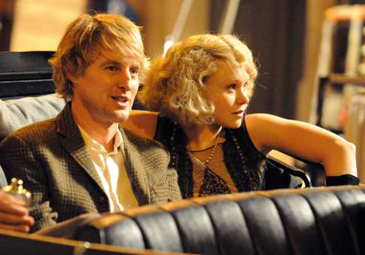 Woody Allen's "Midnight in Paris"
Cannes, May 12 2011: There could not have been a more delightful work than Woody Allen's "Midnight in Paris" to get the 64th edition of the Cannes Film Festival into the starting gear last night. So amusing was it with its witty one-liners that the usually stiff lipped Cannes critics were caught actually laughing, even clapping.
Indeed, the movie is elegant, almost a love letter to Paris, with its classic French humour, seductive romance and inspiring heritage. The film's first shots — of Paris, a series of them in fact, was reminiscent of Allen's 1978 classic, "Manhattan". The rich montage of shots catches the French capital in its many moods - in spring, in sun, in rain, at dawn and at midnight, the hour when the story takes a fascinating turn much like a fairy tale.
Owen Wilson's Gil is a Hollywood scriptwriter, but fancies himself as a novelist and dreams of penning his first big piece of fiction in Paris. On a holiday in that alluring city with his fiancée, Inez (Rachel McAdams), and her parents, Gil is soon bored with her and her rather frivolous lifestyle. And when she meets her old college sweetheart, Paul (Michael Sheen), Gil finds him insufferable with his phony intellectualism that even gets him arguing with the museum guide, played by the French first lady, Carla Bruni.
Inez's increasing interest in Paul gives Gil an excellent opportunity to disappear into Parisian streets, where every night – or more precisely every midnight – he finds himself bumping into several writers and artists, long dead and gone. As Gil begins this ethereal journey, he is drawn into the fascinating times of Ernest Hemingway, Salvador Dali, Zelda Fitzgerald and Luis Bunuel. There in their world, Gil also meets the beautiful Adriana (Marion Cotillard), who has been the lover and muse to many artists, including Picasso, Modigliani and Braque.
"Midnight in Paris" is in many ways a story about romantic attachments to the past, and how the past always seems so much more thrilling than the present. It is nostalgic, and written with a wonderful touch of fun. The performances are easy, and Allen's Paris appears magical.
Earlier, just before "Midnight in Paris" was screened to a packed audience that did not included the much anticipated French President, Nicolas Sarkozy, and his wife, Bruni, (strengthening rumours that she is pregnant), Italian director Bernardo Bertolucci (the man who made such classics as "Last Tango in Paris" and "The Last Emperor" was honoured with a Lifetime Achievement Palm D'Or by the Cannes Film Festival. He has never before been feted by the Festival.
Remarking that he had been in Cannes four times before without winning anything, Bertolucci thanked the Festival for finally giving him the Palme "for this movie made up of segments of all my movies." The 71-year-old director, who was brought in on a wheelchair, jocularly quipped that his life was now a "constant dolly movement".
But such light-heartedness did not pervade throughout the day. During the traditional afternoon jury Press conference, a French journalist asked Robert De Niro: "Are you talking to me?" and "Did you f**k my wife?" before calmly handing over the microphone back. De Niro, who heads the jury this year, laughingly replied "I don't think so".
It was as close to controversy and chaos as the conference could get before it settled down with De Niro fielding a number of questions about the jury's approach to find this year's Palm winners. He pointed out that in picking a winner from the 20 competing titles, which certainly promise difference and diversity, "there will always be personal opinions that aren't reflected at the winners' ceremony".
The jury also includes novelist Linn Ullmann, whose parents actress Liv Ullmann and filmmaker Ingmar Bergman are no strangers to Cannes, British actor Jude Law, Argentinean actress and producer Martina Gusman, Chinese producer Nansun Shi, Hong Kong director Johnnie To, Chad born director Mahamat-Saleh Haroun and French helmer Olivier Assayas.