America
Korean Artists Featured in NYC Exhibition
Jun Yeji and Yun Jeong-Han Display Their Works at Agora Gallery, June 4-25, 2011
By Ken Maingot
Associate Editor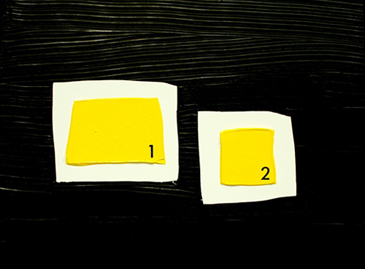 Yun Yeji's work 1,2 Acrylic on Panel 12" x 12
Two prominent artists from South Korea, Jun Yeji and Yun Jeong-Han, will be featured in an upcoming exhibition at the Agora Gallery in New York City from June 4 to 25, 2011. The exhibition, "Portal to Enigma," invites viewers to contemplate the wonder of the world through art that expresses an appreciation of beauty.South Korean artist Jun Yeji won first prize in the Viridian Artist International Juried Exhibition in 2010. Born in Seoul, she received her Bachelor of Fine Arts from Kyeonggi University in Seoul and Master of Fine Arts from New York City's Hunter College. Jun limits herself to one or two colors, and explores fantasy, romance, humor, self-doubt, and narcissism in her art. Each of her pieces, which she terms snapshots of her subconscious state, is accompanied by text integral to its meaning. Also featured in the exhibit is artist Yun Jeong-han. Yun brings forth a distinctive combination of the Abstract Expressionism of the American school with the gestural quality of Korean Literati painting. He uses simple and seemingly spontaneous brushstrokes in his art, reminiscent of Zen calligraphy, and works on his own, handmade paper. Yun's pieces have an introspective quality and are typically large-scale, featuring a variety of colors and textures. The exhibit will also include work from artists Mihai Bara, Susan Marx, Kelly Sellers, Elio Talon, and VéroniKaH.
The Agora Gallery is a fine art gallery located in the heart of New York City's Chelsea art galleries district that was established in 1984 The opening reception for Portal to Enigma will be held on the evening of Thu., June 9, 2011. Exhibition Dates: June 4 — 25, 2011
Reception: Thu., June 9, 2011, 6:00 p.m. — 8:00 p.m.
Gallery Location: 530 West 25th Street, Chelsea, N.Y.
Gallery Hours: Tue. — Sat., 11 a.m. — 6 p.m.
Visit the
Agora Gallery website
for more details.

Related Articles
N. Korea Officially Closes Mt. Diamond Nov. 29
North Korea Ejects South Korean Companies
Vibrant Modernity: Essence of Seoul
Teaching Illegally -- Risky, But Wrong?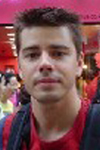 Ken Maingot serves as Associate Editor for The Seoul Times. A Canadian from Ottawa, Ontario, he lives in Seoul. His area of special interest is politics and culture. He enjoys traveling the nation. He majored in Philosophy at Carleton University, and Pacific Rim Studies at Langara College in Vancouver. He can be reached at ken.maingot@gmail.com http://kenmaingot.wordpress.com/