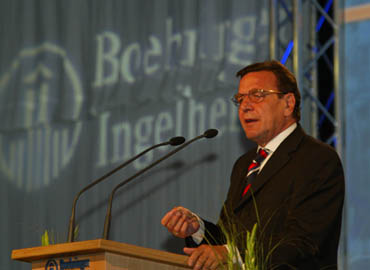 Chancellor Gerhard Schroeder
Marking the "Day of Unity," German national holiday, which falls on Oct. 3, 2004, The Seoul Times interviewed German Amb. Michael Geier recently. Amb. Geier stressed the importance of South Korea to Germany in the interview in which he mentioned a wide variety of bilateral relations. In the interview he also hoped that Koreans will also enjoy the Korean version of "Day of Unity" in the future. Below are the questions and answers with the German ambassador.
Q1:
Has there been any important development(s) between Korea and your esteemed country in the last year in the economic, political, cultural and/or other fields? If yes, please elaborate.
A1:
Relations between Korea and Germany are very much alive and there is a constant stream of bilateral events. Members of both parliaments visit each other frequently, the bilateral consultations on industrial collaboration in the beginning of the year 2004 brought an important delegation from the Ministry of Commerce and Industry together with numerous Korean entrepreneurs to Germany and right now the Korean-German Forum — a meeting of prominent opinion leaders of our both nations — is taking place on Jeju Island.During the last year an important number of conferences on various subjects like environmental protection, political education and scientific cooperation were held successfully.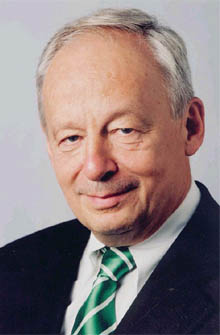 German Amb. Michael Geier
Also in the cultural field a large number of concerts, exhibitions and performances from German artists have taken place in Korea. At the upcoming Film Festival in Busan Germany is the focus country and more than a dozen new German movies will be shown to the Korean public. As you see our bilateral exchanges are numerous and intense.
Q2:
Do you foresee any such development(s) this year, including the possible visit of the chief executive of your country to Korea? Are any economic or other delegations coming to Korea? If yes, please explain.
A2:
Developments: 2005 will be a very important year for our bilateral relations. It is the "Korea Year" in Germany and many outstanding events are to come. Korea is in the center of attention during the Asia-Pacific Weeks in Berlin and the partner country of the Frankfurt Bookfair, the biggest bookfair in the world.Many German events will take place in Korea. It starts with our "Weihnachtsmarkt" in the COEX where you can find German Christmas cookies and "Gluwein." In spring the Korean-German Chamber of Commerce will organize once again the "German World," a highly successful exhibition of German products and services. And next autumn, I am sure we are going to have again a number of "Oktoberfests" in Seoul and other Korean cities.Unfortunately, at the moment there are no plans for the visit of Federal Chancellor Gerhard Schroeder to Korea in 2005.
Q3:
Please introduce in detail the Chief Executive of your country, including his major achievements, political philosophy, family and hobbies.
| | |
| --- | --- |
| | |
| Gerhard Schroeder | Roh Moo-Hyun |
A3:
The German Chancellor Gerhard Schroeder has many similarities with the Korean President Roh Moo-Hyun. They are both of humble origins and became lawyers through hard studies at evening schools. Chancellor Schroeder was reelected for a second term in 2002 and his main challenge is to lower the unemployment rate and to rebuild the German social security system threatened by demographic imbalances. He is a social democrat but a strong believer in free market economy and free enterprise. He is married and recently adopted a Russian child.
Q4:
What was the volume of trade between Korea and your country in 2003 and how will it change this year? What are the most promising areas of investment for the Korean companies in your country — and vice versa?
A4:
The Korean-German trade volume was 12 billion US dollars in 2003 and will come close to 17 billion US dollars in 2004, an increase of more than 30 percent. This is a very high figure according to any standards and makes Germany by far the most important European trade partner. What is even more important is that this trade is almost balanced and consists of very similar products, e. g. cars, machinery and petro-chemicals.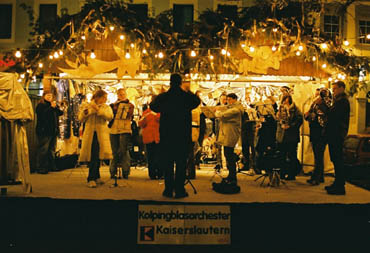 Weihnachtsmarkt
This is a clear indicator for very healthy trade relations that serve the interest of both countries. These satisfactory trade figures are highly dependent on investments on both sides. The basis of our commercial relations are long term engagements by German and Korean companies in both of our countries. Further opportunities remain in the field of high technology and advanced science, where our joined efforts should open new possibilities also in third countries.
Q5:
Please explain the National Day of your country and its celebrations.
A5:
It is a nice coincidence that Germany and Korea celebrate their National Days at the same date. The October 3rd is for us the "Day of German Unity." East and West Germany were separated for many decades and reunited in 1990. It is a day of joy for Germany and I hope that one day Koreans will be able to celebrate as similar happy holiday.
Q6:
What are the major tourist destinations of your country? Please explain in detail.
A6:
Germany has a very diversified landscape. From the Alps in the south to the islands of the northern sea from the Rhine valley in the west to the shores of the Oder in the east: you will find touristic marvels wherever you go.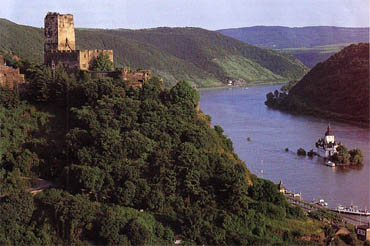 the Rhine River
Berlin is a thriving capital with a vivid cultural scene and a long history that left its mark at every street corner. A boat ride along the Rhine is a must for every Korean tourist and goes well together with a bottle of fresh Mosel wine. Bavaria and its capital Munich are always worth a visit, not only during the times of the real Oktoberfest.
Q7:
Could you please explain about yourself and your family?
A7:
I was born still during World War II in the medieval bishop's city of Paderborn in Eastern Westphalia and brought up on a farm right after the war. That is why I feel at home in the countryside and why I was able to explain to my wife and my daughter the forming instruments in the Korean Folk Village with some accuracy. I studied law in Bonn, Kiel and Freiburg and joined the diplomatic service exactly 30 years ago.The first 10 years of my career I spent in Latin America, where I met my Brazilian wife almost 25 years ago. Then we were 10 years in Africa and finally four years in Rome, always interrupted by longer spells in Germany. The last six years — an unusually long time — I worked in the field of compensation for former foreign forced laborers.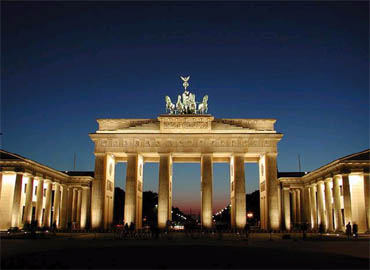 Brandenburg Gate in Berlin
I am very happy and proud with the opportunity to work in Korea, a country very close to Germany for a variety of reasons, for instance the presence and the cultural contributions of more than 30,000 Korean citizens. I hope that I will be able to encourage more young people of both countries to meet and discover the world together, on the university level, but also if feasible at a younger age.