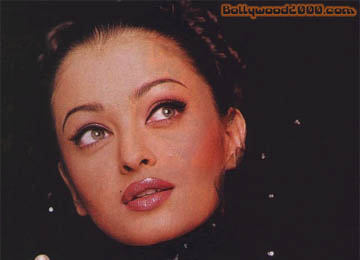 Rain could be heard spattering the cold streets of London — but inside Madame Tussauds famous wax museum, the temperature was rising.A lone spotlight lit the smiling, sari-clad figure in the centre of the room — an idol worshipped by millions of Bollywood fans in India and beyond. The crowd of cameramen and British-Asian film fans suddenly went wild. In a flurry of flashbulbs, Aishwarya Rai, the former Miss World turned Bollywood screen goddess, emerged to greet the beautiful lady under the spotlight — a wax model of herself unveiled for the first time. A photographer more accustomed to snapping celebrities stumbling out of London nightclubs looked on, amazed. "Not bad for a photo-shoot at eight in the morning," he said.
Indian blockbuster
Aishwarya Rai is yet to have a big-budget US blockbuster to her name but she has fans across the world, wherever Bollywood has an audience.

Hindi films featuring singing, dancing heroes and villains have long had a following in countries where Hindi is barely spoken — from the Middle East to Afghanistan and the former Soviet republics of central Asia and eastern Europe. But Rai's latest film — an English-language reworking of Jane Austen's classic novel, Pride and Prejudice — is being marketed like a worldwide blockbuster. If successful, it will make her the first Indian star to crack the lucrative market dominated by Bollywood's better-known cousin, Hollywood.
Lifelike twin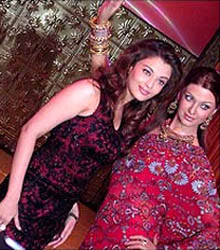 Which is the real Aishwarya Rai?
Unlike her likeness in wax, Aishwarya Rai appeared in London wearing western-style dress. Unfazed by the frenzied fans and flashing cameras, she sidled up to the wax model and eyed it apprehensively. "What do you think of your figure, Aishwarya?" shouted someone from the crowd. "It looks like I've been cloned," she replied, smiling. Her mother, who was accompanying her, stepped forward to examine her daughter's disarmingly lifelike twin. So did Gurinder Chadha, the director of Bride and Prejudice, Rai's new film. The women positioned themselves around the wax model, responding to the photographers' shouts: "Over 'ere, love. More to the left, please! That's better. Now smile!"
Idol worship
Onstage, a team of dancers advertised Madame Tussauds special attraction — Bollywood dance workshops for visitors. The wax museum is the latest business — after London department store Harrods — to cash in on a craze for the Indian film genre. Asked what she looks for in a good Bollywood dancer, Gurinder Chadha replied: "A lovely round figure, full hips and a bit of a tummy."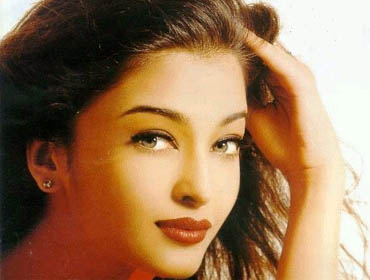 Aishwarya Rai politely refused requests to perform a dance of her own. Instead she mingled with the crowd, chatting and signing autographs for her fans, who could barely control their excitement. After she left the room, the cameramen flipped open their laptops and started beaming images of a beaming Aishwarya back to newspapers and photo agencies. A British-Asian couple went up to her wax model and performed a brief Bollywood dance, watched by Madame Tussauds' other Indian celebrity — the loincloth-clad icon of independence, Mahatma Gandhi.
The above article is from BBC.