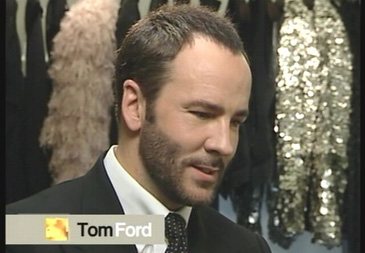 US Fasion Maestro Tom Ford on CNN Talk Asia
Airtimes:
Hong Kong, Kuala Lumpur, Manila, Singapore
and Taipei
Wednesday, June 1 at 1830
Thursday, June 2 at 1130
Saturday, June 4 at 0130
Sunday, June 5 at 0000 and 1630
Monday, June 6 at 1000 Bangkok and Jakarta
Wednesday, June 1 at 1730
Thursday, June 2 at 1030
Saturday, June 4 at 0030 and 2300
Sunday, June 5 at 1530
Monday, June 6 at 0900His designs are the epitome of sophistication and style. For 25 years, Tom Ford has been injecting glamour into the world of international fashion, winning him respect within the industry along with a host of A-list devotees. In 2009, the celebrated designer ventured into film with his directorial debut - "A Single Man" - which led to an Oscar nomination for lead actor Colin Firth. On this week's Talk Asia, host Anjali Rao meets the American fashion designer and filmmaker in Shanghai to find out why Asia is so important to the fashion world. She also finds out how he struggled through a mid-life crisis and deals with his well-publicized perfectionism.
From saving the once-struggling Italian fashion house Gucci to eventually establishing his own brand, Ford has long amazed the industry with his talent for design and his shrewd business sense. The American designer sees China as an important player in the global fashion industry: "Americans are so used to seeing so many things "Made in China" ... but I don't know they really understand what is happening in China. I really think that all Americans should stand on the bank of the river, on the Bund, and look across at Pudong and they would get it."
During his time at Gucci, Tom Ford helped the company acquire stakes in other design houses including those run by Stella McCartney, Alexander McQueen and the late Yves Saint Laurent. Ford recalls a time when the French fashion designer made his displeasure at Ford well known. "He was supportive at the beginning ... I started to get great press and the business started to become successful, Yves became quite hostile." Ford explains: "I have letters that he wrote to me about it. You know "in thirteen minutes on the runway, you've destroyed 40 years of my career.""
In 2005, Ford set up a production company, "Fade to Black", to fulfil his long-time ambition of making a movie. His directorial debut, "A Single Man", depicts a man struggling through a mid-life crisis, something the filmmaker says he can relate to. "I was going through the same thing at that time. When I left Gucci and Yves Saint Laurent, I didn't know who I was. When I went home the day that I resigned from Gucci, my last day and my calendar was just blank. I don't think I'd anticipated just how empty I would feel."
He also admits that directing a film is not too dissimilar from being the creative director of a large fashion house. "First of all, you have to have a vision, that's the most important thing. You have to have something to say ... Then you have to hire a great team of people to help you realize that vision and you have to create an environment where those people can be creative and give you their very best."
In 2011, the designer launched his first women's collection for the "Tom Ford" brand with the help of some celebrity friends including Beyoncé, Julianne Moore and Lauren Hutton. But instead of unveiling the collection in front of the world's media, he opted for an intimate showing in front of a select audience. "I always think it's better to do something and then talk about it. You talk things up too much it's a like a film that's talked up and talked up and talked up, it raises your anticipation level so high that it can't possibly live up to it."
Known for his attention to detail, the self-proclaimed perfectionist credits this innate ability for his success: "It's my best quality and my worst quality because it's one of the keys to my success other than working very hard ... It's also something that drives me crazy and keeps me from sleeping."
Highlights of Tom Ford's interview with TALK ASIA will be available online at www.cnn.com/talkasia after the first airing.
For more information, please visit www.cnnasiapacific.com.