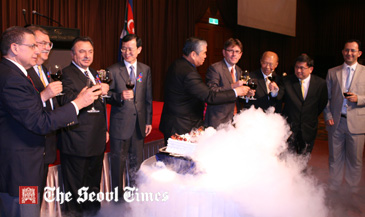 Azerbaijan Ambassador to Seoul Rovshan Jamshidov (3rd from left) poses with guests at the reception held on May 27, 2011 at a Seoul hotel for the 93rd anniversary of its national day.
Azerbaijan Ambassador to Seoul Rovshan Jamshidov hosted a crowded reception downtown at the Millennium Seoul Hilton Ballroom, on the evening of May 27 (Friday), 2011. The event marked the celebration of the 93rd anniversary of the establishment of the Azerbaijani nation. Scores of invited guests including foreign Ambassadors, diplomatic envoys and businesspersons turned out to congratulate the Eurasian nation on its achievement as a republic since 1918.Among the well wishers and representing the Korean government and National Assembly was the Vice Minister for Land Water and Construction, Han Man-Hee who gave the congratulatory speech heralding the progress the two nations are making in developing close bi-lateral ties. The following is the full story of the interview with Amb. Rovshan Jamshidov.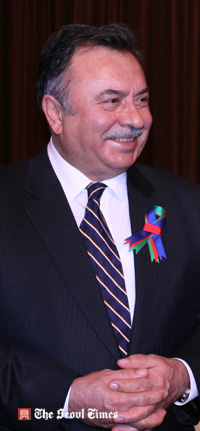 Azerbaijan Ambassador to Seoul Rovshan Jamshidov
Q1: First of all I would like to congratulate you and your nation, it's 93 years since the establishment of The Republic of Azerbaijan and in that time it has undergone many changes. What would you say your nation's main challenges are for the future and what measures are been taking to strengthen that vision?
A1:
Touching upon the significance of the Republic Day of Azerbaijan, it should be noted that ninety-three years ago, on 28 May 1918, a first democratic republic was established in the Muslim East. In its brief existence of less than two years, the multi-party Azerbaijani parliament and the coalition government managed to take a number of important steps in the process of nation-building and the development of statehood. On January 11, 1920 the Paris Peace Conference, with the Treaty of Versailles, accorded de facto recognition of the independence of the Azerbaijani Republic. Unfortunately, the independent Azerbaijani Democratic Republic existed less than two years and after its collapse Azerbaijan became a part of the Soviet Union for 71 years. But in 1988-1990, the national democratic movement in Azerbaijan campaigned vigorously for the restoration of the country's independence. The act of establishing the State independence of the Republic of Azerbaijan, which completed its passage on October 18, 1991, set the foundations for the statehood of an independent Azerbaijan and determined the principles of its political and economic structure. However, the first years of independence were extremely difficult for the country and the occupation of its lands by the neighbour Armenia which caused a big threat to independence and the sovereignty of Azerbaijan. That occupation has lasted for more than 20 years. As a result of the ethnic cleansing policy that Armenia committed against Azerbaijanis, 1 million Azerbaijanis have become refugee or IDPs. The UN Security Council has adopted four resolutions demanding a withdrawal of Armenian forces from Azerbaijani lands but they have not fulfilled them. We think the only way for settlement on this issue must be based on a legal format.However, political stability and economic reforms is one of the main issues in Azerbaijan after independence. The economic situation was hard, our economy had completely collapsed. It was not easy to transmit from one system into another. We lived in a socialist system for more than 70 years. It was quite a different system. However, the most difficult thing in this field is to change the mentality of people several generations that were formed in that system. This transition was easy for younger generations but older generations have found it more difficult. I can say for these 20 years we have achieved big successes and the transition period has already been completed. We are fully based on market economy. We try to implement a very strong social policy to save our nation of that transition.Usually, people feel very bad during transition, they face a number of social difficulties. So, strong social policy, creation of social infrastructure accompanied by rapid market reforms and lastly, political stability are reasons to the successful development. We have taken our strong place in the region. We are implementing huge transnational energy and transport projects that are having a big impact on regional development.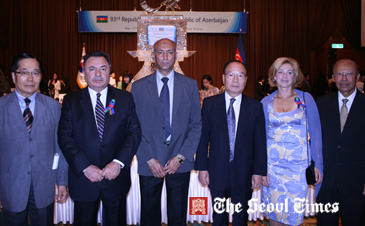 Azerbaijan Ambassador to Seoul Rovshan Jamshidov (2nd from left) poses with guests at the reception held on May 27, 2011 at a Seoul hotel for the 93rd anniversary of its national day. From left to right: Chairman Yun Ik-Han of The Seoul Times, Azerbaijan Amb. Jamshidov, CEO M. Shriq Saeed of New Pak Korea, Vice Chairman Park Young-Ho, Mrs. Lidia Balashov, and Laos Amb. Soukthavone Keola
Situated at the crossroads between Europe and Asia and between Russia and the Middle East, Azerbaijan functions as the natural transport corridor along the axis of the West and East, North and South. Current trends and dynamics in Euro-Asian trade and common interests, projects and areas of greater cooperation between regional states have strengthened Azerbaijan's position as a strategic hub in Central Eurasia. The regional projects such as Baku-Tbilisi-Jeyhan oil, Baku-Tbilisi-Erzurum gas pipelines and the Baku-Akhalkalaki-Kars railroad, initiated and mainly supported by Azerbaijan plays undoubtedly determining role in the future development of the region.Developing pluralist democracy based on market economy and supremacy of the law, the Republic of Azerbaijan follows an independent foreign policy for the purposes of restoration of territorial integrity and sovereignty of Azerbaijan. Azerbaijan is very active in developing friendly neighbourhood and mutual advantageous relations with bordering states that can fortify security and stability in the region.In this regard, projects lead and realized successfully so far by Azerbaijan had great results in developing different spheres of the economy of the whole region deriving its advantage from the important strategic-geographical position. With highly successfully economic development, Azerbaijan seems to be getting stronger day-by-day. Taking into account the last years' consecutive achievements in all spheres of domestic and international issues, it is believed that Azerbaijan will successfully continue its key role in regional development and security and peace.
Q2: Your nation has a great musical tradition in classical music and recently your country has been under the spotlight for its success in winning the Song for Europe in the Eurovision Song Contest, how does this make you and other Azerbaijanis feel on such a victory? And how important is European culture to Azerbaijan? How does Azerbaijan manage or attempt to bring both elements of the continents of Asia and Europe together?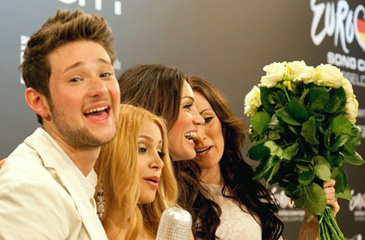 Azerbaijan's El and Nikki in "Eurovision 2011" Final
A2:
Winning the Eurovision Song Contest is an outstanding victory for Azerbaijan's musical and cultural heritage and a great success of the Azerbaijani state and people. It has given Azerbaijan a unique opportunity to show off its culture and traditions, when it hosts the event next year. We are happy and proud of that we could demonstrate and prove the greatness of Azerbaijan music in Europe as well. It is the first time that Azerbaijan has won the contest in its 56-year history among 43 states, having only joined Eurovision in 2008. This in its turn brightly indicates that how importantly Azerbaijan does anticipate European culture and simultaneously enriches it at such a high level.After such a short time taking top honours means that our musical and cultural heritage is really rich and including the cultural elements of Asia and Europe, influences both culture as a bridge between them.
Q3: You have been in Korea for a while now, what would you say are the key elements Korea shares socially and culturally with Azerbaijan?
Azerbaijani and Korean nations have several similarities. Azerbaijan and Korea have a very rich history, culture and traditions. Both nations are devoted to their history and our nations are very attentive about our traditions. Besides the aforementioned there is also a language similarity between the two countries. The Azerbaijani and Korean languages belong to the same Altaic language family.Through ongoing bilateral cooperation between the two nations, I am sure that both Korean and Azerbaijani people will be delighted to know the aforementioned historical, cultural and language similarities between themselves despite the long geographical distance.
Q4: Are there any plans to introduce more Korean people to the culture of Azerbaijan through the arts, such as clothing and textiles, cuisine, cinema and music through events in Seoul and Baku? (or elsewhere in here and in your country)
A4:
The Embassy is putting its efforts to develop our relations in the sphere of culture. Contacts between peoples are necessary. As a part of the cultural exchange program Korea has held "Days of Culture and Art Exhibitions" in Baku in 2006 and 2007. Azerbaijan has held the same in Seoul in 2007. Within 5 days twenty six short programs of modern classical music, performances of traditional folk songs were performed at the ceremony. And we are also planning to hold the "Days of Azerbaijan Culture" next year.I should mention that with finance support of the Embassy, the KBS1 channel team of Korea visited Azerbaijan and exhibited a one-hour film about the culture and tourism potential of Azerbaijan. These are necessary steps to give broad information to Korean people about Azerbaijani culture. Alongside, a lot of pictures drawn by Azerbaijani artists have been demonstrated at deferent exhibitions in Korea since 2007.
I am sure that such kind of cultural events will enable both our nations to get closer in the future as well. And more importantly, grass roots exchanges have become distinctly visible in recent years between our two countries positively influencing our official relations and making them more solid.
Q5: What do you like most about the Korean people, is it their colourful cheerfulness or their serious hard-working ethics?
A5:
Since I had already possessed some background information about Korea before my arrival as an Ambassador, I was well aware of both the colourful cheerfulness and the serious hard-working ethics of Korean people.Furthermore, I have admired Koreans' ability to successfully adopt and practice modern achievements of Western culture and at the same time, to preserve their cultural heritage as a traditional Eastern country.As an example, I would pleasingly mention Koreans' endeavour and interest in classical and modern music, opera, cinema and theatre on the one hand, and observing their national holidays, wearing their traditional costumes and following rituals in both wedding and mourning ceremonies on the other.
Q6: Thank you very much Ambassador Rovshan Jamshidov. It has been a pleasure talking to you. The Seoul Times is looking forward to your future events in Seoul. We wish you and the people of Azerbaijan all the best!
A Brief History of Azerbaijan
In his welcoming address Ambassador Jamishidov talked about his nation's original foundations and its early struggles as an independent democracy in the historic Caucasus region almost directly after World War One and the crumbling order of the Russian Empire. This was a pivotal time that would greatly reshape the landscape of the modern geo-political world on the global mainland with the establishment of the Communist movement and the resulting formation and transition of the Soviet Union. Within less than two years of the establishment of the Azerbaijan Democratic Republic, the Bolshevik 11th Soviet Red Army invaded and the Azerbaijan Soviet Socialist Republic was formed on April 28, 1920. According to historical research an estimated 20'000 Azerbaijani soldiers died in an almost futile resistance against the might of the Soviet Army to protect the nation's sovereignty. Lenin made no excuses for the invasion and declared that it had been solely for no other reason than to exploit Azerbaijan's natural oil and gas resources for the essential maintenance and ultimately the survival of the USSR.By the end of the 1980's, the Soviet Union was becoming became increasingly fragmented with civil unrest and ethnic tension. In Azerbaijan, these growing problems manifested into not only with difficulties directly from Moscow but also from within its own borders in the Nagorno-Karabakh region when ethnic Armenians began protesting and disputing territorial rights to the region. The discontent of these and other events led to weeks of unease and protest throughout Azerbaijan, the culmination of which has been dubbed as 'Black January.' On the 19th January, 1990, President Mikhail Gorbachev declared a state of emergency in the capital city of Baku and 26'000 soviet troops entered the city pursuant to quash a rebellion, cutting telephone lines and destroying the central television station. The next three days would witness bloody street gun battles between soviet troops and Azerbaijani activists, resulting in the deaths of approx 130 Azerbaijani civilians and 21 soviet soldiers.
The events in Baku during 'Black January' and the civil unrest that ensued over the next 4 months throughout Azerbaijan did not strengthen the union between the troubled nation and the Kremlin. Workers out of respect and mourning for the brutal and merciless deaths of their fellow countrymen refused to work. Moscow's executive decision to use fear by force proved completely detrimental and counter-productive and only furthered the cause and calls for immediate independence from it. A few years later, on April 27th, 1995 in speech Gorbachev delivered in Istanbul, he said, "Proclaiming the state of emergency in Baku and sending the army to the city was the biggest mistake of my political life..."By the end of 1990, the Supreme Council of Azerbaijan made a Declaration for Sovereignty and restored the original flag of the Azerbaijan Democratic Republic as a state flag. Almost one year later, the Soviet Union had become officially dissolved and the people of Azerbaijan accepted the Declaration of Independence adopted by the Supreme Council of Azerbaijan on 18 October 1991 in a nationwide referendum. The restoration of a democratic Azerbaijani republic began how it had originally ended, with a soviet invasion. And as time is the testament, it would be Azerbaijan that would emerge as an independent survivor and not the former soviet superpower that had domineered and milked its resources for almost 70 years. The cost of Azerbaijan's ascension to freedom can only be measured by its abundance of bravery and incredible resistance in the face of a much larger powerful enemy. 20 years after independence came to Azerbaijan there has still been no resolve for the Armenian aggression in the Karabakh region. Figures estimate that 30'000 people both military and civilian lost their lives during the conflict, including 60'000 severely wounded. Even now, 20 years after the Nagorno-Karabakh War between Azerbaijan and Armenia, in the disputed zone, over 4000 Azerbaijani civilians are still unaccounted for and approximately a million Azerbaijanis were displaced fleeing ethnic violence. Despite various United Nation resolutions for a complete withdrawal of Armenian forces, the territory lies as a diplomatically unrecognised de-facto region. Azerbaijan claims that there are no records, maps or any historical data to indicate that the territory ever belonged to Armenia and that the region is deeply rooted in Azerbaijan's folklore which predates the Albanian kingdom to the times of the Mongolian invasion. To counter this claim, Armenia says its occupation of the land is to protect the majorly populated ethnic Armenians and help secure it as an independent state. In recent times both parties have been involved in mediated peace talks since the ceasefire in 1994.
Post-Modern Potential
Beyond the territorial dispute in the Karabakh region, Azerbaijan has a very healthy outlook. Cited recently as one of the fastest growing economies in the world and being nestled deep within one of the most extraordinary multi-diverse areas in human history that can be recorded back almost 20'000 years into antiquity, the future is looking brighter especially in the capital city of Baku. Ambitious plans to completely remodel the city are already underway with state of the art buildings, avenues, museums and natural water features. Azerbaijan, once the golden gateway for Alexander (the great) of Macedonia; serving as a crossroads between Europe and Asia on the silk road and (quite literally) the first step between the Russian and Persian Empires, could well be very soon all set to re-model itself into the vibrant busy Eurasian trading centre it once famed for over past millennia, as a bridge between what would be at one time completely different worlds and civilisations. How it plans to harness and foster the opportunity of a post-modern globalised world, we will have to wait and see, but one thing is for sure Azerbaijan is all set to aspire and inspire through vibrant and imaginative architecture and town planning, coupled with a strong infrastructure, technological and social development. This will not only empower its position as a tourist retreat, (for those who desire a bit of everything), but, also Azerbaijan with its prime geo-location has enormous potential to be the key in bringing much needed development, trade and commerce to and from every angle North, South, East and West around about it, benefiting not only itself, but it's immediate neighbours and the wider Caucasus and Eurasian region.
For details or inquiries call the Azebaijan Embassy in Seoul at 797-1765.