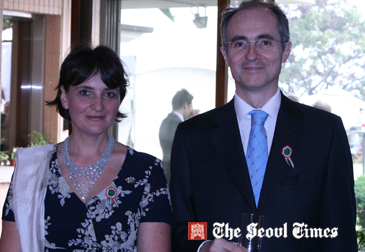 Italian Ambassador to Seoul Sergio Mercuri poses with his wife Mrs. Maria Giovanna Fadiga Mercuri at his residence on the occasion of Italy's National Day on June 2, 2011.

Italian Ambassador to Seoul Sergio Mercuri hosted a reception at his residence in downtown Seoul on June 2, 2011 on the occasion of the National Day of Italy, also known as "Festa della Republica" in Italian.The 150th Anniversary of the Unification and the celebration of Italian National Day began at 6 p.m. and lasted late into the evening.Nearly 500 distinguished guests of foreign envoys serving in Seoul, local politicians, and other social and cultural figures were invited to take a part in the celebration. In a speech, he stressed the growing importance of the bilateral ties between South Korea and Italy.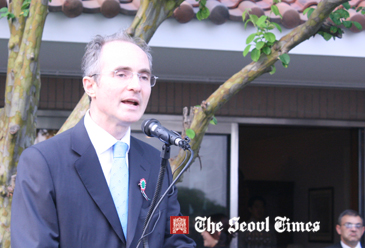 Italian Ambassador to Seoul Sergio Mercuri delivers a speech during a reception held at his residence on June 2, 2011 on the occasion of Italy's National Day.
In his welcome address the Italian envoy stressed its historial ties with South Korea and its future relations as well."Italy's work remains constantly dedicated to the value of unity even in the Korean Peninsula," Amb. Mercuri said. "And once more the old friendship between Italy and Korea will be revived"South Korea and Italy's bilateral relationship dates back to 1884.Ever since, the two countries have enhanced their cooperation in various fields and established a profitable friendship.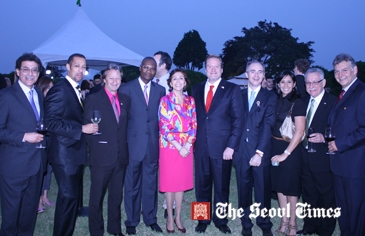 Italian Ambassador to Seoul Sergio Mercuri (4th from right)
Italian export towards South Korea concerns several sectors: mechanical and electromechanical machinery and components, food-producing sector, wine sector, clothing, electronic devices, pharmaceuticals, shoes, furniture, construction materials, glass, ceramics, marble, cosmetics, eyewear, and jewelry."Korea is well known for its capacity to enjoy worldwide recognized Italian products in several sectors, but items representing uniqueness, elegance and style are particularly appreciated," said Italian Ambassador Sergio Mercuri at a garden party he held to promote awareness of Santa Maria Novella and Valextra, two Italian brands that entered Korea about a year ago.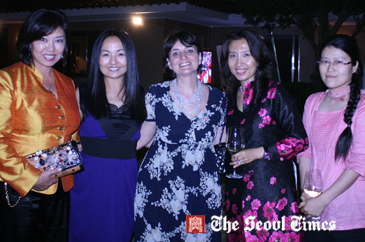 Mrs. Maria Giovanna Fadiga Mercuri (center), wife of Italian Ambassador to Seoul Sergio Mercuri, poses with her friends. At left is Mrs. Mi-Kyoung Woehler, president of Asia-Circle.
Korean export towards Italy mainly concerns electronic devices sector, automotive sector, ships, mechanical machinery, iron, and steel.The overall bilateral trade volume between Italy and South Korea in 2008 amounted to more than 7.5 billion US dollars.This numerical figure of trade flow represents the great economic potential that the Korean and Italian markets have to each other.Now that the European Union is the second commercial partner of Korea and its first investor, the strategic geographical position of Italy allows Korean firms located there to have a direct and unhindered access to more than 493 million potential consumers.
On May 11, 2011 Amb. Mercuri gave a speech at a lecture auditorium of Hankuk University of Foreign Studies on "The Unification of Italy and the meaning of 150 years."In the lecture, he stressed that the unification at the end of the 19th century should not be understood as the result, but as the process of constant conflicts and effort."After 1945 when the World War II ended, Italy truly achieved the long-awaited unification as the country transformed into a republic," said Mr. Mercuri.Wrapping up his lecture, Mr. ambassador did not forget to mention a similarity of S. Korea and Italy."Both S. Korea and Italy believe that a passion for culture is very important in achieving freedom," Mr. Mercuri said. "Culture and language are prerequisites for national reconciliation, and through these concepts and history, people can establish effective justification"
What is "Italian National Day"?
Italian National Day, which is on June 2nd, represents the birth of the Italian Republic in 1946.The birth of the Italian Republic is the most important national event in the contemporary Italian history.Until 1946, Italy was officially a monarchy ruled by the House of Savoy, kings of Italy since the Risorgimento (and previously of Sardinia).However, Benito Mussolini imposed fascism after the Oct. 28, 1922 March in Rome, eventually engaging Italy in World War II alongside Nazi Germany.In 1946, Italy became a republic after the results of a popular referendum.
The following is the full text of the Italian envoy's speech.
Vice Minister, Deputy Minister, Member of the National Assembly, Excellencies, distinguished Authorities, Ladies and Gentlemen, I wish to thank all of you for being here today in occasion of the 'Second of June', the date Italy has chosen for its National Day. This year we have one more reason to celebrate, and an important one: the 150th anniversary since the proclamation of the Unity of Italy. That Proclamation, adopted in 1861, marked the end of a long process of political, diplomatic and military struggles, all waged around the idea that the pre-Unitarian states may successfully merge in what was already for centuries perceived as one Nation, Italia. It is therefore the third time in our history—after the years 1911 and 1961—that we are called to draw a balance of our past. And three are in fact the sails, flag shaped, forming the logo chosen for this anniversary and displayed on such occasions. It entails a sense of freedom, vitality and celebration; the symbol recalls the flight of a bird or full blown sailing vessels; just as those who brought to Korea our first countrymen in past centuries. In fact even at its dawn the young Italian state was able to conduct its own foreign policy around the world. In 1884 — only 23 years after the 1861 unification — Italy inaugurated diplomatic relations with a very distant and ancient country, Korea. The displayed picture of the Italian diplomatic mission dates back to 1904 and is a proof of our presence and support to Korea's independence at the turn of the century. It suggested us to mark this anniversary with a special postcard, especially prepared for this commemoration. At that time Korea was already enjoying for many centuries its independence and territorial unity, hence well before Italy reached the same formal status and international recognition. Many Korean friends might find this sequence of events in our respective histories unexpected. We take this sentiment of surprise as an implicit recognition that — as has been stressed by the President of the Italian Republic H.E. Giorgio Napolitano — even if the unity of Italy was largely achieved in 1861, our country was a Nation and perceived as such well before becoming a united state.An idea of common destiny goes back indeed to the Middle Ages, but we decided to recall this important phase in our history in the 19th century through some inspired to the period of the Risorgimento. Such time represented a source of artistic inspiration for painting and classical music, in particular for Opera, so praised by the Korean public as shown by the success of Verdi in Seoul these days. Today's technology — Korean technology — is helping us to spread these images and sounds and link them to our celebration. According to recently conducted polls, the large majority of Italians attach an enormous importance to the value of our country's Unity. It is reckoned as a non-renounceable achievement which is the catalyst of national sentiments. With the same enthusiasm Italy has always been looking and keeps looking at the struggle of all the people in the world of reaching or maintaining the ultimate goals of national unity. We try to contribute to this objective through our active membership of the united nations and of other international organizations. Let me recall in this respect the common peace effort Korean and Italian armed forces are sustaining in countries struggling for their future: in Afghanistan as well as in Lebanon and several other theaters of common military and civilian deployment for cooperation, logistic and surveillance tasks around the world. If we look back at the past, during the Korean war we recall the time when with a Red Cross field hospital we tried to alleviate the sufferance of the population in these difficult times, as well as nowadays we are providing medical and health support in the Kangwon area of the present DPRK. Italy's work remains constantly dedicated to the value of unity even in the Korean Peninsula. In a few hours, in Rome at the residence of the Italian President, H.E. Giorgio Napolitano, Heads of state of States and officials representing several countries will take part in the formal celebrations and once more the old friendship between Italy and Korea will be revived.Long life to our sense of unity and friendship!