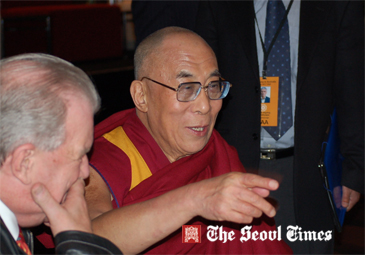 His Holiness the 14th Dalai Lama Tenzin Gyatsoto talks to the organizers on the "Life of the Refugees."
Melbourne, Australia — His Holiness the 14th Dalai Lama Tenzin Gyatso has expressed optimism that authoritarian regimes in Asia will eventually change to become democratic in due time. Noting the slow yet obvious changes taking place in Vietnam, Burma and other neighboring Asian countries, he said a domino effect will alter the political landscape of the region and that may include North Korea. About 700 guests at the Melbourne Convention Centre praised the religious leader as he addressed the issue of refugees in Australia and around the world. The event, hosted by the Melbourne Press Club, is one of the highlights of the Dalai Lama's visit to Australia this year, June 9-13, 2011. The Dalai Lama is also visiting Queensland, Sydney and Adelaide. Four refugees who find Australia their second home talked about their incredible journey from their homelands until their arrival in Australia. Each story was told in a teary and emotional manner. The Tibetan leader in exile consoled them by saying possible political changes will bring them back to see their roots when the right time comes.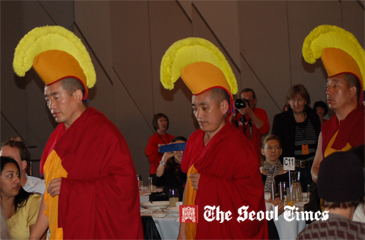 Buddhist monks greet His Holiness and guests at the Melbourne Convention Centre in Australia.
The refugees come from Vietnam, China, Eritrea, and Burma to fled oppressive political regimes. Except for the refugee from Burma who just arrived in Australia about three years ago, the three others came to Australia much earlier and have finally settled down. Each of them sets an example of how a refugee can succeed in life and contribute something valuable in society. Dr. Berhan Ahmed who arrived in Australia from Eritrea in 1987 completed his PhD in Agricultural Science and is now a Senior Research Fellow at the University of Melbourne. Frank Ruan Jie from China, a survivor of the Tiananmen Square massacre, is now running his own Tiananmen newspaper in Melbourne. Cuc Lam PSM, JP from Vietnam is an Australian public servant, while Suzanna Zohmangaihi Sailo, a political activist from Burma, is a newcomer who arrived in 2008. Despite some controversies related to Australia's handling of refugees and asylum seekers, the refugees are thankful they have found the land of freedom. The Dalai Lama admitted that Australia is among those few lucky countries that are very peaceful and prosperous. Yet he warned that people should have to think of the whole globe. He takes notes of smaller nations to make a bigger impact on the global refugee problem. He said, "Sometimes a smaller nation can make a more effective role for a better world," he said. "The source of the problem, unless we tackle that, the refugee problem remains, continuously," he said. The Buddhist monk said a country is not for the ruling elite such as " royal families" or political parties but rather it is for people to live in harmony. He noted that greed and hatred as well as lack of morality make people suffer. He suggested that this problem can be solved through knowledge and education. "Ultimately, I believe most of these problems are due to lack of moral principle in the country and relationship with neighbors. Greed and hatred … that's why there are endless refugees', he noted. The Dalai Lama himself is a refugee who has been expelled from his Tibetan village more than five decades ago. Despite their expulsion from their homeland, the Dalai Lama spoke of hope to the four refugees that they will eventually able to visit their land of birth. As a signatory to the 1951 Refugee Convention and 1967 Protocol, Australia has an obligation to protect refugees who have sought asylum. Part of this obligation is to ensure that asylum seekers have access to adequate refugee status determination procedures. The UNCHR statistics shows that refugee population and asylum seekers in Australia total 24,898 as of January 2010. Meanwhile, South Korea also adopted the 1951 Refugee Convention in 1992. The UNCHR reported the country has recognized its first refugee in 2001 although the South Korean government started receiving asylum applications in 1994. On North Korean refugees, about 21,000 people have settled in the South since the 1950-53 war, most of them during the past decade after a deadly famine in the 1990s. In dealing with the influx of refugees from the impoverished North, the South Korean government recently opened a call centre to help refugees to settle. The Ministry of Unification handles cross-border affairs and opened the 24-hour center. Counsellors are assigned to answer queries on job searches, the law, medical services, housing, education and other issues. However, it is also reported that many refugees lack knowledge and skills which pose a tremendous challenge to the South in tackling refugee unemployment issues.