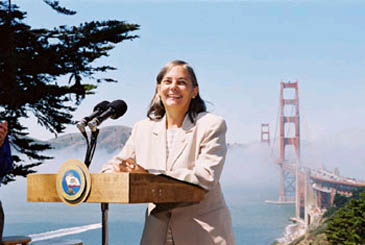 California Assemblywoman Fran Pavley
California Assemblywoman Fran Pavley (D-Agoura Hills) voted for SB 60, the bill that granted licenses to undocumented workers last year, which was repealed in January of 2004. When a similar bill appeared for a vote she decided to pull the classic political flip-flop and not support SB 1160, Senator Gil Cedillo's (D-Los Angeles) latest version, because she believes "people are overwhelmingly not in favor of it." Governor Arnold Schwarzenegger agreed. His recent veto of SB 1160 reflects the view of the majority of Californians. Is the majority right? Should you govern by polls? Sometimes politicians have to fight for what's right even if a lot of people oppose an idea. It would not be easy to convince people that undocumented workers should have legal driver's licenses. Most people cannot see beyond the thought of rewarding illegal behavior. It's an emotional reaction. "Illegals" deserve nothing but a trip back home at their expense. But if you analyze the situation rationally, giving licenses to those who are living, working, and already driving is better for all concerned. Fourteen American states have already done so: Alaska, Connecticut, Idaho, Louisiana, Montana, Nevada, New Mexico, North Carolina, Ohio, Rhode Island, Tennessee, Utah, Washington and West Virginia let undocumented workers apply for driver's licenses.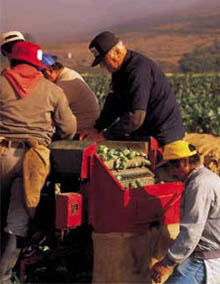 Migrant farm workers in Colorado
These states recognize that it's better to know who is driving on their freeways rather than to bury their heads in the sand and pretend people don't exist. Not giving licenses to undocumented workers will not make them disappear. With or without licenses people will drive. Without licenses, they'll drive in fear that if they get stopped they might be arrested and eventually deported. Giving undocumented workers licenses will not increase their numbers because they don't come here for any other reason except because they get hired. If people are really interested in controlling illegal immigration, they should focus their efforts on taking those jobs away. We could start with the Border Patrol conducting raids during harvest time in many farms. Lots of people would get deported. You say that cannot be done? It can. It was done in Georgia several years ago. The screamers, however, were not the undocumented workers but the companies who called their elected officials and the raids during harvests stopped. Since there is an ambivalent position with regards to undocumented workers in this country, it's easy to say no to their rights and at the same time benefit from their toil. When companies hire people, they are saying that workers have value not simply as commodities but as human beings as well. Thus they deserve to be treated with respect and be allowed the means of adequate transportation.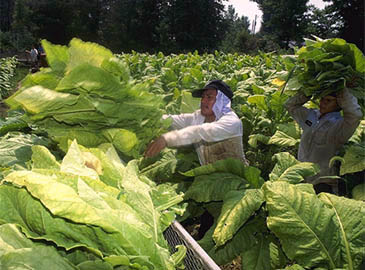 Mexican migrant workers pick tobacco in the Danville, VA area.
Courtesy USDA, Ken Hammond
Licenses would mean that they'd know the rules of the road and also qualify for insurance. They would not flee the scene of an accident because they'd have much more to lose by doing so. Cedillo's latest bill dealt with the security concerns expressed by Arnold Schwarzenegger at the beginning of 2004 when the California legislature voted to repeal SB 60. The new bill required multiple forms of identification. They include a birth certificate, a passport or official ID issued by the applicants' native countries, and proof of California residency. Applicants would also have to provide a photo, be fingerprinted, and pay $146.00 to cover the cost of criminal background checks by state and federal officials. The background checks would be similar to those of professionals such as lawyers, pilots, and teachers. In addition, applicants would have to find a sponsor who is a US citizen holding a California driver's license. Under Cedillo's new bill those individuals who have committed crimes would not have applied. California Democrats may decide that fighting for undocumented workers is a losing battle and opt out of it to focus on other issues, which may have a better chance of success. But when Democrats don't fight for the underdog, you really have to start believing what Ralph Nader has been saying: there is no difference between Democrats and Republicans.