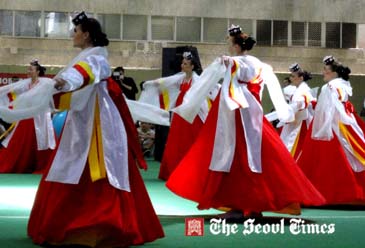 18th Korean Culture Festival goes on in Moscow.
The 18th Korean Culture Festival was held in Moscow on June 12 (Sunday), 2011 when Russia celebrated yet another holiday — The Day of Russia.The annual festival is dedicated to the establishment of the diplomatic relations between Russia and South Korea – the organizers and participants unofficially call it "fest of friendship and love."Over 3,000 people attended the under-the-roof arena of famous CSKA sports complex in Moscow for the festival of Korean culture.
Early birds get awarded
The festival began at 10:30 in the morning – this is exactly, when anyone who came along that early could get a lottery ticket to win one of hundreds of prizes or a return ticket to Seoul.In the hall of the CSKA sports complex, one could also find traditional Korean food and deserts, which gave an idea to what Koreans eat in everyday life.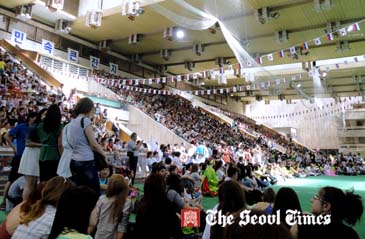 18th Korean Culture Festival goes on in Moscow.
The actual festival took place inside of the sports complex – two stands were completely full, people were even sitting on the football field which was covered with an artificial turf by the end of the festival. Between 11 a.m. and 2 p.m. the participants got to watch traditional Korean plays, participated in Russian and Korean games together, even children were all occupied making paper flowers. The official concert began at 2 p.m. with K-pop songs, Korean traditional dancing, followed by a fantastic samulnori and b-boys performances. B-boys from OBC Crew I managed to gather around 1,000 people on the football field and danced with them. Dong Yun-Hee, a young woman, who was sitting on the football field surrounded by her family, told The Seoul Times — "We come here every year since the festival first took place with all of my family members and next year we certainly will come back as it's a lot of fun."There were not only Koreans who attended the festival, but also many Russians, who seemed to have enjoyed every minute of it. "We started learning Korean language a few years ago on the wave of Korean culture spreading in the West and each June try to come here and enjoy the festival to the best," two friends Anna and Anna from Moscow, who did not give their second names told The Seoul Times.At 3:30 p.m. the festival came to its final part — a lottery, which was a fun indeed and made many people happy as they received valuable presents from Wonk Wang Korean School, the Korean Embassy and many Russian-Korean businessmen.Korean culture festival becomes popular year after year – according to the festival's organizer Mr. Jeon Do-Yeon, the director at the Wonk Wang Korean school in Moscow, this year the festival is bigger and he hopes that the next year it will be attended by more than 4,000 people."I think next year it will be a hit again, as each year we see that more and more people, especially Russians, become interested in all things Korean," Mr. Jeon said.